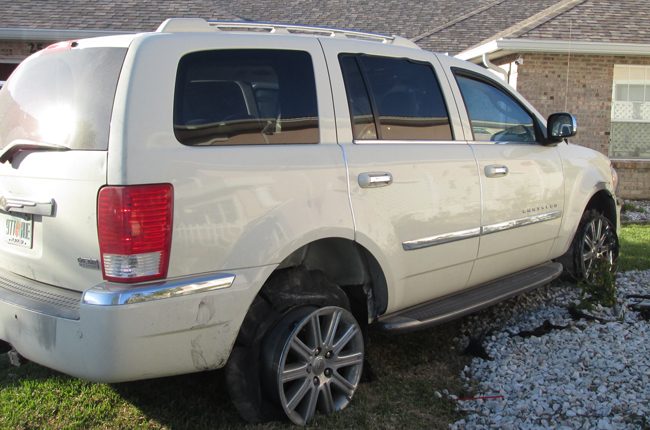 Richard Lawrence Knoblaugh, 38, has a lengthening criminal history in Flagler County, mostly on drug and driving charges. In February, he was arrested on a cocktail of similar charges, including possession of a firearm by a convicted felon.
On Monday, he led Flagler County Sheriff's deputies on a long chase through vast swaths of Palm Coast, culminating in his crashing his vehicle in his own yard in the C-Section–and allegedly still attempting to elude his pursuers. A K-9 soon caught up with him and bit him on the calf severely enough that Knoblaugh was still recovering at Florida Hospital Flagler Tuesday, his latest jail booking still ahead.
Tanya L. Follmar, his 49-year-old housemate at 25 Coolidge Court, was also arrested. She faces a charge of possession of methamphetamines. She'd been sitting in the yard when Knoblaugh crashed his 2003 Chrysler SUV through lawn.
The incident developed at 5:20 p.m. when a deputy spotted Knoblaugh's SUV going west on State Road 100, near Bulldog Drive in Palm Coast. Deputies had already been alerted to be on the lookout for Knoblaugh, who was a wanted fugitive. After Knoblaugh made a U-turn and a deputy recognized him, the deputy attempted to pull him over near Seminole Woods Boulevard. Knoblaugh kept going, ignoring the deputy's use of a yelp and horn as well.
"Once the Chrysler reached the intersection of SR 100 and Memorial Medical Pkwy.," Knoblaugh's arrest report states, "the vehicle recklessly and evasively changed lanes between two vehicles, almost striking each vehicle. The Chrysler then accelerated to a higher rate of speed and turned northbound onto I-95." The deputy de-activated the emergency lights and sirens and continued the pursuit within speed limits, which Knoblaugh also followed as he traveled north on I-95.
The Chrysler drove safely on I-95 until it neared the off ramp at Palm Coast Parkway, when it allegedly made a reckless, last-second lane change in front of a civilian to enter the off ramp, almost crashing into the vehicle in the process. "The Chrysler then continued north on the off ramp and once it reached the intersection at Palm Coast Pkwy., the vehicle struck stop sticks that were deployed by Corporal Meehan and Deputy Jackson." The stop sticks punctured tires but Knoblaugh kept driving.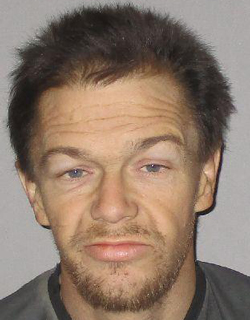 Other units joined the chase as it continued on Palm Coast Parkway past Colbert Lane, then Palm Harbor Parkway, where the the Chrysler slowed almost to a stop and all units activated their emergency overhead lights in a renewed attempt to conduct a traffic stop. But the Chrysler then turned right onto Palm Harbor then Coral Reef Ct., making numerous loops around Palm Harbor Parkway and Coral Reef for 10 to 15 minutes, plowing through more stop sticks. The tires were entirely shredded, and the vehicle continued to drive on its rims, reaching as far north as Matanzas High School before making another U-turn.
By then Flagler County Fire Flight, the emergency helicopter, was airborne, assisting in the pursuit.
Eventually the Chrysler was back to the Coral Reef neighborhood, turned south onto Cortes Ct. and east on Coolidge Ct. Once Knoblaugh reached 25 Coolidge, he got out of the SUV and fled on foot towards the residence. K-9 "Valor" and a deputy were right behind him. Knoblaugh allegedly slammed the door in their faces and tried to keep the deputies from forcing their way in, failed, and fled again as Valor went after him, catching and biting him.
Knoblaugh was arrested, treated at the scene then taken to Florida Hospital Flagler. His arrest report states he operated the Chrysler "in a reckless manner throughout the incident, displayed a disregard for the safety of the public, nearly struck multiple vehicles while making evasive maneuvers and as the Chrysler traveled on the public roadways; it caused damage to the road as the tireless wheels cut grooves into the asphalt. Richard also caused damage to a residence located at 53 Colonial Ct. as he crashed into the mailbox and light post in the yard causing approximately $1,600.00 in damage."
The incident drew broad attention and concern from residents in the C-Section.
Knoblaugh was charged with aggravated fleeing and eluding, resisting arrest without violence, habitual traffic offender, and leaving the scene of a crash with unattended property damage (UTC #A6LPS5E). Richard's identity was confirmed via his revoked Florida Driver's License. His license had been revoked on Feb. 26, reflecting 11 suspensions from unpaid traffic fines and other violations. He was also arrested as a result of three active warrants and a violation of probation.