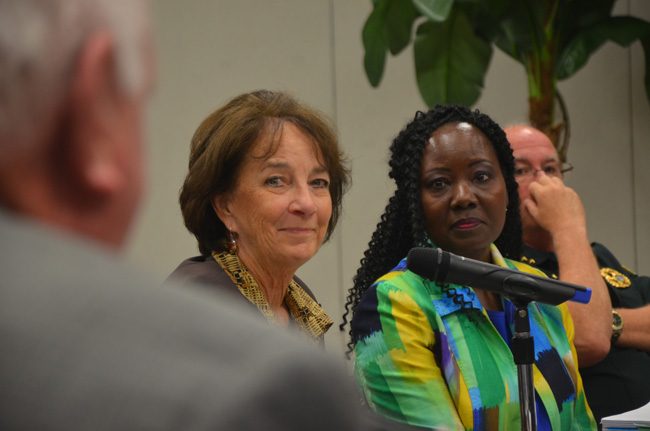 In hands less deft or more imperious, the proposal to de-criminalize the possession of small amounts of marijuana in some circumstances in Flagler County would be dead by now. But the proposal for the past few months has been shepherded by the hands of Barbara Revels, the county commissioner who has seldom lent her parliamentary skills to any initiative without attaining some sort of successful result, however trimmed by the necessities of compromise–and without inspiring any resentments or animosities to speak of.
Revels, it appears, had managed to do so again on Tuesday.
Revels was chairing a key meeting of a committee of the Public Safety Coordinating Council. She'd been working hard to come up with a proposed ordinance that would give local law enforcement the discretion not to arrest individuals caught with small amounts of marijuana, and issue them a citation instead, much like a traffic ticket. She's also interested in extending the same approach to certain minor, or misdemeanor, crimes.
On Tuesday, Revels made small progress on both counts. But the progress is muffled by considerable resistance: along with Sheriff Jim Manfre, who proposed the initiative in January, Revels is laboring against a tide of  skepticism or outright opposition, and no clarity yet from either county or city elected officials that they'd go along with a uniform approach. If anything, Bunnell and Flagler Beach so far are more opposed than in favor of the civil citations.
Neither approach–converting to civil citations for pot or for minor crimes–is new: other cities or jurisdictions have adopted what amounts to de-criminalization on both counts, including in Flagler County, where the civil citation approach applies to some juvenile crimes. And four counties, including Volusia and Miami-Dade, have adopted the civil citation approach for individuals caught with less than 20 grams of pot.
But in Flagler County, both approaches have been drawing resistance from some members of the Public Safety Coordinating Council, the group that includes representatives from all local law enforcement, the judiciary, the public defender, the State Attorney's office and other public safety agencies.
The resistance has been coming particularly from the Bunnell police chief and from the State Attorney's office. There was opposition to the 20-gram threshold. Some members of the council wanted the threshold lowered to 10 grams. And some members have been opposed to having a civil citation program for any misdemeanor crime that involves victims. That leaves only a few misdemeanor crimes that would be considered victimless.
A committee of that group crafting the civil citation proposal met again this afternoon. Aware of the resistance, Revels tried to keep the focus on at least producing a document the county attorney could shape into a formal ordinance and that she could then take back to her county commission, and that city officials could take back to their respective governments, for their input. But she wanted a document with concrete proposals.
---
A proposal still in its infancy, but with greater chances of success than a few weeks ago.
---
To that end, she was successful today. She won the public safety council's consensus on keeping the threshold of pot possession considered minor at 20 grams, if only to remain consistent–as Flagler Beach Mayor Linda Provencher suggested–with other governments that have adopted the citation approach. Almost all have kept the 20-gram threshold.
Revels was also successful in including a few additional misdemeanors in the civil citation column. But they were very few: alcohol possession by someone younger than 21, for example ("For that type of thing, but for the grace of God, there go I," Jim Purdy, the public defender, said), and disorderly conduct (though that, as with other minor crimes, would be left up to officer discretion). There was a proposal to include littering on the list, but littering is rarely if ever invoked.
But once the citation is issued, Jason Lewis, an assistant state attorney, said, it should be considered a privilege that entails an implicit admission of guilt. In other words, the individual issued a civil citation would forego his or her right to contest the citation in court. Otherwise, Lewis said, "it defeats the purpose" of a civil citation approach, as it would then shift the time-consuming part of the process to the courtroom, as opposed to the cops on the streets.
If an individual doesn't pay within the time allowed, the fine turns into a civil judgment. It could lead to other penalties.
Once the proposed ordinance is in its final shape, it will go to the full Public Safety Coordinating Council (which meets only once a month) and presumably get the council's approval, at least as a proposal, though that approval would have no authority beyond its advisory power. The ordinance would then go to the county commission and the city commissions of Bunnell, Palm Coast, Flagler Beach and Beverly Beach, where the document would either be ratified, amended or rejected. It would be no less intricate a process than trying to get a constitutional amendment passed through three-fourth of the country's legislatures. The difference is in size: there are only five local governments whose approval the initiative needs to be viable.
Already, Bunnell's police chief–speaking oddly as a policy-making official, rather than his commission's employee–said he was opposed to the approach. "I'm not in favor of decriminalizing it," he said of the pot measure. "Right now there's too much confusion and different jurisdictions are doing different things." He would go along with a more statewide approach. Absent that, he said, "I would kind of opt out." (Nevertheless, that's a policy decision for the Bunnell City Commission, not its police chief, to make, though the commission may well defer to its chief.)
If one or more city opts out, it would weaken the authority or viability of the civil citation approach.
"If I hear strong objection to that being done, we won't do it," Manfre said, even though, he added, he believes his deputies may issue civil citations county-wide.
Netts did not indicate one way or another how Palm Coast might go. He said he has not discussed the matter with his council. But he favors the idea, which is saying a lot for a council that generally takes its cues either from Jim Landon, the city manager, or from Netts (who more often than not takes his cues from Landon. Landon has not attended any of the safety council's meetings on the issue.) "Let's try it, see what happens, but I do like the idea that somehow we make it countywide," Netts said. "I would prefer that we don't set Palm Coast against Flagler Beach against Bunnell against Beverly Beach."
"If Palm Coast was to opt out we're not going to be the only city to do it," Provencher said, speaking for Flagler Beach.  Matthew Doughney, the Flagler Beach police chief, who was also present today, was himself skeptical of the whole approach.
"It's clear that cities can opt out," but the point is to "come up with a document that could be accepted by each of the cities," Revels said, for uniformity's sake.
A small contingent of Flagler County Democratic Party activist–seven or eight people, including Executive Committee Chairman Ralph Lightfoot–were in the audience, prompted by a call to action from their party to show support for a civil citation program, though one much broader than the distilled version the safety council is preparing to strain out of its meetings.
Where would what small amounts of dollars generated by the fines go? Lewis suggested after-school programs such as the Carver Center or court-diversion programs.