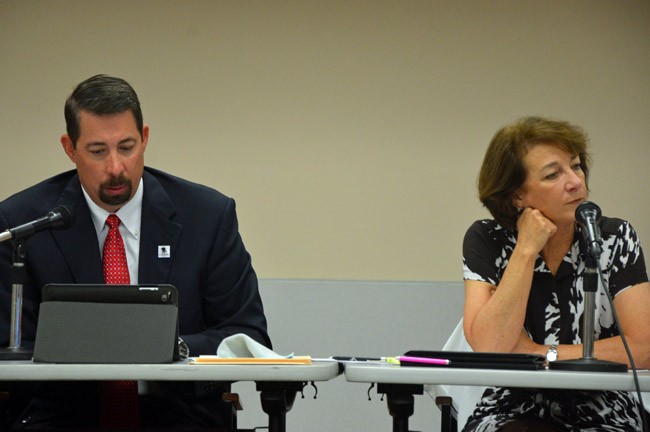 Sometimes a bottom line is more deceptive than it looks. With that in mind, a 4-1 majority of the Flagler County Commission, led by Commissioner Barbara Revels, on Monday rejected an administration proposal to privatize the county's janitorial services, even though it projected a "saving" of $173,000.
The reason for the rejection, which combined the more liberal voices of Revels and George Hanns with the more conservative voices of Charlie Ericksen and Frank Meeker: commissioners were not willing to see 10 or 11 of the county's 13 janitors lose their job outright, while whichever smaller number of employees were to be hired by the private contractor would get a 50 cents an hour raise but lose all benefits.
"These are the lowest-paid employees that we have," Revels said, "I'm not sure whether that's a living wage they earn, and we know that if they're going to be re-employed through the contractor—that of course is going to make a profit on this, and is saving us supposedly $176,000 a year—that these are citizens of ours that will not have benefits, most likely, that they have today. I think the cost to our county and our society is worsened by them losing a job that might pay more and have benefits. I'm going to be very opposed to passing this even though pulling it out of our budget would be very difficult at this time."
Revels's ability to win a reversal on the matter was especially notable as the item had been placed on the commission's consent agenda–the repository of done deals that the commission votes on in bulk, without discussion. Revels asked that the item be pulled from the consent agenda, and initiated the discussion that led to the reversal.
Commissioner Charlie Ericksen was especially concerned about the loss of benefits, saying he'd imagine an employee being willing to take lesser pay as long as benefits were generous. "Is there any agreement that they're going to have similar benefits or was it just an assumption that they were going to just walk over to the other side of the fence and be employed?" he asked.
"There's no guarantee, as I read it," Meeker said.
In an attempt to save money the county proposed privatizing its janitorial services and got four companies to bid on the contract. American Janitorial, an Illinois-based company that franchises its name, won the two-year contract—at least in the bidding phase—through its Florida variant, a company based in Umaitlla, in Lake County, and owned by Jordan Dailey. It was incorporated three years ago. The contract calls for an annual cost of either $458,000 or $499,000.
"We have a tremendous amount of turnover in these positions," County Administrator Craig Coffey said. "It is a constant management issue. We're constantly advertising, doing background checks and trying to fill these positions only to have a lot of them turnover. We've done this on several other areas. We've done this with landscaping, we've done this—I'm trying to think of other areas. We've done it before."
---
"The cost to our county and our society is worsened by them losing a job that might pay more and have benefits."
---
He couldn't think of another recently privatized contract. Palm Coast privatized its janitorial services only to end it and bring the service back in-house. Two years ago the Volusia County School Board privatized its janitorial services in an $11.5 million contract, only to contend with a dramatic drop in quality as teachers, then administrators, complained of dirty classrooms, poorly supplied toilets and dissatisfied faculty.
"The goal," Coffey said, "was to outsource this, and we were going to hire a new construction crew to catch up with other projects we're facing and challenges because we get complaints about the way we're maintaining buildings and the way we're upkeeping this or upkeeping that. I'm trying to stretch dollars any way we can, so that was the genesis of this."
The county has 15 custodians. Two of them are considered head custodians: one makes $26,400 a year, the other $23,000 a year. One custodian is part-time. The rest all make $20,000 a year or less, or $9.47 an hour.
The head custodians were hired in 2007 and 2010. Of the remaining custodians, the longest-serving employee—the part-timer–was hired in 1998. Among the full-timers, one was hired in 2008, one in 2012, three were hired in 2013, five were hired in 21014, and two were hired this year (in February and March).
Dailey, the American Janitorial president, was asked how he realized his savings. "We trim the fat," he said, but he didn't say precisely how costs are cut. When costs are cut as significantly as American Janitorial is proposing, it's usually for two reasons, particularly in janitorial services, where there's little "fat" to start with: fewer employees, poorer benefits. Dailey didn't speak about the number of employees he'd have on the ground, other than saying there'd be a supervisor and a project manager—in addition to overhead staff at the Umatilla office—which nets several positions that draw income, but don't necessarily clean bathrooms as Flagler's existing staff of janitors  actually do. And much of that income would be p[aid to out-of-county administrators.
"We don't have the ability to give near the benefits package that you guys have," Dailey told the commissioners. Revels asked him to be more precise.
The company will, in fact, offer no benefits at all. "Other than higher pay and being able to make more money, not really," Dailey said.
Coffey said 10 of the 13 would lose their job, though the company said it would make it a priority to rehire some of them. Those who'd lose their job would have two months' pay in severance, and four months on the county's health plan.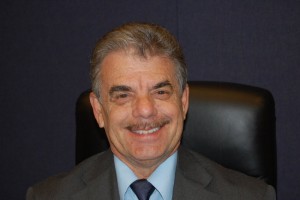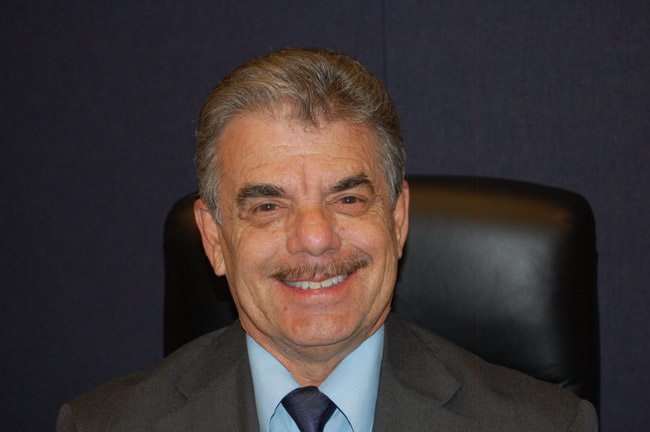 Hanns said he's never been sold on privatization, and in this case, not just out of sympathy. "I've been doing this for a long time, and I've seen so many people come in and say I can do a better job," Hanns said. "If we can afford someone oversee different things, that same person can oversee our employees and find out what we're doing wrong, because if there's a lot of turnover, people aren't happy, and you have to look out for your family."
Meeker during the discussion sounded in favor of the contract: "Do you want to run government like a business, or do you want to run it like a family business? In my view, I'm looking at it like a business,"  he said. Yet he ended up voting with the majority to oppose the contract.
Four individuals addressed the board on the matter, only one of them, Jack Carrell, the Palm Coast resident who makes a point of attending every county and city meeting, in favor of privatization: "From what I understand, we're now becoming a welfare organization," he said. "We're no longer care about our budget, we just care about the people, even though you have a big turnover. You're still going to wonder about that. So I don't see why you just don't turn it over to private industry."
Jane Gentile-Youd, the Realtor, called it "chutzpah"  and "a disgrace" for the county to so much as put the matter on the agenda: "I can't believe I'm listening to a county manager who got himself a pay raise, who just spent $25,000 a year more to give a landscaping contract to a company that's going to take care of tax-free property that doesn't produce any revenue, to a company that has out of state interests," she said. "So these guys are going to get these people to go for 50 cents more an hour with no benefits? If you guys believe in Santa Claus, you vote for this contract. If you believe in the people of Flagler County, you turn it down."
Only Commissioner Nate McLaughlin voted against Revels's motion to turn down the privatization initiative.
Meeker had one request for Coffey: "Come back and show us where you're going to come up with $174,000 by the next budget workshop."