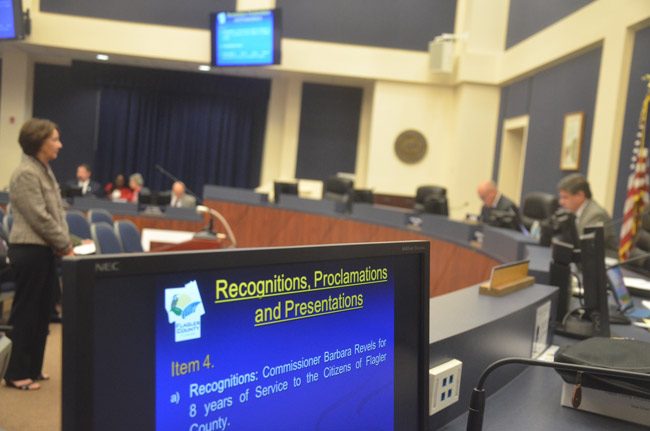 In all of two minutes and 53 seconds this morning, the Florida Commission on Ethics unanimously approved a pre-probable-cause agreement that will have former Flagler County Commissioner Barbara Revels pay a $4,500 fine for making repeated errors on three years' successive financial disclosure forms, from 2012 to 2014.
Revels had herself agreed to the settlement in order not to prolong the case further: it had been hanging over her since June 2015. It was the second time in two years that Revels was agreeing to a hefty fine from the ethics commission. In January 2015, she paid a $2,500 fine after she was found to have violated conflict-of-interest and disclosure rules in a case connected to the county's purchase of the old Memorial hospital in Bunnell, what became the sheriff's operations center.
The commission Friday also approved a public censure and reprimand of Revels who, in eight years on the commission, had been its most effective member: she could point to a series of concrete accomplishments (from reviving the fates of the old county courthouse or Bunnell's Carver Gym to reinventing the county's economic development initiatives and shepherding numerous social service initiatives to fruition). She had broad policy interests and superior parliamentary skills as a consensus builder and foe of idle chatter. Revels had equally numerous private-sector business interests.
It was the entanglement of private and public interests, along with a surprising inattention to detail but also toxic political opposition from the county's hard-right, that twice led the ethics commission finding against her. Her local tormentors were members of the now-defunct but still radiating Ronald Reagan Republican Assemblies of Flagler County, the group of local Republicans targeted Democrats and moderate Republicans by any means necessary to taint them or weaken their hold on office.
Revels was defeated in her bid for a third term last November, by Dave Sullivan, who had, ironically, entered the race on the Republican side to blunt the possibility of a challenge by a Reagan Assembly-affiliated candidate. No such candidate emerged in that race, but Sullivan, until then not broadly known beyond party circles, benefited from the Trump wave to sweep into office, as did other newcomers to local office. Revels has returned full time to her real estate and construction firm in Flagler Beach, which she had maintained through her years on the commission, though she is still involved on local boards such as that of Florida Hospital Flagler and the Carver Gym Foundation.
"I believe this is a fair agreement because it is a pre-probable cause agreement," Elizabeth Miller, the commission's advocate, told the panel this morning in open session in Tallahassee. Revels was represented by attorney Mark Herron, who had nothing to add other than to urge the commission to adopt the agreement. There were no questions from the ethics commission members, who quickly heard the motion, voted and moved on.
At her farewell reception, hosted by the county commission on Dec. 19, Revels was asked if she'd run again. "Not gonna happen," she replied after a moment's thought. Later, she explained in more modulated terms: "I don't think it's in the cards. Not that I can see right now. Because Milissa Holland had told me that, you know, 'I'm never going to run in a campaign again, I'm never going to this, I'm never going to that,' so you don't want to never say never, but right now I'm saying I do not want to be in a campaign again." (Holland, who'd served on the county commission with Revels until 2012, then had an unsuccessful run for a Florida House seat, after which she said she'd not run again. She was elected mayor of Palm Coast in November with an overwhelming majority.)