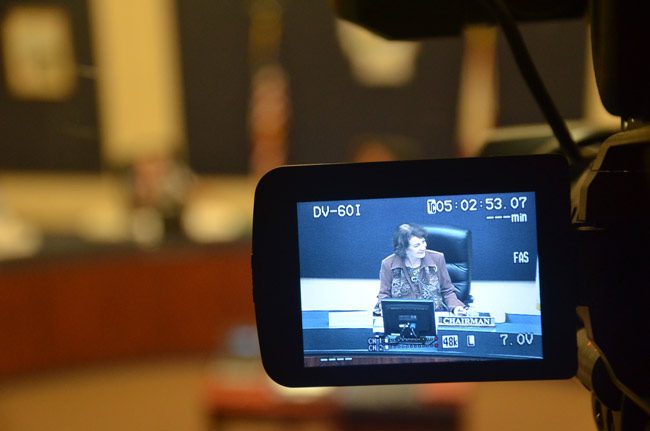 Barbara Revels may have been defeated in her bid for a third term on the Flagler County Commission, but she hasn't really left the scene, and not just because of her real estate and construction business in the heart of Flagler Beach.
There she was shortly after her loss, next to Sen. Bill Nelson, when he visited Flagler Beach to give an update on the county's search for beach-reparation dollars. There she's continued to be on the board of the Carver Foundation, which saved Carver Gym in Bunnell, and which is gearing up for its annual and successful round of fund-raising. And there she was Monday at the Flagler County Airport, alongside another former county commissioner, George Hanns, to mark the groundbreaking on a new runway.
Three hours earlier, there she was being appointed back on to a county advisory board–the Economic Opportunity Advisory Board she herself launched in 2011 and chaired for more than four years. Helga van Eckert, the county's economic development director, had been urging her to re-join, so Revels finally did.
The county commission appointed Revels to the advisory board on a 4-1 vote. Dave Sullivan, who defeated Revels to win her county commission seat, was the lone dissenter: he voted for the other applicant to the seat, Jason DeLorenzo, the former Palm Coast City Council member who left the council to challenge Charlie Ericksen for a county commission seat. DeLorenzo's bid fell short, though his application for the economic development panel signals his renewed interest in public affairs. "I want to stay engaged in my community," he said in a text today. "There are several boards and organizations that interest me."
"You've got two great choices here," Mike Gill, an original member of the economic development board, told commissioners before their vote, though he favored Revels. "She knows this community, she was part of the vision that got this little group of volunteers organized, and I can tell you from first-hand experience she provides very strategic and tactical expertise, which is very beneficial to Helga, who is unbelievable at what she does."
Gill was one of four members of the advisory board who spoke in favor of Revels. Not that they needed to: the vote seemed to be assured. None of the commissioners spoke of the decision before or after the vote.
Revels and DeLorenzo have been professional friends and political allies for years (DeLorenzo is the government affairs director at the Flagler Home Builders Association, Revels is a builder), but Revels was surprised to hear Monday afternoon that it was DeLorenzo she'd bested to win the seat on the council: she wasn't aware he was in the running. She will fill the seat being vacated by Bob Alex.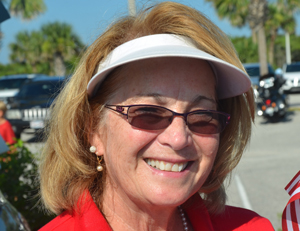 Revels's was one of several appointments to county advisory boards, and one of two that involved a former candidate for office. The other was Sharon Demers, of Palm Coast, who ran unsuccessfully for the school board last summer. She was appointed to the citizen at large seat on the Affordable Housing Advisory Council, replacing Marc Bellapianta of Palm Coast, who had to resign in order to serve on the Palm Coast Code Enforcement Board. Bellapianta is one of two alternates on that board, where he doesn't have a vote unless another member is absent.
"Affordable housing is a serious issue in Flagler County and my experience in the rental market as a landlord renting to section 8 recipients will add a perspective to the Committee that will be helpful," Demers wrote in her application letter. She also noting a "a passion for the homeless problem in Flagler" in her application. She listed Commissioners Charlie Ericksen and Nate McLaughlin and Palm Coast Mayor Milissa Holland as her references.
Michele Seyfert had also applied. She had volunteered with various non-profits, including the Sheltering Tree, the cold-weather shelter in Bunnell. She owns rental properties and a business called Mystic Clothing in Bunnell.
County commissioners voted 4-1 to appoint Demers, with Greg Hansen the lone vote for Seyfert.

Flagler County Advisory Council Appointments (2017)