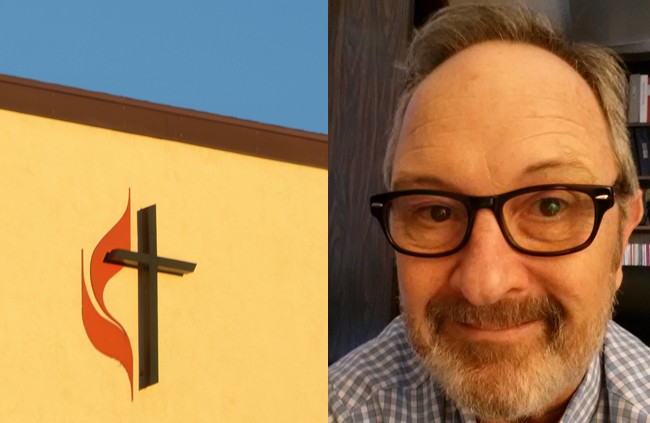 First United Methodist Church of Bunnell this week introduced Rev. Terry Wines and his wife Amelia, who joined the church congregation Tuesday. Wines takes the place of Rev. Beth Gardner, who left the parish last month to take up a similar post at a Methodist church in Lakeland.
It's part of an annual ritual in the sprawling world of the United Methodist Church (which numbers 78 churches in the eastern district of the state alone, with nine such districts in the state), when "elders" typically move from church to church around this time of year.
"Whether you dread losing your beloved pastor or welcome a change in leadership," Joe Iovino writes on the church's national website, "it feels like everything in your church is about to change. While that is not completely true, your congregation will be going through a significant time of pastoral transition."
Iovino proposes the various steps a congregation may go through to make the transition easier. The Bunnell church went through some of those steps already, including a farewell party for Gardner and her family. "After saying goodbye well, your congregation may have a week or two 'between pastors.' This is a good time for the church to catch its breath, and for everyone to continue helping with the transition," Iovino writes. That period just ended in Bunnell.
He now suggests attendance at the new pastor's first service, giving a "good gift," taking the initiative, and, not least, resisting quick judgments. "Stressed, tired, nervous, uncertain, worried—your new pastor is feeling all of this and more," Iovino writes, suggesting looking beyond first impressions and extending grace.
And so, in comes Wines.
Wines was previously at the First United Methodist Church of Chiefland, where he served for five years. Prior to entering the ministry, Wines worked in the entertainment and hospitality industries. He accepted his calling in 1998 and entered the candidacy process for ordination in the Florida Conference of the United Methodist Church, receiving his B.A. from Florida State University in 2004 and Masters of Divinity from Asbury Theological Seminary in 2010.
Wines served as Youth Minister and Assistant to the Pastor at North United Methodist Church in Sarasota (1998-2000), and Pastor of Glen Julia/Sycamore UMC in Gadsden County (2000-2004) and Shingle Creek UMC in Kissimmee (2004-2010). The Shingle Creek church was a multicultural congregation that offered Hispanic and Anglo worship and discipleship while operating a food pantry.
While at Chiefland, Wines helped the church to go "outside the walls" to be the hands, feet, and heart of Jesus. Among the ministries included an annual Back to School Bash where school supplies, haircuts, food, games and other services have been given away since 2011; over 900 people were served last year.
In 2013 the church brought together various local nonprofit organizations to create the Tri-County Resource Group, and in April 2015, with the assistance of the City of Chiefland, celebrated the grand opening of the Tri-County Resource Center in the old city hall building.
Wines, the church notes, is committed to helping people grow in their love of God and their neighbor, while experiencing the transforming love of Christ. He is excited about the opportunity to continue and build on the work of Rev. Beth Gardner, the saints of First UMC, and the community.
His first Sunday will be July 5. The church invites all to Worship at 11 a.m. to welcome Rev. Wines and Amelia. A welcoming luncheon will be directly afterwards in the fellowship hall.