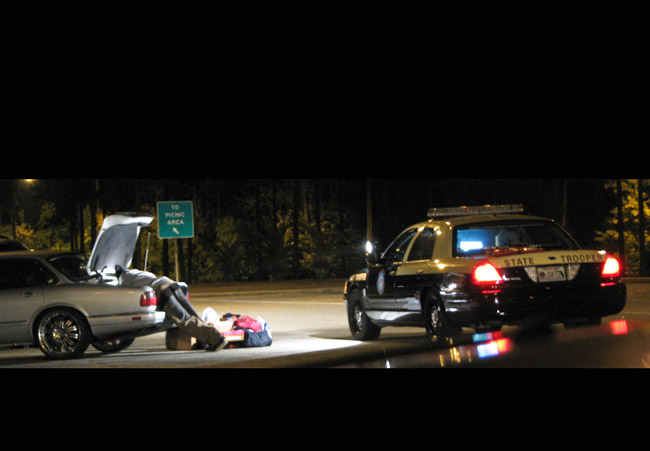 It happened on a rest stop on I-10, some 35 miles east of Tallahassee. Gary Colley, 34, and his companion, Ann Jagger, 35, were taking a  nap when four teen-agers attacked them in an attempted robbery in the early morning of Sept. 14, 1993. When it was over, Colley was dead–he became the ninth foreign visitor to Florida to be killed in less than a year–and Jagger, shot at point-blank range, lay bleeding.
Twenty years almost to the day after the shocking murder, Jagger returned to face the man who killed her boyfriend and watched as a judge shut down his chance of getting out of prison early.
Jagger traveled from England to rural Jefferson County for the re-sentencing of Aundra Akins, who fired the shot that killed Colley, her companion of 14 years. (Colley died in Jagger's arms.)
Akins was one of four Monticello teens found guilty of planning and committing the crimes, which drew international attention. The others were Cedric Demond Green, 13 at the time,  and Deron Maurice Spear and John Jerome Crumity, both 16 at the time.
The tourist killings caused a 20 per cent drop in the state's  the $31 billion-a-year tourism industry revenue. Then-Gov. Lawton Chiles ordered law enforcement agencies to guard all 72 interstate rest stops with 24-hour security, at a cost of almost $10 million a year.
In 1995, Akins was sentenced to 27 years for murder and 27 years for attempted felony murder, to run concurrently. In 1997, after the Florida Supreme Court ruled that the crime of attempted felony murder did not exist, he appealed his sentence for shooting Jagger, was convicted and sentenced to a term of life with no possibility of parole.
Friday's re-sentencing came after a ruling last year by the First District Court of Appeal in Tallahassee, which found that sentence to be unconstitutional because he was 14 at the time of the crime.
It was up to Circuit Judge Karen Gievers to decide, in a non-jury trial, whether Akins would be given a new sentence for shooting Jagger and whether he would serve it concurrently or consecutively with the 27 years he is serving for the murder of Colley.
She gave him the maximum, 40 years to be served consecutively, making him eligible for release in 2025 with good behavior.
Jagger, who had corresponded with Akins several times over the years, said after the hearing she hoped he could turn his life around.
"He will, hopefully, be able to come out in about 12 years with good behavior," she said. "If he'll just keep out of trouble in prison, then he'll have another life ahead of him outside of prison."
The other defendants in the case are all in Florida prisons. John "Billy Jo" Crumitie was sentenced to life in 1995 and will serve at least 25 years before he is eligible for release. Deron Spear was sentenced to eight years on charges of conspiracy to commit armed robbery and as an accessory after the fact. He is serving a life sentence for a 1999 armed robbery. And Spear's half-brother, Cedric Green, was sentenced as a juvenile. He went to prison for armed robbery in 1999 and is due to be released on Oct. 17.
According to court documents, Akins and Crumitie approached the sleeping couple, while Spear and Green waited in a stolen vehicle positioned to block their intended victims' escape. Akins fired the .38 shot that killed Colley. Colley was the age Akins is now, 34. He'll be 46 if he is released in 12 years.
Assistant State Attorney Eddie Evans, who argued Friday for Akins to receive the maximum resentence, pointed to his lengthy rap sheet before the rest-stop murder – including grand theft, petty theft, criminal mischief and sexual battery. He quoted a caseworker who had worked with Akins as saying, "This defendant has the most horrendous of juvenile records."
Akins also had collected a thick sheaf of disciplinary infractions while behind bars, Evans noted.
But Brian Higgins, who represented Akins, said he had changed in the last three years, since the U.S. Supreme Court in 2010 ruled that juvenile offenders cannot be sentenced to life imprisonment without parole for non-homicide offenses. That decision led to the 1st DCA ruling that Akins be resentenced.
"Before that, he had no hope," Higgins said. "He was going to die in prison…If you have no hope, you're going to have disciplinary problems."
In the last three years, Akins has completed his high school diploma and courses in commercial painting, cooking and public speaking. He has incurred no more disciplinary infractions. He and his witnesses said he had become religious.
"I'm a Christian," Akins told the court. "I really want to get out and help other youth, show them there's a better way than crime."
"I understand what he did was wrong," said Beatrice Brooks, Akins' mother. "But if God can forgive him, why can't man?"
The judge, however, citing the trial transcripts, said Akins' crime against Jagger outweighed his subsequent achievements.
"The court has very carefully listened to the testimony about the accomplishments of Mr. Akins in the past few years and hopes that those are the real Mr. Akins, on the right track finally," Gievers said. "But the court finds the only appropriate sentence consistent with the evidence that is fair and just to our system of justice is the 40-year statute."
Jagger sat in the front row attentively, occasionally shifting her seat as different witnesses took the stand, to keep them in her line of vision. When Akins spoke directly to her, saying he hated to see her dragged back to court again, her eyes filled with tears.
"Aundra made a very bad decision on the night of Sept. 14, 1993," she said when she testified. "Both he and I have been sentenced. But my sentence will never come to an end."
The state contracted with a private security company to provide the 24-hour security in 1993, but found out over time that guards spent most of their time helping drivers or getting rid of panhandlers.
Two years later, the state cut back on the 24-hour security. "From a crime prevention aspect, I don't think it was necessary. It was a multimillion-dollar response to one incident," Gary Stogner from the Florida Division of Tourism told the New York Times at the time. "However, steps like that helped us regain confidence around the world."
–Margie Menzel, News Service of Florida, and FlaglerLive