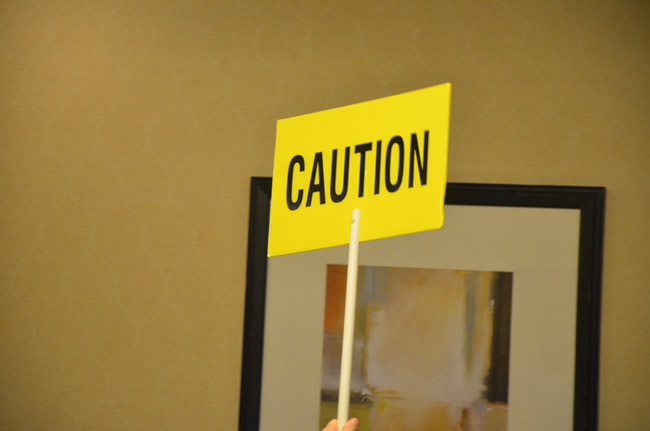 A coalition of local business groups will host a candidate forum for the special primary election for Floria House and Senate seats on Tuesday, Jan. 13, at the Hilton Garden Inn in Palm Coast. The forum is hosted by the Flagler County Chamber of Commerce, the Flagler County Association of Realtors and the Flagler Home Builders Association.
All Republican candidates running for Florida Senate District 6 and Florida House of Representatives District 24 in the January 27 primary election have been invited to participate in the question and answer segment of the program. The Republican primary is scheduled for Jan. 27. There is no Democratic primary in any of the races, as only one Democrat is running in each. The general election pitting the Republican winner against the Democrat is scheduled for April 7.
As in previous such forums–and to the dismay of many voters–the occasion will not include questions from the audience. Instead, questions have been prepared by the Flagler Votes Committee and will be kept confidential until they are randomly posed to candidates at the event. There are no follow-up questions, nor are candidates challenged, should they get their facts wrong or make clearly unsupported statements, either by fellow candidates or by the moderator (that duty usually falls to WNZF's David Ayres).
The special election was precipitated by former Sen. John Thrasher's appointment as president of Florida State University late last year–and Thrasher's refusal to resign ahead of the Nov. 4 election to enable an appointment to his seat or an election as part of the November general election. As a result, the special election for three seats will unnecessarily cost taxpayers upward of $1 million.
Thrasher's move to FSU led to Travis Hutson resigning his seat as a House member to run for Thrasher's Senate seat, thus opening the House District 26 seat as well. Similarly, Ronald "Doc" Renuart resigned his House seat in St. Johns County to run for the Senate seat, opening a House race in District 17.
The lineup looks like this: Three Republican candidates are facing each other for the Senate seat that includes all of Flagler County. They are Hutson, Renuart, Palm Coast's Dennis McDonald (who twice ran for the Flagler County Commission and lost in close primary races each time). All three have been invited to the forum, though indications are that McDonald may be at a St. Johns event Tuesday, and will be sending Michael McElroy to speak on his behalf. The winner will face Democrat David Cox in April. Cox just lost an election against U.S. Rep. Ron DeSantis.
The House District 24 seat, which covers all of Flagler County, has drawn four Republican candidates, but only one serious candidate among them: Jacksonville's Paul Renner, who moved to Palm Coast just before declaring for the seat, and who lost a primary election to a House seat in August by just two votes. Renner, an attorney, unlike his opponents, is extremely well financed and considered all but a shoe-in as the primary winner. He faces one candidate from Flagler, Danielle Anderson, a free-lance reporter and Republican operative with, and Ron Sanchez and Sheamus McNeely of St Johns County. None of the latter three have built a financial base of note, and McNeely by this week appeared to have dropped out of the race.
The winner will face Democrat Adam Morley in April.
Gretchen Smith, the chamber's political affairs director, said all candidates are almost certain to attend. The chamber forum does not include candidates running for the District 17 seat, which has no direct relevance to Flagler County, its geography falling in St. Johns.
There will be a social hour with cash bar and light snacks starting at 5 p.m., giving guests and candidates an opportunity to interact before the program begins at 6 p.m. The Senate candidates will be featured from 6 to 7 p.m., the House candidates from 7 to 8 p.m. The forum will air live on WNZF 1550AM and 106.3FM, and stream worldwide at wnzf.com​.
Flagler County's Chamber, Association of Realtors and Home Builders Association have a successful track record of hosting nonpartisan candidate forums before elections. Candidates answer business-related questions, address issues that focus heavily on commerce, taxes, regulations, real estate and other matters of concern to business, and talk about their qualifications for serving in government roles. The forums also give voters a chance to learn more about candidates and make informed decisions when they head to the polls.
The forum is free and open to the public. For more information, call the chamber at 386/437.0106, or visit the chamber's website.