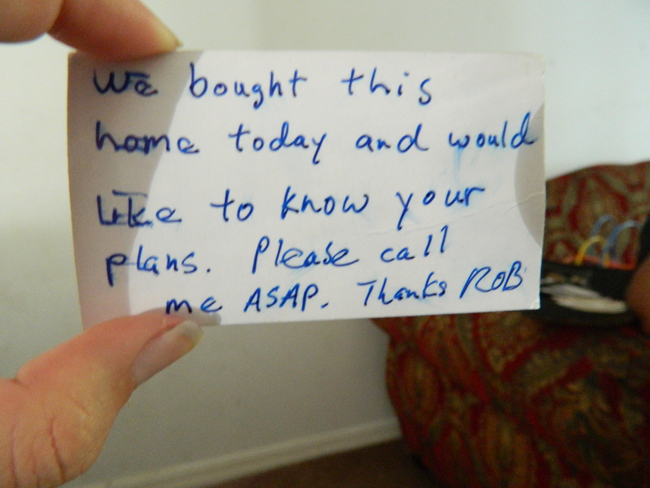 Marie Genis, her husband Max and their six children moved into their Palm Coast house on Smith Trail last January  when they signed a one year lease agreement with the landlord. They have been dutifully paying the $600 rent on time every month. Yet they fear being evicted before the lease is up, even though the law should protect them from eviction for now.
As the housing crisis lingers, droves of Americans have turned to renting. But careful and reasonable renters are being affected by foreclosures almost as often as homeowners, at times being forced or intimidated into leaving in a hurry if their landlord defaults on their mortgage and loses the property—at times even if the legal steps to evict renters haven't been fulfilled.
About two months ago, the Genis family discovered without warning that their house was being foreclosed. Last week, the family received a letter from the Flagler County clerk of court informing them that the property had been sold on Oct. 19 for $94,001. The home was bought by Real Estate Solutions Home Sellers, according to the certificate of sale. (Boyton Beach-based Premise Dessources had bought the house in 2005 for $206,900.) Real Estate Solutions is owned by Robert and Maria Helmick and based in Port Orange.
Attached to the letter to the Genis family was a business card from "Realty Rob" Helmick, with this note on back of the card: "We bought this home today and would like to know your plans. Please call me ASAP. Thanks Rob."
Marie Genis called Helmick immediately. "He told me we have to be out of the house within 10 days or the sheriff's department would come and throw away all of our stuff and kick us out,"  Genis said, her eyes tearing up. "I tried to explain we needed more time but he would not listen."
"They want the renters out so they can start to remodel," Helmick said. Asked who "they" were, he said it was confidential. "The family has been informed numerous times about the foreclosure and the court has sent out letters of eviction."
Debra Johnson, spokesperson for the Flagler County Sheriff's Office, said there is currently no court ordered foreclosure evictions served on this property as of October 26, 2011. "The sheriff would not send out his deputies to evict anyone without a court order," she said.
In a subsequent interview, Helmick disputed telling Genis that she was being evicted. "I did not say that," Helmick said, but he would not say what he did tell the family, or what would have led the family to begin packing up: Most of the family's wares at the house had been boxed up earlier this week. "I have never told them or anyone else anything that is untrue."
Strangely, Helmick said that an article about the family was an "invasion of their privacy" and that they were being "raked through the coals," though he also told a reporter that the Genis family had "trashed the house" and that he'd talked to some of the Genis's neighbors who told him that they were not taking care of the property.
When informed that the sheriff had no eviction order, Helmick said, repeatedly: "I think it's important that we follow the law."
The Genis case is not unusual. The property had been in foreclosure for some time but the landlord did not notify the tenants—a common theme of foreclosures these days. Foreclosed landlords collect rent but don't necessarily pay the mortgage since they aren't planning to keep the house in most cases. Meanwhile, the renter is often unaware of what's going on. Thousands of renters across the nation have become innocent victims of the mortgage crisis in similar ways. Many tenants get scared off by eviction threats, thinking they have little choice, leaving their rental property in a rush not knowing that there are safety nets put in place that can help renters ride out a foreclosure.
Before May 2009, most renters lost their leases upon foreclosure. This problem prompted President Obama to sign the federal Protecting Tenants at Foreclosure Act that year. The new law requires that tenants receive a 90-day notice if they are being evicted due to foreclosure, that most existing leases for renters be honored up to the end of their term, and that month-to-month tenants would be entitled to 90 days' notice before having to move out.
An exception was carved out for the buyer who intends to live on the property. The buyer, in these cases, may terminate a long-term lease with 90 days' notice. Importantly, the law provides that any state legislation that is more generous to tenants will not be preempted by the federal law. These protections apply to Section 8 tenants, too.
James Wolverton, attorney at Livingston, Wolverton & Sword in Palm Coast, said that under the law, tenants with a valid lease are permitted to stay in the rental property under the federal Protecting Tenants at Foreclosure Act. "It's important for renters to keep the lease agreement if a foreclosure situation comes up," Wolverton said, but it has to be in writing. "The bigger issue of renting a property in foreclosure is that the landlord has little incentive to respond to maintenance issues and you might lose your deposit."
Genis said that their lives have been turned upside down to this past week. "We are trying to find a place to store all our stuff because we are scared the sheriff's department is coming to throw it all in the trash," said the mother of six, who moved to Palm Coast about four years ago. "We don't know where we are going yet." That was earlier in the week. The family wasn't looking to stay at the Smith Trail property permanently: they're scheduled to move into a house built by Habitat for Humanity this January, and needed to stay in the rental property until the lease is up. Finding a different rental for less than three months entails numerous costs, including a deposit, that the family may not be able to afford.
Kathy Austrino, a local real estate broker who was working on this particular short sale  prior to the public foreclosure, said she is disturbed that the new owner wants the tenants out in 10 days. "It's out of the family's control," she said. "There needs to be better laws to protect renters and give them sufficient notice to move out. Ten days is just not enough."
But there are protective laws, as long as renters are aware of them and aren't taken advantage of.
"It's a huge issue, and I have seen it over and over," Austrino said.  "Renters haven't been addressed because they have been focusing on homeowners."
By today, the family had decided to move anyway: Marie Genis didn't want to deal with the fear—or with leaving her children at home while she worked and worried about an unwanted knock at the door. She claims Helmick had knocked at the door while she was at work. "What they're doing is not right, it's not fair," Genis maintains, and even though she's moving on, she said she wanted her story told in order to inform other tenants who may be facing the same situation: they don't have to be intimidated, she says.