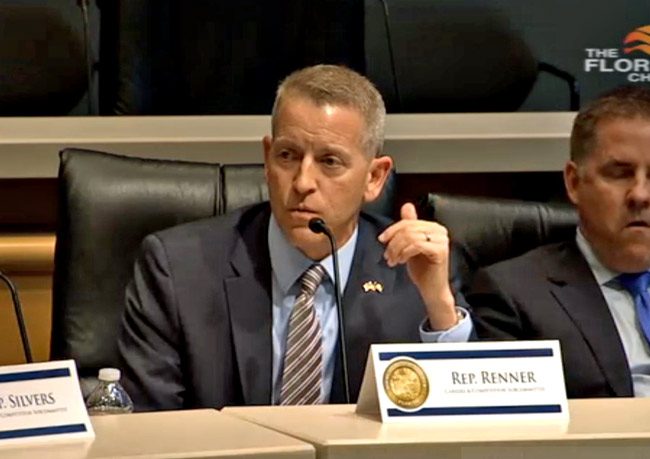 Rep. Paul Renner, who represents all of Flagler County in the state House and is in line to be the Speaker of the House in 2022, took criticism earlier this year for pushing bills that diminish or eliminate home rule—the political principle that local matters are best left for city and county governments to decide. Cities are especially constrained from regulating medical marijuana dispensaries, for example, and Flagler County is battling what's turning into a rear-guard action to protect local regulations of vacation rentals. The state Legislature is becoming more aggressive in "pre-empting" local laws, meaning forbidding local governments from passing laws that go further than state law.
Renner has been supportive of that approach, and appears to be becoming more so. Regarding vacation rentals, he said today that "it's much, much more likely that a bill that goes pretty far in the direction of preemption is passed than not."
But speaking on WNZF Radio's Free For All Fridays this morning, Renner for the first time went much further, putting his philosophy in a larger context: state pre-emption will happen more and more in coming years because it reflects an ideological battle developing between a conservative state Legislature and more liberal urban centers such as Miami, St. Petersburg, Orlando and Jacksonville. All those cities have passed or tried to pass more progressive ordinances, whether to set a living wage at $15 an hour, require new homes to add solar panels, forbid the sale of puppies from puppy mills—or restrict vacation rentals. The cities are enacting those ordinances within their home-rule authority.
To Renner and the conservative Florida Legislature, the cities are going "rogue" the moment they give room to liberal policies, whatever their constituency. Renner's avowal is startling for the degree to which he is essentially equating local autonomy as an affront to state authority, when that local autonomy differs ideologically from prevailing philosophies in the state house. He was answering questions about vacation rentals, but when asked why not let local governments reflect what local constituents want, he first said—more speculatively than with any evidence—that voters don't always understand issues or have time to get ordinances changed at the local level, implying that it then becomes a state responsibility to do so, then placed the argument wholly in an ideological context that managed to start with vacation rentals and ended with sanctuary cities.
"Part of this, to be real blunt about it," Renner said, "what you're seeing and this is part of a larger conversation could have is the concentration of support for a more center-left or left-wing viewpoint, and this is again not Flagler County, but our major cities, San Francisco, New York. The Democrat Party has really become a party of dense urban areas and the rest of the country tends to be more conservative, more Republican. So part of the fight, part of the sub-context of this whole discussion, is the reason we think they're going rogue is because it's Bernie Sanders in charge of your local city government or county government in some cases, and doing things that really are sharp departures from the way the country has become so prosperous, so strong and so free, and so states are stepping in to say, look, we're not going to let you destroy all the good work that we're doing and all the economic growth we're creating in the state for people by trying to ban or shut down particular industries that you don't like."
Hosts David Ayres and co-host Brian McMillan, the Palm Coast Observer editor, did not challenge Renner, nor point out the contradiction that the state's and the nation's strong economy is driven primarily by its urban centers, not by its more rural counties (where poverty is higher, job growth is lower, and health outcomes are poorer).
---
"The reason we think they're going rogue is because it's Bernie Sanders in charge of your local city government or county government in some cases."
---
"So there is that ideological struggle that I think may become more and more prevalent," Renner continued, "where you see battles nationwide, more battles between states as a whole that tend to be more as a whole, center-right, and cities, again as a whole more big cities than Palm Coast, tend to be more to the left. Sanctuary cities is an example."
He said if cities choose to be "sanctuary cities," by taking in undocumented immigrants and not "following the law," then the state will step in with further examples of pre-emption—though again, Renner was being inaccurate at least by omission: it is not in the purview of any city or county government, or local police, to enforce federal immigration law. In other words the Flagler County Sheriff may not arrest someone for not being in the United States legally, though sanctuary cities are currently understood at times to go a step further and decline to cooperate with the federal government on immigration matters—as is also their legal right.
"If you do that, we're not going to fund you anymore," Renner said, without explaining where cities would be de-funded (education? Roads? Environmental protection?). "If you don't want to follow the law because of your ideological view on immigration and refuse to follow the law, we're not going to fund you anymore."
Renner had started by explaining why the Legislature is taking a more aggressive approach against home rule by describing how, in one case, a city has a $25,000 a day penalty for violation of their local vacation rental. (Renner did not specify the city. Earlier this year the most egregious example of a vacation-rental fine presented at the Legislature was that of Miami Beach, which imposes a $20,000 fine for a first violation, but not per day, rising to $40,000 for a second violation, and addressing advertising violations only.)
Renner then mentioned several other instances of what he considers to be home-rule overreach that could invite state pre-emption: a city passing a requirement that every new home have solar panels (South Miami did so in mid-July, becoming the first city in Florida to do so and angering the utility industry);a "Another that banned the use of all plastics," in Renner's words, though he was not entirely accurate: Coral Gables approved a ban on plastic bags only, and only single-use bags used at retailers, a move that mirrors that of about 20 states and 100 cities, along with many country-wide bans overseas. The bans are designed to address a growing crisis of plastics clogging and in some cases decimating ocean fisheries.
Renner also mentioned a city that "banned the sale of puppies," again an exaggeration of Hillsborough County's move to ban the sale of cats and dogs from abusive puppy mills, but not from animal-rescue shelters.
From those examples, Renner then closed the circle back to his defense of pre-emption: "These kinds of things that have happened, and also in the vacation-rental space, has created a move to further pre-empt in that area."
As for regulating vacation rentals in particular, he said "there's a very common sense argument to be made that we shouldn't have 412 cities and 67 counties, we shouldn't have over 500 different rules and regulations everywhere you go, so that it becomes confusing and unworkable." But he was more measured in this case, staying away from calling for pre-emption wholesale.
"We do need to make sure that where there are issues that are best left to the values and uniqueness of a particular community, that that community has an opportunity to tailor things to their liking," Renner said. Referring to Flagler County Administrator Craig Coffey, who addressed a Senate panel on the issue earlier this week, he said he agreed with Coffey "on the idea that it shouldn't be all one or all the other. there's certainly people that would ban them all together, I'm not of that camp, and others that would say, absolutely no restrictions, whatsoever, and I'm not in that camp."
But a bill is coming. He wants to get "rid of some of the overreach in various cities and counties" but preserve the sort of "reasonable" regulations other jurisdictions—presumably Flagler—have in place. "Where all that falls, I don't know," he said, "but I think you're going to get a bill, it's in all likelihood going to pass, and so getting in front of it and working toward some compromise would be wise, and I'm going to try to do that this year if possible."
Still, Renner stressed: "So these local home rule issues have a broader ideological context. Maybe not on vacation rentals, but overall, and it's something to keep in mind going forward."
–Pierre Tristam

Pierre Tristam is FlaglerLive's editor. Follow him at @PierreTristam.