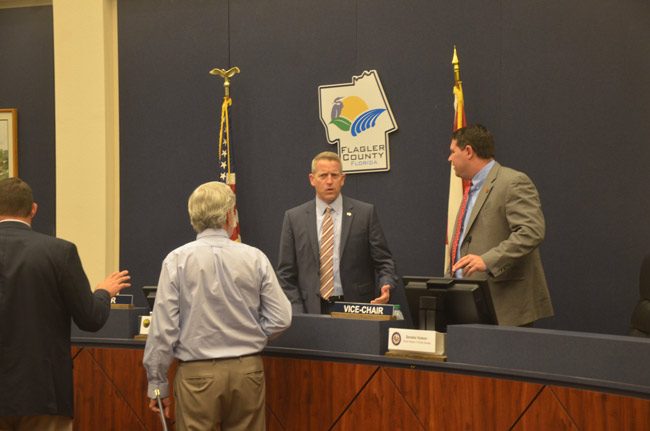 Last Updated: 6:27 p.m., with Paul Renner interview.
"Just so extreme."
"I don't know what the Legislature was smoking this year."
"I'm sort of shocked."
"Damn mind-boggling."
Those were some of the reactions by members of the Palm Coast City Council and their attorney this morning to several bills introduced in the Florida House in the past few days by their own representative there: Paul Renner.
The council is very upset about a proposal that would forbid local governments from regulating their own businesses, reserving that role to the state. At least some council members are displeased with another bill, introduced for the fourth year in a row but this time with Renner's name on it, that would allow for the creation of a new type of health care facility, a sort of halfway house between a hospital and a rehab facility. And the city manager pointed out two other Renner bills he wants the city to oppose—one that would diminish funding for the Small Business Development Center, which partners with the city's own Business Assistance Center, and one that would end the local business tax receipt, which allows local governments to essentially license businesses operating in their jurisdiction, to regulate them and to tax them, albeit very modestly.
And that's without mentioning the blowback Gov. Scott orchestrated last week against Renner, with campaign-style stops in Flagler Beach and elsewhere in the state, to defeat his proposal to end funding for Visit Florida, the state's tourism bureau, and Enterprise Florida, a public-private partnership intended to spur economic development in the state. Renner, House Speaker Joe Corcoran and others, including such groups as Integrity Florida, the fiscal watchdog, criticized the economic development agency as bloated and inefficient, criticism also leveled at Visit Florida.
"My door is open to hear criticisms in private before I hear them in public," Renner said in an interview late this afternoon. "If anybody has a concern about a bill, they need to call me." He said he'll be on WNZF Radio Friday just after 9 a.m. (on Free For All with David Ayres) total about the bills. He invites council members and other listeners to call in and grill him if need be.
Renner is not necessarily the driving force behind every bill: he is a foot soldier in Corcoran's ambitious army, with ambitions of his own to be Speaker one day, so he carries the leadership's orders, and water. But it is Renner who appears before committees to advocate for several of the bills, and he does so—as he did with the Visit Florida and Enterprise Florida bill—as if they are fully his own, mounting a legislative insurgency against entrenched interests, with broad consequences, assuming the bills advance in the House and the Senate. Many won't.
"It's very premature for those particular bills to reach any conclusions where they're going," Renner said, with just 19 percent of all bills that are introduced eventually making it to the end. "But I can address any concerns."
Still, Renner's onslaught has left local leaders perplexed, particularly as those same leaders now must depend on him to carry their water in local funding requests, because the rules have changed to secure that state money.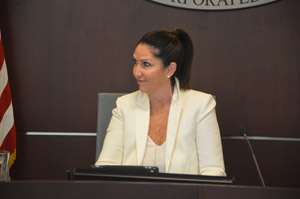 "He has 16 bills that he's filing, and not one of them are our requests for funding, so it's odd," Mayor Milissa Holland said, not entirely accurately: at least three of Renner's bills are such funding requests, including a $250,000 request for Palm Coast's sewer system (HB2645) and a $250,000 request for the city's PEP generators (HB2647). The third is a $10 million appropriation request for beach restoration in Flagler. The bills must have companion bills in the Senate, presumably to be filed by Sen. Travis Hutson, who represents Flagler. None have been filed.
The bills that did get the council's attention this morning were the ones that could potentially have direct impacts on city government and the local economy. And the one that got the most shocked response was the proposal that would have the state pre-empt all local regulations of business, House Bill 17. That's the one that prompted council member Bob Cuff to wonder what legislators, presumably including Renner, who is a co-sponsor, have been smoking. The proposal, he said, would eliminate home rule.
---
A local representative who's been less reflective of local concerns, as some elected officials see it.
---
And home rule "has been the law of the state since I was a baby assistant city attorney down in Broward County back in the 70s, I'm not sure," Cuff said.
"1968," Bill Reischmann, the city attorney, specified (referring to home rule, not Cuff's days as a city attorney).
Put simply: the proposal would prohibit local governments (counties included) from imposing any new regulations on businesses starting retroactively on Jan. 1, and would require all existing regulations to expire by Jan. 1, 2020, unless those regulations are explicitly allowed by state law. The proposal, which has yet to clear its first committee (the House Careers and Competition Subcommittee hears it Wednesday) defines regulation as including permits, licenses and regulatory fees. But the proposal is as sweeping as it is vague, and could, if adopted as is, throw local governments into chaos.
"We face efforts of preemption out of Tallahassee every year but this is the first one that I've seen in I think ever that has this scope," Reischmann said. "This is just so extreme." (It was also Reischmann who called it "damn mind-boggling.") Examples of local businesses that could not be regulated, he said, would include bottle clubs and strip joints. He also included Internet cafes, but those did get regulated statewide—at the behest of cities such as Palm Coast.
"I'm not surprised," Holland said. "I think the Legislature every single year tries to minimize our ability to govern locally, so it's unfortunate but I'm certain that the League of Cities as well as our lobbyist will do hopefully an effective job making sure this does not go through."
Renner said the bill is intended to lighten burdens on businesses that may face too fractured a regulation landscape when it comes to 67 counties and more than 400 cities applying their own rules. But he is not the chief sponsor of that bill.
Next was House Bill 145, a proposal that would expand the reach of non-hospital, stand-alone health treatment centers—to the detriment of hospitals, according to Holland.
This is the fourth year in a row that the proposal in one form or another has been introduced. It's failed the past three years. This time it has Renner's name on it. (Renner, Holland said, has not been to Florida Hospital Flagler to gauge its impact, though he will again be on WNZF radio this Friday to discuss the proposal with the hospital's CEO, Ron Jimenez.)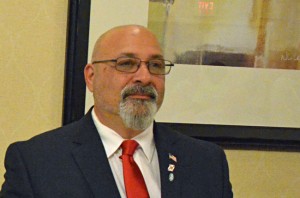 Aside from expanding the treatment hours of so-called ambulatory surgical centers, which had 3 million visits in 2015 (more than half of them at facilities not connected to hospitals), the bill would create a new type of health care facility in Florida: the Recovery Care Center, where patients could be admitted for up to 72 hours, but where care would be post-surgical, post-diagnostic, and only in cases where recovery is expected to be uncomplicated. The recovery centers would essentially vastly expand the reach of stand-alone ambulatory type centers, where, according to a legislative analysis, the care provided is about three times less expensive than for the same treatment at hospital facilities: The average charge for individual stays at hospital based facilities was $20,444 in 2015. In Ambulatory care facilities, the average charge was $5,561. (See the complete legislative analysis of the proposal here.)
The proposal is intended to reduce overall health care costs. But it also lowers the bar for stand-alone centers, regarding the sort of care they may provide, and the sort of patient they may accept, thus, Holland says, creating a two-tiered system, and leaving hospitals with the costliest patients. What that amounts to, she said, is unfair competition.
"These recovery centers aren't obligated by state statute to allow self-pay to come into their facility. Hospitals are," Holland said, including in the self-pay category those who are uninsured. "That's the difference. So those that are less fortunate that aren't insured, they don't accept Medicaid as well, that puts a severe disadvantage to our residents that can't afford to go in and have a procedure. That's the differential."
Renner said the same agency that regulates hospitals–the Agency For Health Care Administration–would be regulating recovery centers, and that those centers would also be under the same managed care strictures that would have them accept Medicaid, though not necessarily the uninsured.
"I'm sort of shocked when he is the one who sponsors bills," Holland said of Renner, "but he has yet to go in and speak to the hospital about it. But recognize that it will have a negative impact."
The mayor wanted the city council to draft a letter to legislators opposing the proposal, as the council intends to do with the proposal to eliminate business regulations. But on the hospital proposal, she got resistance from council member Steven Nobile. "I'm one of the very few," he said, "I'm not for protecting a business. I understand their foothold in Flagler County, and their importance, but there are people who can't afford certain care." The stand-alone facilities would provide that.
"I wouldn't look at it just from the perspective that it would hurt the local hospital," he said. "If it unjustly does, and then doesn't provide the services that the hospital is providing, then yes, but if it is, then I don't want to protect the hospital just—you know what I'm saying? If we could save money for people."
He wants to study the matter further.
That's just Renner's point: "Are we here to promote institutions or help people?" he said. "I think everything that guides me is how do I improve the quality and cost of education, how do I improve the quality and cost of health care, how do I put people in a posture where they can have a greater quality of life in the state? If the concern is this will cost us some revenue while saving our residents in Flagler County lots of money, then I'm with the patients."
Then it was City Manager Jim Landon's turn to take on Renner over two bills, one dealing with the Small Business Development Center and the other with "possibly" eliminating the business tax receipt. In fact, the bill Renner filed on Feb. 6 does not eliminate that tax, but limits its scope while also prohibiting local governments from increasing it (which, over time, amounts to a gradual elimination, if the amounts aren't adjusted for inflation.)
"That does a couple of things," Landon said. "It hurts us financially, which in order to maintain our level of service with the same revenue stream, what you would do is shift those dollars from businesses to our residents, and that to me just doesn't make any sense whatsoever. But even more importantly than the dollars is that there's like one person that investigates all the scams that businesses may try to take advantage of people, particularly elderly people, or the people that are taken advantage by illegal contractors, and it's those business tax receipts records that actually help us, and it's those laws that allow us to stop them from doing business if they don't follow the local law. So it is important to us from that regulatory standpoint of protecting our citizens."