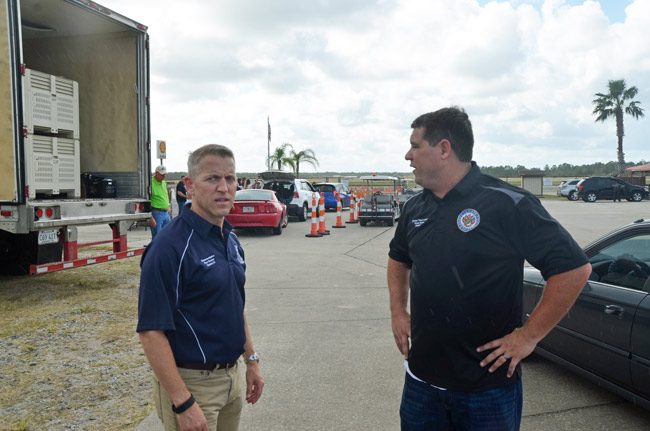 Note: Flagler County Commissioner Greg Hansen and Rep. Paul Renner have scheduled a town hall meeting on vacation-rental and beach restoration issues at 5:30 p.m. Saturday, March 25, at the Hammock Community Center, 79 MalaCompra Road.

Toward the end of Tuesday's breakneck hearing on a vacation-rental bill in the Senate Committee on Regulated Industries, Connie Leon-Kreps, the mayor of tiny North Bay Village, a collection of three islands and 8,000 residents between Miami and Miami Beach, sought to describe to the committee what it was once like to deal with unruly short-term renters in such a densely packed town.
"Imagine having weekenders coming in, 12, 20, in two, three-bedroom homes and partying," she said, looking at Sen. Travis Hutson, who chairs the committee (and represents Flagler County). "I'm sorry, this is very dear to my heart and it should be to you too, because if you were affected by it, with obscenities, with parties at 2, 3, 4, 5 o'clock in the morning, pool parties next to you, it would affect you."
"I understand ma'am," Hutson shot back, "I'm the reason you have that law, so I got it." But did he? What Hutson said and what he did were different stories.
Hutson's statement to the mayor was at variance with an amendment he'd filed to the bill under discussion (known as Senate Bill 188). His amendment would have plundered his own law, which he helped pass in 2014 primarily in response to complaints from Hammock residents in Flagler County, who echoed the sort of conditions the North Bay Village mayor was describing. Hutson was filing his amendment under the guise of a compromise, claiming that the controlling bill, sponsored by Sen. Greg Steube, would be worse.
To Flagler County Commissioners, the Hutson amendment would have the same effect as the Steube Bill: either would make it impossible for county government to regulate short-term rentals as it has since 2014. Commissioners on Monday urged Hutson to withdraw the amendment. He did. But he looked vexed doing so, and even though he voted against the Steube bill–which nevertheless passed the committee on a 7-3 vote–he made his position clear: his opposition was nominal, not heartfelt. If his body language hadn't shouted it, his silence had: he wasn't going to be Flagler County's champion on this one. He would comply with the commission's wish to oppose the bill, but no more.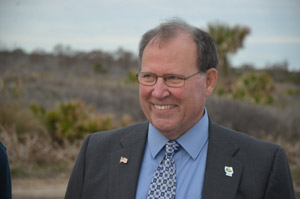 His actions–or inaction–showed how. Hutson raised no questions. He did not challenge Steube. He did not use his powerful position as committee chairman to sway a single colleague his way. He did not seize on the fact that the 31 people appearing before his committee were running three-to-one against the Steube bill, with residents, local government representatives, local control advocates, city and county associations all opposed, and only vacation-rental industry representatives and their lobbyists for. (See the complete tally and identity of those who voiced opposition and support to the bill here.) The only rousing thing about Hutson's No vote was a huff.
That left Flagler County officials at a loss. Commissioner Greg Hansen and County Attorney Al Hadeed had been in the audience, Hadeed addressing the committee in a tense three minutes, Hansen voicing his objection to the bill without taking the podium. After the hearing they spoke to Hutson.
"I asked Senator Hutson to please stand up and be counted from this point forward, if asked, to speak up, to support us," Hansen said in an interview this afternoon. "He didn't say he wouldn't do it, but he didn't day he would do it, either."
Hutson's was the second committee the bill had cleared in the Legislature. A similar bill cleared a House committee on a 9-6 vote last week. Steube himself is not, of course, framing his bill as favoring the vacation-rental industry, or even favoring tourism (since tourists are the overwhelming beneficiaries of the industry), but as a property rights equity issue.
"All of the things that I heard–parking, noise, the amount of bedrooms, the amount of people at the house, if this bill passes," Steube said just before the vote, "all the municipalities, cities and counties can still regulate based on those things. They just can't say, oh, only vacation rentals can't do it, but our primary residents can do whatever they want. It just has to be uniformly applied."
Hadeed has called the approach a false equivalence, since regulations target safety and nuisance issues specific to vacation renters, issues that do not normally apply to full-time residents. But despite the vote and Hutson's disinterest, county officials aren't giving up on either chamber.
"We have not given up on the Senate," Hansen said. "We're trying to get some more information out of Sen. Hutson with regards to the information he's getting from people supporting SB 188. We have a letter going out to him, I hope we'll get it out by Monday, for more information. We'll be meeting with more senators to get help."
In other words, Flagler County officials will be doing Hutson's job, meeting the senators he won't. Hansen and Hadeed were in Tallahassee this week. Next week it's Commissioner Don O'Brien's turn, along with Hadeed. But the county is also shifting strategy, at least to some extent, back to the house–and to Rep. Paul Renner, who represents Flagler County. The reason: Renner's opposition to the bill is more muscular, and his willingness to champion Flagler's opposition explicit.
"A deal was struck, a bargain was struck among all the stakeholders to strike a balance between private property rights and the rights of neighbors to have the quiet enjoyment of their property," Renner said this afternoon in an interview, "and we need to let that deal stay in place and let it work, so I'm not happy that we're revisiting that deal at this point."
Three years ago it had been then-Sen. John Thrasher who'd championed Flagler's cause to restore local regulatory control in vacation rentals, with Hutson tagging along in the House and diluting the regulations with concessions to the short-term rental industry. This time, it's the House member who appears set to carry Flagler's load. Renner is likely eager to do so because he's taken a beating over other bills he's championed that local officials oppose, just as Hansen is eager to show himself a worthy successor to the late Frank Meeker, who'd been the commission's point man on vacation-rental regulations.
Renner and Hansen were talking about the issue earlier this week, and jointly decided to hold a town hall in the Hammock Saturday. Renner wants to hear residents' positions on the vacation-rental issue and talk about beach-restoration issues. The meeting is scheduled for 5:30 p.m. (March 25) at the Hammock Community Center, 79 MalaCompra Road.
"I actually asked that we have a meeting and want to make sure everybody is clear on the strategy, and I want to make sure we have as large a group of people" show up, Renner said, so he can "carry the will of the people" back to Tallahassee. "Now that the issue has been reopened against our wishes, what is the right course of action, do you we have an opportunity to stop the bill from becoming law, if not, what is the best plan B, if there needs to be a plan B. Those are the topics I want to discuss with our community Saturday."
Renner himself has not formulated a Plan B yet, nor has he directly discussed the issue with Richard Corcoran, an ally, but he has told Rep. Mike La Rosa, the sponsor of the vacation-rental bill in the House, that he will vote against it. The bill is expected to be on the Tuesday's agenda of the House Career and Competition Subcommittee meeting. Renner is a member of that panel.
"We hope we get a good enough crowd there to talk to him," Hansen said, referring to Renner. Despite the short notice and the weekend timing–the only time Renner could make it–county officials are hoping for a turnout of about 80 people, with the meeting designed as a message to legislators in Tallahassee.
"The Steube bill is absolutely a disaster for us, we'll be back to the 2011 rules, which are no rules, and not be able to enforce the rules that we had," Hansen said. "They're trying to sell it as if it's good for one, it's good for all. It's beguiling, Steube's attack, because he makes it sound like you're un-American if you're not for his bill." Hansen continued, "the only people who benefit from the Steube bill are the industry."