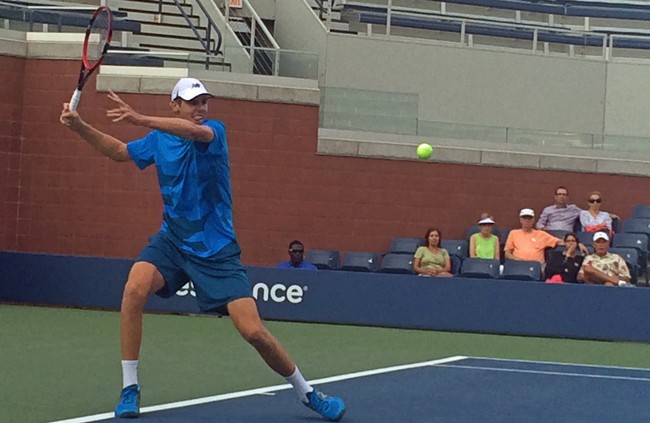 FLUSHING MEADOWS, N.Y.– Two years ago at the 2013 U.S. Open, Reilly Opelka played a first-round juniors match on Court 8 in front of maybe 35 people. He was completely anonymous, except for a few curious onlookers gawking at his height.
Wednesday night he played on a major court, Court 17, in a first-round men's qualifying match, in front of nearly 1,000 spectators.
After he won, Opelka was besieged by shrieking children forcing giant tennis balls in front of his face as they begged for his autograph. As he tried to leave the court, he was stopped every few seconds by yet more fans. This reporter took seven photographs of fans with Opelka in the span of about three minutes, with the 6-foot-11 pride of Palm Coast smiling and putting his sweaty arm around each fan happily.
As he turns 18 on today (Aug. 28), it's safe to say that Opelka's days of playing in front of a few dozen bored fans at a Grand Slam tournament are over.
"This is my favorite court in the whole world," he said Thursday, about 20 minutes after he was eliminated from the men's qualifying in the second round. "It's a big stadium court, but it's a little smaller. I love it here in New York."
Judging from his fan support the last two nights, New York loves the former Indian Trails Middle School student right back.
Is it overwhelming to suddenly be a little famous, and have people eager to get his signature?
"I'm getting used to it, but I don't know, I don't think about that stuff," he said sheepishly, standing outside the same locker room Roger Federer and Novak Djokovic use. "It's not my concern or something I think about. My life hasn't changed too much since Wimbledon."
---
"You know, you come from a small town and it feels so great getting so much attention and support," Opelka says of Palm Coast.
---
The U.S. Open, which begins Monday, is the perfect time to take stock of just how far Opelka has come in the past 24 months.
Once anonymous, he's now well-known among tennis fans. Once just an amateur not considered among the top-flight American men's prospects, now he's front and center among a new generation of extremely promising American men hoping to restore luster to the sport in this country desperate to produce a home-grown champion.
Once just a little kid hitting forehands on the courts of Flagler County, now he's a full-grown man and a Wimbledon junior champion.
And he can't wait to come home.
"I haven't been back to Palm Coast in a long time, and I'm finally going to get to come home after the Open," Opelka said. "It's been so great getting the love and support from the town.
"You know, you come from a small town and it feels so great getting so much attention and support," Opelka added. "It's better than coming from a big place where you don't get noticed as much. I can't wait to go back and see people."
Small town or not, there aren't too many places where Opelka can be anonymous. Being 6-foot-11 tends to make you stand out.
But it's his tennis that's really winning him accolades. Since stunning the tennis world and winning the Wimbledon boys title on July 12, Opelka's life has changed in a few important ways, even if he believes it hadn't.
For one, he's signed his first big endorsement deal, with New Balance. They're now supplying him with clothes and sneakers. It's the kind of deal many pros have, but it's a big deal when it's your first.
Another change is Opelka's reputation around tennis and in the media. The Wimbledon win has vaulted him into the top tier of American prospects, alongside Frances Tiafoe, Stefan Kozlov and Taylor Fritz, Opelka's doubles partner in the men's U.S. Open starting Monday.
There have been glowing profiles of Opelka in the Boston Globe and The Sporting News, and established pro players like Madison Keys and Jack Sock give him shout-outs on Twitter.
"He has shown that he has the talent, and I've been very impressed by his mindset," said Martin Blackman, the new USTA Director of Player Development. "Winning Wimbledon shows how dedicated he was, and how far his game has come along. We're all very encouraged."
After Wimbledon, there was no week-long bacchanalia or celebration. Opelka took one day off, then resumed training for a few days before heading to Binghamton, N.Y. and a minor league Challenger event. It was a far cry from the All England Club, and Opelka lost in the first round.
He's played three other pro tournaments since Wimbledon, losing in the first round in each, and in early August he competed in the U.S. Nationals in Kalamazoo, the most prestigious American tournament for juniors. He reached the quarterfinals before losing there, but he and Fritz won the Boys 18 doubles crown, automatically getting them into the U.S. Open men's doubles draw.
Opelka was invited to compete in this week's U.S. Open qualifying tournament, where he needed to win three matches to make the men's singles field. But he fell to Kimmer Coppejans of Belgian, a pro ranked 104th, in two sets Thursday night (his second match).
Now his sights are set on winning another junior Grand Slam. He's likely to be seeded No.4 in the Boys event, which starts Sept. 6.
"If I play as well as I did this week in the juniors, I feel really good about my chances," Opelka said. "I've definitely got a real shot."
–Michael J. Lewis for FlaglerLive