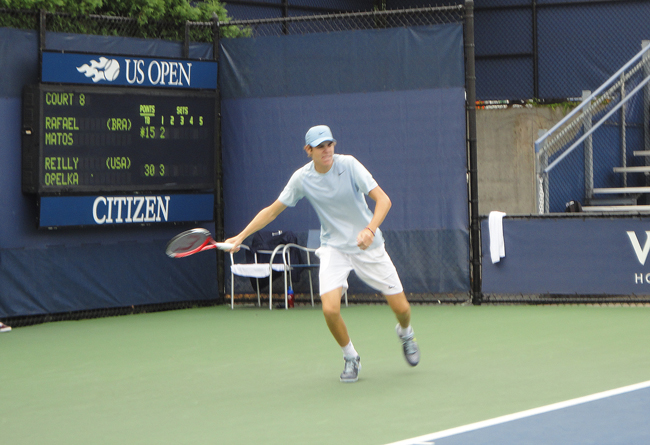 NEW YORK – For his 16th birthday, Palm Coast native and former Indian Trails Middle School student Reilly Opelka was living a dream Tuesday.
Other kids maybe get a car. Opelka was at the Billie Jean King National Tennis Center in New York, playing in the main draw of the Junior Boys Singles at the U.S. Open.
Playing on courts usually occupied by his heroes like Roger Federer and John Isner, Opelka played a tight match with Rafael Matos of Brazil before falling, 6-4, 6-4 on Court 8.
Opelka, who just turned 16 on Aug. 29, was given a wild card to the U.S. Open Boys Junior qualifying tournament last week thanks to his strong results this summer, which included a quarterfinal appearance in the Boys 16 and Under division at the U.S. Nationals in Kalamazoo, Mich., and being the runner-up at the National Clay Court championships in Delray Beach. Opelka, who's 6'8" and still growing, is currently No. 10 in the U.S. in the Boys 16 and Under rankings.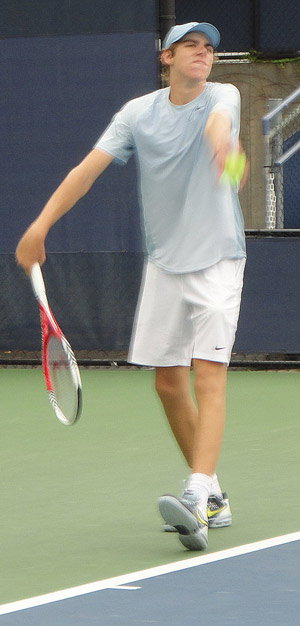 The success came after Opelka had to stop training for three months this spring after a broken left foot, to go along with a stress fracture in the foot, the likely result of intense training and his body continuing to expand. He's grown eight inches in the past 18 months.
"It was really ugly, bruised, broken, everything," he said with a smile. "I couldn't do anything for three months
But just getting to the Open was a thrill ride.
"I'm never feeling too good or confident after a loss, but it is great experience coming here and being around the Open," Opelka said. "I just feel like I could have done better today. I hate to lose when I'm not playing my best."
Opelka's first-round opponent was a 17-year-old from Brazil,  No. 50 in the International Tennis Federation (ITF) rankings. On a muggy, hazy day in Queens, the match was tight in both sets. The 6-foot-8 Opelka was broken at 4-all in the first before Matos served it out. Opelka had numerous chances to break Matos' serve at 3-2 in the second set. But a couple of errant backhands on break points stymied Opelka, and Matos was able to break the Flagler County star the very next game.
"I was just too passive and didn't go for my shots like I should have," Opelka said. "I wasn't really nervous today. Last week when I played my first match is when I had, like, that 'I'm at the U.S. Open' nerves' thing."
Jay Berger, the head of the USTA Men's Tennis training program in Boca Raton, where Opelka trains, said Reilly had earned the chance he got.
"He's had a great summer and has really been developing well," Berger said before the match. "He's come a long way, but he's got a long way to go, too. But he's still real young."
Once here in New York–it was Reilly's first-ever trip to the Big Apple, his father George Opelka said–he had to win two qualifying matches just to get into the draw, which he did.
"Really, this is all just so exciting and a great thrill just to have gotten into the qualifying," George said. "To come here, and see your son play at the U.S. Open and represent Florida, is incredible."
Reilly's journey to the U.S. Open began in Palm Coast, where he spent the first 12 years of his life and where he first began playing the sport.
Reilly said he loved growing up in Flagler, playing basketball with his friends, and playing tennis, though he recalls that "basketball and football are really the big sports. I wish tennis were bigger."
George had been a casual fan before his son's interest, but became more enthralled with the sport as young Reilly wanted to play more, more and more. Reilly improved dramatically as he trained under coached like ex-pro Tom Gullikson and played at the Grand Haven Country Club.
When he was interviewed at age 10 while still living in Palm Coast, Reilly was bubbly, enthusiastic, and wide-eyed over having just met Roger Federer at a tournament in Cincinnati.
"His demeanor really hasn't changed much. It's still pretty hard to drag him off the court," George joked.
Reilly attended Indian Trails Middle School until the 7th grade, when he was invited by the U.S. Tennis Association's junior development coaches to move full-time to Boca Raton and train at their development academy, where the top players in the country train.
His mother Lynne was hesitant to send her son off by himself, so she and daughter Brenna moved with Reilly to Boca Raton. They lived in a condo about five miles from the training center, and Reilly's tennis life suddenly became much more structured, with Lynne dropping him off for rigorous training sessions every day, and Brenna going to a local high school (she's now a freshman at Florida State).
"They've got dieticians and physical therapists and everything else you can think of for these players," Lynne said. "I think I was more worried about (moving to Boca Raton) than he was."
"It's really become like a second home for me," Reilly said. "I love going back to Palm Coast and playing basketball with my friends and stuff, too. I really try to keep in touch with those guys from when I was younger."
After Brenna graduated high school last year, Lynne moved back to Palm Coast and Reilly has been living on his own at the academy. And he's been growing taller than anyone fully expected, sprouting up to 6-foot-8, and he may not be done growing.
Reilly's current coach, Diego Moyano, said his charge is still learning how to coordinate his strokes with his ever-growing body.
"His movement and his shots have changed a little bit as he keeps growing, and it's always a challenge when your bones are still maturing," Moyano said. Getting to the Open, he continued, "was a great opportunity for him. The next step is to be able to play with these top players and beat them."
George, who along with Lynne was initially skeptical of sending Reilly to an academy, said he's been very pleased with the care being taken of his son at the academy.
"They're really good about making sure it's not all about tennis. They go to the movies, to the mall, all the teenage stuff," George said. "And the coaches really take good care of the kids."
Since being in New York Reilly hasn't had much time to do the tourist bit, but he did get a cool tennis experience: Warming up with top American player John Isner before a recent match.
"That was definitely pretty awesome," Opelka said. "His coach (Mike Sell) used to be my coach, so he was able to set it up. I was able to rally with him OK, but his serve was nuts. Just nuts. The trajectory (Isner is 6-foot-10) and the spins were unreal." (Isner, the next-to-last American in the draw, fell to Germany's Philipp Kohlschreiber in four sets in the third round.)
Of course, Reilly reserved his true favorite moment for Mom.
"What he has been most excited about this week," Lynne said with a smile, "was the locker rooms for the players. He said 'Mom, the showers in there are awesome!'"
Even though his stay in the U.S. Open singles draw is over (he also lost in the doubles draw Tuesday evening, paired with Russian Roman Safiullin), Opelka, ranked in the top 10 in the U.S. in his age group, is still excited about his future.
As of Sept. 1, college recruiters can go after him, and several were in attendance at Tuesday's match. Whether Reilly does go to a Division I college or opts to to turn pro in two years, is a decision he isn't in a rush to make.
For now, he's got a few weeks of rest before taking on some international tournaments to finish out 2013.
"The college recruiting won't bother me too much, I'm just trying to be focused on getting better so I can win matches" like the one he'd lost Tuesday, he said. "I love that I was able to come here and play, but next year I want to come back and win."
–Michael Lewis, Special to FlaglerLive

Follow Michael Lewis, the former News-Journal sports writer, at Wide World of Stuff.