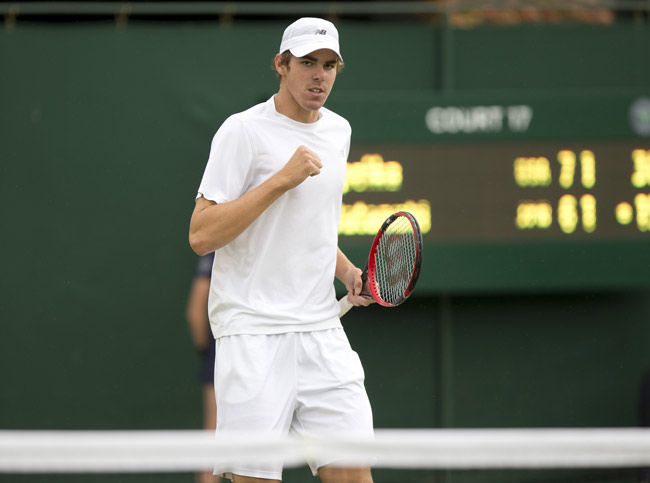 Every match gets better and better for Reilly Opelka.
And now the 17-year-old former Palm Coast resident is two wins from an improbable Wimbledon Junior Boys championship. It's his biggest world stage yet, and it could give Palm Coast dreamy exposure.
Using deep, attacking groundstrokes and a dominant serve, combined with perfectly-timed net rushes, Opelka cruised to a 6-3, 6-3 victory over William Blumberg in the Wimbledon quarterfinals Thursday to reach his first-ever Grand Slam semifinal.
The 6-foot-10 former Indian Trails Middle School student rocketed five aces and broke Blumberg's serve five times in the match, defeating his friend and fellow American in 58 minutes.
Opelka, who defeated Blumberg for the first time ever (in three meetings), will now face fellow American and No. 1 seed Taylor Fritz in the semifinals, Friday at 6:30 a.m. Palm Coast time, on Court 18. The match will be streamed live on ESPN3.com and through the Watch ESPN app.
"No doubt this was by far the best I've played in the tournament," a clearly happy Opelka said by phone from London Thursday. "It was a combination of a few things. I served really well today, he didn't serve as well as he usually does, and I think the grass, the surface of the court, helped me today. I had an easier time with the bounces."
Opelka, who until this year had won a total of one match at a Junior Grand Slam, is now just two wins away from the title.
He refused to admit he's even thinking or dreaming about what that would be like, to hold the championship trophy at the most prestigious grounds in the sport.
"No, no, noooo," he said with a laugh. "That's still way too far away to think about. Lot of work to be done before then."
Opelka won't have nearly as big a height advantage as normal. Fritz is 6-foot-4 and also serves 125 miles per hour or greater, and besides being the No.1-ranked junior player in the world, was a French Open finalist in June, falling to Opelka's buddy Tommy Paul.
Opelka and Fritz have played just once before, at a minor league pro tournament in Spain in May. Fritz came away with a 7-6, 6-4 win.
Opelka said that since both are coached by USTA developmental coach Diego Moyano, neither he nor Fritz will get advice from Moyano before the match.
"He's really good and doesn't have any weaknesses," Opelka said of Fritz. "I'm going to have to do everything really, really well. It's going to be a really tough match. There's no secrets with us, because we all know each other's games really well."
While Opelka played well his first three matches this week in his first trip to the All England Club, he raised his game another few notches against Blumberg, seeded 10th.
Opelka kept Blumberg pinned behind the baseline throughout, scorching backhands and forehands deep into the court and coming to the net more than he had previously.
Opelka won 15 of 20 net points, and smashed 24 total winners (Blumberg had eight), while making just 13 errors. His serve was consistently between 110-125 miles per hour.
"I'm always trying to play aggressively, today I was just able to take advantage of the opportunities he gave me," Opelka said. "Even when I was back on the baseline, I was dictating play, and forcing the action. I was really able to do what I wanted to do against him."
Opelka jumped on top in the first set with a break in the fourth game, when down 0-40, Blumberg double-faulted.
The Connecticut native Blumberg broke back to close the gap to 3-2, but Opelka smacked a two-fisted backhand winner down the line to break again and go up 4-2, serving the set out at 5-3 with a perfectly-placed service winner down the middle.
In the second set Opelka broke early again at 1-all, forcing a Blumberg groundstroke error on break point, then broke again when leading 3-1 with another blistering backhand winner to take a commanding 4-1 lead.
"That second break was big, because I knew he'd come back and make it close, which he did," Opelka said.
This summer has been quite the success for Opelka, who turned pro in April but is eligible to play in the Junior Grand Slams in 2015. In June Opelka reached the French Open quarterfinals, the best performance he'd ever had in a Grand Slam event.
Opelka also competed in the Junior Boys Doubles on Thursday. He and partner Akira Santillan defeated the team of Finn Bass of Alexis Canter, both of Great Britain, 6-1, 7-5. Opelka and Santillan are now in the doubles quarterfinals, slated to play Viktor Durasovic of Norway and Patrik Niklas-Salminen of Finland Friday afternoon.
"I'm not usually much of a fan of doubles, but Akira and I have known each other awhile and I'm having fun out there," Opelka said. "It's been a great week so far."
A week that can only get better from here.
–Michael J. Lewis for Flagler Live