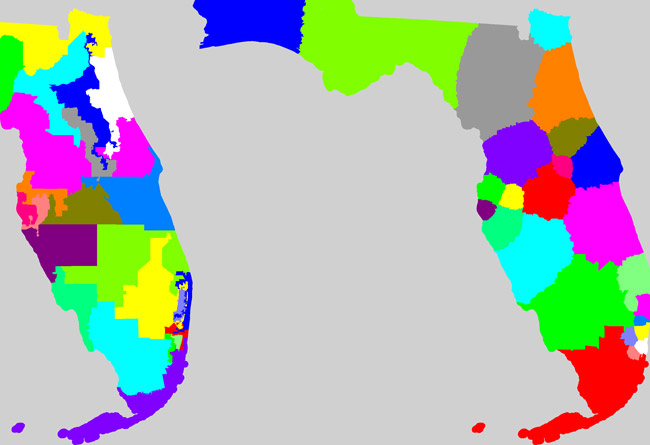 By Paula Dockery
On Tuesday, the Florida Senate voted 34-6 to approve redistricting maps for the state senate and U.S. Congress. Early in the debate, Sen. Don Gaetz, who chairs the reapportionment committee, said, "Vox populi, vox dei" — the voice of the people is the voice of God.
But as the debate continued, I wondered: do the people of the great State of Florida truly have a meaningful voice in the actions taken by this chamber?
Perhaps the maps were drawn fairly for many citizens in many districts, but it was glaringly obvious that that was not the case for Polk County — and Lakeland — where I live. And for that reason, I voted no.
Just so you know, I'm a term-limited state senator with no plans to run for Congress. My only interest is to create fair districts for the 470,000 people I represent. And even I didn't feel heard.
Redistricting is a process undertaken every 10 years based on the latest census data. The goal is to draw legislative and congressional districts in a manner that ensures equal and fair representation. Over the years, the majority party, whether Democratic or Republican, has used the opportunity to increase their majority, reward political allies and punish political foes. Since the advent of term limits, redistricting has been used to help or hinder future Senate Presidents and House Speakers. Historically, the process has been conducted by a small group of members cutting deals behind closed doors. The result: gerrymandered seats and incumbent protection.

This year's process was driven by a goal of transparency. A statewide "listening tour" last summer drew more than 5,000 attendees and 1,637 speakers. For soliciting input and making map-making software available to citizens, Sen. Gaetz and committee staff deserve an "A." For allowing citizens to alter the maps for the area they know best, the grade would be considerably lower.
The process change came about largely because of two state constitutional amendments — called the "Fair District" amendments — that 63 percent of Florida voters passed in 2010. These amendments say political districts for state and federal offices "must be compact, as equal in population as feasible, and where feasible must make use of existing city, county and geographical boundaries."
The task, after listening to people close to home, was to create districts that made sense.
The challenge came easiest in the Panhandle and along the coasts, where gerrymandering is less possible. But in population-dense Central Florida came the opportunity to draw district lines in opportunistic fashion.
Reasonable people would hardly agree that tight-knit Polk County, population 602,095, should be split into four different senate districts and four different congressional districts. The maps even split the city of Lakeland in two.
Remember, these amendments were supposed to respect communities of interest and geographic boundaries. But maps approved Monday lessen the chances that someone from Lakeland or Polk County — proud home to a former governor, U.S. Senator and Florida Supreme Court Justice — will serve in Tallahassee or Washington, D.C.
Rather than a compact district, proposed Congressional District 12 embraces 11 counties as far south as Lee County and as far east as the St. Lucie County line.
This new district is billed as rural, even though Lakeland is home to 102,000 people and boasts Publix Super Markets as a major employer, with State Farm Insurance and Badcock Furniture close by. Curiously, Port Charlotte, a charming community of just 54,000, was removed from this district because it is "too urban."
With problems identified, why the lopsided vote? Perhaps it was political self-preservation for returning members. Some Republicans and Democrats like their new districts. Or maybe it was a belief that the courts will fix the maps, so no need to incur the wrath of Senate leaders pushing this version. Or perhaps the smoke and mirrors of so-called transparency provided a shield.
The maps approved on Tuesday do not meet the criteria set forth by the Fair Districts amendments. Rather, they increase the odds that a process billed as transparent and inclusive will be overturned in court — a waste of taxpayer time and money.
Vox populi indeed.

Paula Dockery is a term-limited Republican senator from Lakeland who is chronicling her final year in the Florida Senate. She can be reached at [email protected].