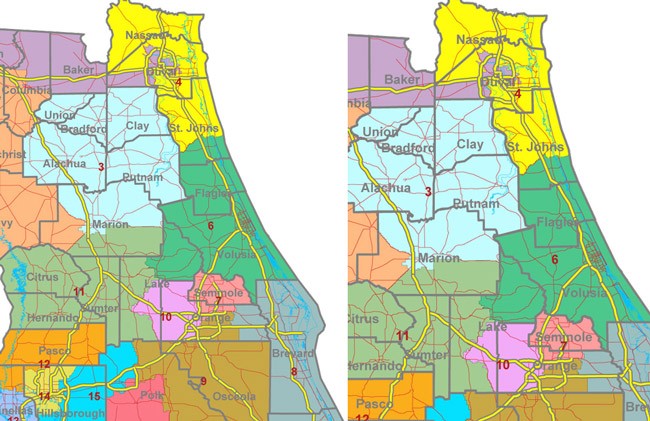 House and Senate leaders edged toward an impasse Thursday on an effort to redraw the state's congressional districts as the hours ticked toward the deadline to finish a special legislative session on time.
In a rapid series of developments, the House rejected a Senate proposal drawing the boundaries for Florida's 27 congressional seats. Moments later, on a 60-38 vote, House members approved a plan (HB 1B) that more closely followed a "base map" drawn by legislative staff in the wake of a Florida Supreme Court decision last month striking down the current districts.
Asked by a reporter if the House's current proposal was its final offer, Speaker Steve Crisafulli suggested it was.
As far as Flagler County is concerned, the two maps don't differ: the 6th Congressional District would be redrawn southward, losing most of St. Johns County and all of Putnam, and taking on all of Volusia and a segment of Lake, thus pushing the district more to the center than it's been: St. Johns and Putnam are more conservative, Volusia is more liberal. (See the House's statewide map here, and the Senate's statewide map here.)
"We think we've put forth a good product, and I hope our partners find it to be a good product and are able to vote it out of their chamber tomorrow," said Crisafulli, R-Merritt Island.
A short time later, in a meeting between House Redistricting Chairman Jose Oliva, R-Miami Lakes, and Senate Reapportionment Chairman Bill Galvano, R-Bradenton, both sides seemed intent on sticking to their positions.
The Senate plan would consolidate eastern Hillsborough County into one congressional district and keep Sarasota County whole inside another. But Oliva said the House feared that the Senate's map would be viewed as inconsistent by the Supreme Court because it also pushes a district wholly contained in Orange County under the base map into Lake County.
The special session, which started Aug. 10, was prompted by a 5-2 Supreme Court ruling last month that found eight of the districts drawn by lawmakers in 2012 and tweaked in 2014 violated the anti-gerrymandering "Fair Districts" amendments approved by voters in 2010.
While sounding during the meeting with Oliva like he was open to compromise, Galvano also appeared to close off the possibility the Senate would approve the House's proposal by the scheduled adjournment of the session at noon Friday.
"I can tell you that the Senate is not prepared to back away from these changes," he told Oliva. "We did come here with an open mind. Perhaps there's a way to blend the two products."
Oliva also didn't give much ground.
"The reason that I can absolutely not go back and tell our membership that we should accept a plan that in any way can create some sort of infraction of some of these very direct and clear constraints is because I want to pass a map that's constitutional," he said. "I want to move on with our process, and I want to make sure that our branch of government returns to its rightful place with its rightful prerogatives."
It wasn't clear whether the pair would meet later Thursday or try to reach an agreement Friday. Galvano said he would discuss any Senate changes to the map in a public meeting with Oliva before the Senate voted.
Sen. Tom Lee, a Brandon Republican who crafted the Senate's amendment, said after the meeting that he was "fully prepared to defend" the plan.
"I never intended for us to be in this place right now," Lee said. "Frankly, I'm kind of sorry that we are."
Lee didn't directly answer a question about whether he would be willing to support dropping his ideas to resolve the disagreement with the House.
The House debate over its plan was relatively subdued. Members turned away an amendment by Rep. Alan Williams, D-Tallahassee, that would have placed his city entirely inside a single congressional district while adopting the other changes from the Senate map. Williams said the state's capital would get better representation with one member of Congress representing it.
"We've got parts of FSU (Florida State University) in one congressional district and we've got other parts of FSU in another district," Williams said.
House Minority Leader Mark Pafford, D-West Palm Beach, said after the session that he thought continuing bad blood from a budget battle earlier this year was behind the House's decision to reject the Senate map.
"I think perhaps that is more of a priority than actually drawing maps that will meet constitutional muster and allow the citizens of Florida to have confidence that the congressional districts they vote or live in provide them some form of real good representation, that they're not disenfranchised," Pafford said.
But after their meeting later in the day, Oliva and Galvano said they were committed to figuring out a solution.
"The important part is that the interest is to find the answer," Oliva told reporters. "That's the important part."
"And the willingness to do so should be your takeaway," Galvano added.
–Brandon Larrabee, News Service of Florida