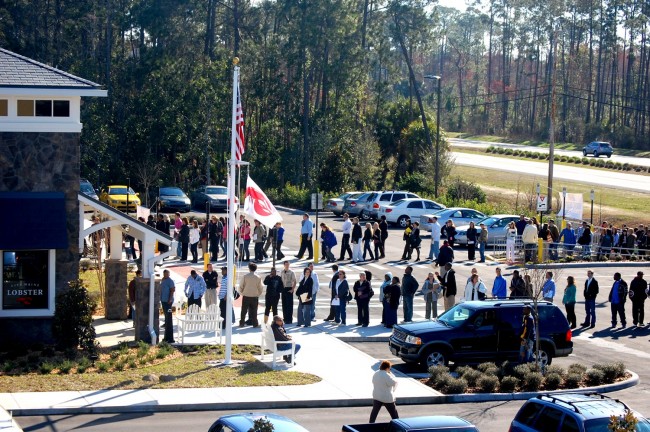 Economic stress is usually just a cold line in news reports or market analyses. Wednesday morning, it was a pair of lines of 125 people each, hundreds of local residents, most of them unemployed, all of them applying for work at Red Lobster and Olive Garden in Palm Coast. One line stretched out laterally to the Dunkin Donut shop. Another spilled down the ramp that connects to the State Road 100 sidewalk, right by the big sign advertising the restaurants' opening on March 7.
And those were just a fraction of the people who'd already been through initial interviews, and those expected the rest of the day. Heather Smith, a restaurant employee who was managing the lines and who'd worked similar openings elsewhere, said at least 1,000 people were expected to apply just today. Many more are expected in the days ahead. Applications will be taken even after the restaurants open.  The restaurants—which are really one restaurant, with one kitchen, but two sets of menus—are hiring between 200 and 230 people in all.
"People can keep coming in for hire because some people are going to get fired the first week," Smith said, speaking from experience: she was just one of 10 employees who'd remained on staff at a previous restaurant opening after a few weeks. (She's been with the company six years and is currently based in St. Augustine.)
The onslaught of job seekers is a reflection of Flagler County's enduringly high unemployment rate. It stood at 15.7 percent in December. The national unemployment rate is at 9 percent.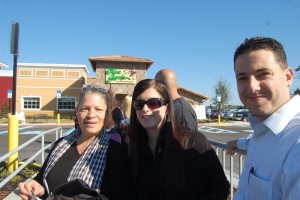 People in line were of all colors and dispositions and ages, from teen-agers to people who looked like they could well remember the recessions of the 1970s, from suited men to older adolescents who looked like regular visitors to principals' offices, from young women well-heeled in standing for hours on end, often as servers or hostesses, to older women whose life experience is a cross-cut through dozens of service and professional jobs. What most had in common is unemployment.
Maria Mays, 51, has been out of work since 2009. She started as a paralegal. She's been an office manager. She's been a dish washer. She's been a waitress. She's willing to take any of a half dozen jobs on offer at the restaurants, from dishwasher to host to server to cook. "I'm flexible. I'm a Girl Friday person. I do everything: I'm the one that does the dirty work," Mays, who lives in Flagler Beach, says. How has she been making it since 2009? "Friends and God—truly God, because I don't know how I've managed to pay the gas bill, pay the light bill, pay the food bill, and I have a child, I'm a single mother. So I'm hoping God opens a door for me." [Update, Feb. 14: Maria Mays was hired following her second interview.]
Rob Davis, 26, has been coming to the restaurant site since it's been under construction. He's dropped in a half dozen times, asking when he could apply, who he could see. "I even asked the construction workers," he said. He's worked construction himself, among many jobs, though he's been out of work for a year in Palm Coast, where he lives after relocating here with his parents.
Nicole Marlin, 23, relocated from Miami, where she was employed at Dolphin Stadium until 2010 in guest services. "I really want to be a server or hostess," she says, having done that before. "Did it for many years."
Every one of them had gone through the online application process, had written out applications in hard copy, carried resumes, other paperwork that might come in handy, anything to have an edge in a competition that would result in a less than 20 percent success rate, especially as more applicants will file in in the days ahead.
Every candidate gets about eight minutes of "face time" with an interviewer, and will get asked again to a second interview with a different interviewer, by company policy. Many candidates today could get both their interviews in succession.