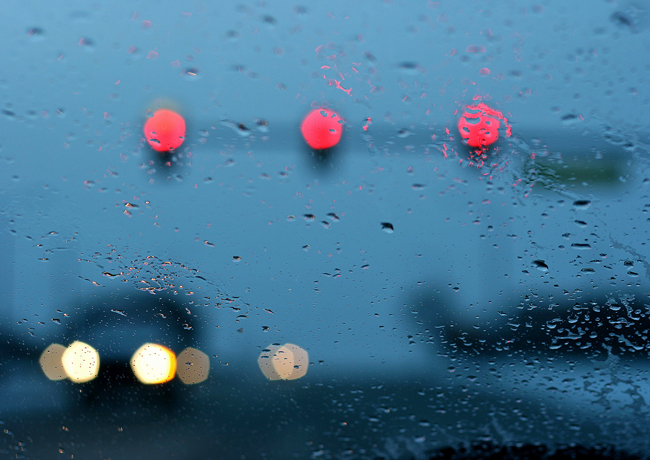 At the end of an hour-long Palm Coast City Council discussion on red-light cameras  Tuesday evening, council member Jason DeLorenzo repeated his long-standing opposition to the devices and cited the only hard evidence of the evening on the matter—a study by the University of South Florida that notes that "the public health concern with [cameras]  is the increase in injury crashes, and possibly fatal crashes."
DeLorenzo mentioned another concern: the $2.5 million to $3 million a year that's siphoned out of the local economy from red-light camera citations, and sent either to state government or to American Traffic Solutions, the Arizona-based company reaping a far larger profit than Palm Coast's share.
Mayor Jon Netts had one curt reply to DeLorenzo's concerns: "Get Tallahassee to change the law."
Less than a day later, a pair of state legislators are unwittingly taking up Netts's suggestion.
Sen. Jeff Brandes, R-St. Petersburg, filed a bill Wednesday aimed at turning off red-light cameras that have popped up at intersections across the state, and at 43 emplacements around Palm Coast. The measure (SB 144) would remove the Mark Wandall Traffic Safety Act of 2010 from Florida law.
"We have had red light cameras in Florida for over three years. They were initially sold as safety devices, but I have come to firmly believe that they are now being used as backdoor tax increases," Brandes said in a news release. "We have seen municipalities that have installed these devices shorten yellow light times and set arbitrary standards on right-turn-on-red violations. I believe cities will continue to install these devices if left unchecked."
Rep. Frank Artiles, R-Miami, is expected to file the House companion to Brandes' bill.
"I have fought for several years to modify and bring uniformity to the red light camera laws in Florida. While we made some progress last year, I believe that this year we need to look at abolishing these intrusive programs," Artiles said. "Red light cameras are not about public safety, they're about increasing revenue for cities. Local governments need to be honest with their residents instead of using these traffic devices to pad their budgets. I look forward to working with Senator Brandes to abolish these devices in the upcoming Legislative session."
A similar proposal failed to advance last session. Lawmakers added last-minute provisions in an omnibus transportation bill (HB 7125) that largely favored red-light camera companies and local governments using them. One of the provisions, touted as driver-friendly, was intended to make it tougher for local governments to issue tickets to drivers caught on camera turning right on red.
In fact, the provision has led to a spike in red-light citations, because, as in Palm Coast, drivers are now required to come to a full stop before making a right turn. They are allowed to make that stop past the white line. But they must nevertheless stop. The rolling stops of old, which previously allowed drivers to turn if they were driving at less than 12 mph in Palm Coast, are now forbidden. While intersections in Palm Coast note where right-turn citations may be issued, the signs do not inform drivers about the required full stop, thus entrapping them into tickets that take advantage of driver habit and the very change in law that was designed to be friendlier to drivers.
But that's only the latest in a red-light spy camera history rich in similar profit-driven means: over time, the issuing of traffic citations at camera-equipped intersections tends to fall. ATS and other companies, along with the governments depending on citations for revenue, seek out new ways to generate new revenue. The full-stop requirement is the latest.
The state Department of Transportation in June directed local agencies to add at least 0.4 seconds to the yellow intervals on traffic lights. Research had found that yellow lights were set a half-a-second shorter than the recommended interval, which could result in a doubling of the number of tickets. The red-light camera law, signed by former Gov. Charlie Crist, is named after Mark Wandall, who was killed by a red-light runner in 2003.
Expect opposition the the Brandes-Artiles bills from local governments, as more than 100 jurisdictions across the state use traffic-light cameras that collectively have generated more than $100 million a year through tickets. ATS itself employs several high-powered lobbying firms and 23 lobbyists to keep spy-camera-friendly laws in place, as well as to wine and dine local government officials in order to keep them on board.
The Palm Coast City Council's hour-long discussion on the cameras Tuesday evening featured a presentation lavishing praise on the red-light camera program by Greg Parks, senior vice president of ATS.
As is usually the case when local government officials talk about red light cameras, the program was described as anything but profit-making, though that is what it primarily is for both ATS and the city. The discussion was heavy on anecdotal evidence, specious generalities, misinformation and a couple of outright lies.
ATS's Parks himself is known to lobby local officials—and deflect evidence of the sort DeLorenzo mentioned with the more emotional and anecdotal appeal to PowerPoint presentations, where analysis and context is usually absent.
That absent context can sometimes hide the truth, as in the case of one slide Parks shoed Tuesday evening—a slide showing an alleged decrease in traffic crashes at intersections with traffic cameras. The two most dramatic decreases were shown at Palm Coast Parkway and Cypress Point Parkway-Boulder Rock Drive, and at Palm Coast Parkway and Old Kings Road.
What the slide did not note is that both those intersections were either directly or indirectly affected by construction during some of the reporting period, while overall crash trends have been going down in Palm Coast since the end of the housing boom, and as the local population stopped growing. The numbers are also misleading in another way: they reflect traffic accidents reported at or in the vicinity of intersections, whether or not traffic lights were violated. In other words, the causes of the crashes may have nothing to do with traffic light violations.
In Palm Coast, the 43 cameras generate a minimum of $30,000 a month for the city, or $361,000 a year—a large sum, but a relative pittance compared to the money that goes to ATS and to the state. Each ticket is a minimum of $158, not counting additional costs when drivers don't pay the ticket immediately, or when they contest it and lose. Of that, $83 automatically goes to the state.
ATS cameras in Palm Coast snap thousands of times, but only about 10 percent of flashes result in an actual ticket. Still, in spring, a typical week's worth added up to 450 to 500 tickets, or well over $60,000 worth of fines. Annualized, that adds up to roughly $2 million for the state, and about $1.4 million for ATS. All that money is siphoned out of the Palm Coast and Flagler County economy.
Contrary to the city's assertions, there is no hard evidence showing the effectiveness of red-light cameras as inducing either safer driving or reduced crashes. What solid evidence exists, such as the USF study DeLorenzo mentioned, shows the opposite.
Palm Coast City Manager Jim Landon also asserted that the city does not stand to make more money the more red-light tickets are issued: "What we receive is $700 per camera no matter how many violations occur," Landon said, "so the perception is that we make money every time somebody runs a red light. That is not correct. We receive $700 per camera."
It is Landon who is incorrect. According to the contract the city signed with ATS, the city makes a guaranteed $700 per camera (regardless), and ATS stands to take the next $4,250 per camera (when the 43 cameras' net revenue is averaged out). But if the cameras generate money beyond that amount, that extra money goes to Palm Coast. The contract language is unambiguous: "After June 1, 2012, Contractor will pay City a Flat Fee of $700.00 per camera per month. In addition to the Flat Fee, the City will receive each month an amount representing all Net Revenue over $4,950.00 multiplied by the number of active cameras."
Landon did not mention that provision of the contract. So far this year, however, ATS has not issued enough tickets in any given month to trigger that extra profit for the city, though it came close in March, when it issued 2,500 tickets. It would have to issue 2,840 tickets a month to trigger the additional profit for the city. With the strict right-turn violations now in effect, that becomes likelier, especially as snowbirds return: spring is the high season for spy-and-snap tickets.
One revelation from Tuesday evening: there will not be additional red-light camera emplacements.  "We have as many as we're going to have," Netts said.