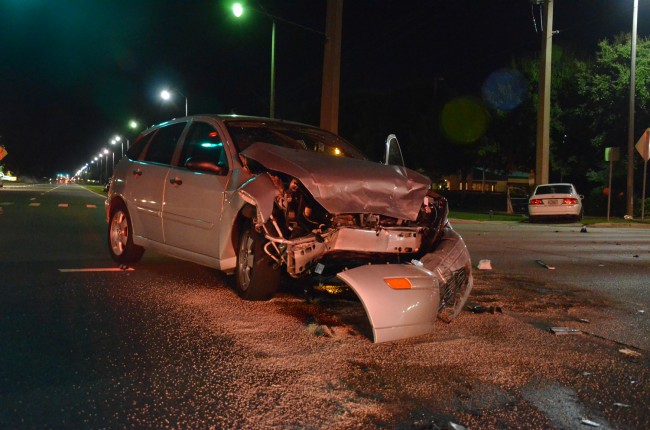 Two people were hospitalized late Tuesday evening after a 9:20 p.m. head-on wreck involving two subcompact vehicles on Palm Coast Parkway and Boulder Rock Drive.
The wreck virtually totaled both vehicles, one of which collided with a concrete utility pole after colliding with the car.
"Somebody ran a red light," the Florida Highway Patrol investigator at the scene said a little after 10 p.m. "I'm going to pull the red-light camera footage and find out who it is." The wreck took place at about 9:20 p.m. The culprit, he said, will be cited for a traffic light infraction.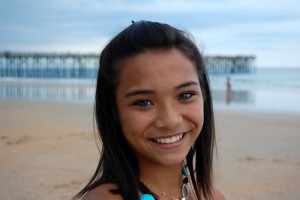 Emily Palisoc, a 16-year-old Palm Coast resident and the 2012 Miss Junior Flagler County winner, was at the wheel of a white Kia Optima LS, traveling north on Cypress Point Parkway, which becomes Boulder Rock Drive after crossing Palm Coast Parkway. Rute Costa, 30, also of Palm Coast, was at the wheel of a gray Ford Focus.
The Kia and the Optima collided on the north-center side of the intersection. The Focus, its front end violently smashed, ended up facing east against westbound traffic in the right-most lane of Palm Coast Parkway, in the center of Boulder Rock. The Kia ended its trajectory with its driver's side smashed into a concrete utility pole, some 10 feet past the curb and sidewalk, on the northwest side of the intersection.
Both drivers were taken to Florida Hospital Flagler, suggesting that their injuries, if serious, are not life-threatening. Both drivers' air bags deployed, and while the front ends of the vehicles were severely damaged, the vehicles' interior driver's sides had largely preserved their integrity.
Traffic was light and barely impeded as the Palm Coast Fire Police regulated traffic flow, closing only the turning lane from Palm Coast Parkway to Boulder Rock Drive.
The wreck was to be cleared before 11 p.m.