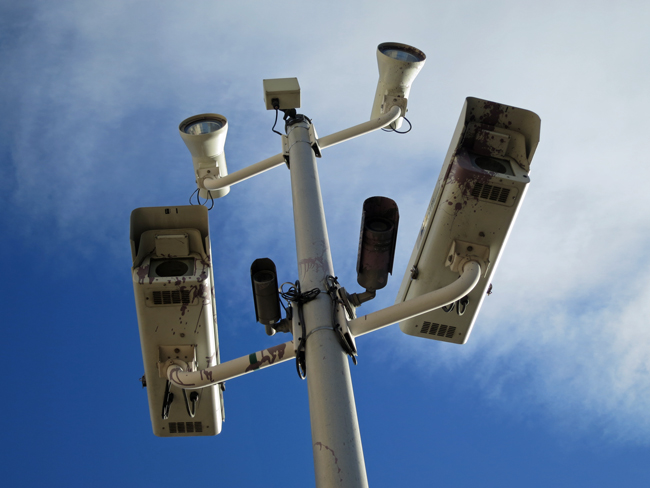 Palm Coast adopted its red-light camera ordinance on Jan. 8, 2008. It may have done so illegally, at least until July 1, 2010. By then, its 10 cameras and $125 per ticket had netted the city $1.2 million from 20,219 citations.
Local governments until then did not have the legal authority to run red-light cameras and levy fines, because state law "preempted" cities and counties from enacting red-light camera ordinances: That's what the Fifth Circuit Court of Appeal ruled a year ago, in connection with an Orlando case. Pre-emption is not a novel concept: the state pre-empts (or essentially forbids) local governments from enacting gun regulations that are at variance from state law, and local governments abide by that preemption religiously.
But the previous year, Florida's Third Circuit Court of Appeal overturned a lower court and ruled (in a divided judgment) in favor of the city of Aventura and its red-light camera system, finding no conflict between state law and local ordinances.
Last year the Florida Supreme Court agreed to take up the issue and settle the matter for good, resolving the conflict between the Fifth and Third circuit. Earlier this week, the court scheduled oral arguments in what may be the highest-profile case of the year on Oct. 8.
Palm Coast told the Florida Supreme Court on Jan. 22 that it would join the cities of Casselberry and Palm Bay in filing a brief in defense of the red-light cameras set up before the 2010 state law. But that brief was never filed.
The case has no bearing on the red-light camera systems in place after July 1, 2010. Whichever way it's decided, the cameras in place now are not going anywhere, and the contract Palm Coast signed with ATS stretches to 2017, so even if there is growing disenchantment among Palm Coast City Council members about the system–and there is–they, and their residents, are stuck with it.
On July 1, 2010, a new law went into effect explicitly allowing local governments to run such systems, but also narrowly regulating the systems. It set a fee structure from which local governments could not deviate. Citations had to be $158. It forces local governments to send $83 of that to the state–$70 for the general fund, $3 for a spinal injury trust fund, and $10 for a Department of Health trust fund. That leaves local governments with $75 per ticket, which, in Palm Coast's case, must be shared with American Traffic Solutions, the Arizona-based company that runs the city's 43-odd cameras.
ATS was sued by William Mayfield in a class-action suit involving the Palm Coast red-light cameras as they were set up before July 2010. ATS chose to settle that case, as it has across the state when faced with such suits. The company settled last August. ATS set aside $169,000 (quite a bit less than it had collected) to compensate anyone who files a claim to recoup a share of the red-light camera fines paid between 2008 and July 2010. The compensation available: up to $8.50, a relatively small share of the original ticket.
But Palm Coast didn't join the settlement, nor has it set aside any money for compensation.
I the Supreme Court were to declare illegal the red-light ordinances that existed before state law regulated them—in other words, if the Supreme Court were to uphold the Fifth Circuit's decision, as opposed to the Third's—Palm Coast and other cities may then have to reimburse drivers who were fined under the old system. That means Palm Coast may have to find $1.2 million to pay back, though even if the court were to rule in favor of a reimbursement, it's unlikely that the bill would be that high, as a significant portion of people fined under the old system would have either moved or will not claim their check. (The city's 10 cameras before July 2010 generated a total of $1.76 million, of which ATS's portion was $562,000, according to the city's finance records, netting the city $1.195 million.)
But the Third Circuit's opinion gives a roadmap as to how the Supreme Court might reason, if it were to side with local governments. The Third Circuit opinion, written in 2011, noted the recent passage of the Mark Wandall Act—the state law regulating red light cameras. "The plain language makes clear the Legislature is aware of municipal programs like the Ordinance, and in turn, has created a statutory scheme for statewide regulation which in no way invalidates  such existing programs," the appeal court ruled. "Importantly, the Act does not invalidate existing  municipal traffic monitoring systems, such as red light cameras, but now expressly regulates any such programs and thus, now expressly preempts municipal regulation under the Uniform Traffic Control Law to conform to adopted specifications of the Department of Transportation."
But the Fifth Circuit also made compelling arguments when it upheld a lower court's opinion in favor of the man contesting his red-light camera ticket.
That case originated in Orlando, which enacted a red-light camera ordinance in December 2007, a few weeks before Palm Coast did, and with similar consequences.
On May 23, 2009, Michael Udowychenko ran a red light at Conroy and Vineland Roads and issued a citation. He appealed, but did not offer any testimony at his hearing. Rather, he moved to have the citation dismissed because he claimed the city failed to prove that the vehicle in the video was either his or that he was its driver at the time of the infraction. The motion was denied. He was found guilty and ordered to pay $155 (a $125 fine plus $30 in administrative costs).
Three months later he sued Orlando and Lasercraft, the Georgia-based company that administers the red-light camera system for the city. Udowychenko's argument: Orlando's red-light camera system was illegal because state law forbade its installation. Governments, including Palm Coast, got around that restriction by defining their system as code infractions rather than moving violations, and placing the administration of the system under their code enforcement department.
A unanimous three-judge panel agreed with Udowychenko.
"At a minimum," the court ruled, "the ordinance conflicts with state law because it provides for a notice of violation based solely on recorded images and not on the personal observation of a law or traffic enforcement officer," the fifth circuit ruled, "provides that an individual appointed by the City Council who is not a judge determines the existence of the violation, allows for an adjudication based on proof less than beyond a reasonable doubt, imposes the penalty against the vehicle owner who may not have been the driver, imposes a fine different from that provided by state law, distributes the fines to the City and a private corporation and not as provided by state law, and imposes additional penalties not allowed by state law."
Few issues have galvanized Palm Coast and Flagler County residents—for or against—as much as red-light cameras, especially since Palm Coast decided to install up to 50 of them aro9und town, up from the 10 it had until last year.
Palm Coast's agreement with ATS is set up in such a way that the city is guaranteed at least $700 per camera per month, or close to $400,000 a year. That sounds like a lot of money. But it is relatively little compared to the amounts that go to ATS and to the state.
The system issues more than 400 tickets per week, or more than 20,000 tickets a year. The state's share: more than $1.7 million. ATS's share: $1.2 million.
Very little of that money ends back in the local economy.