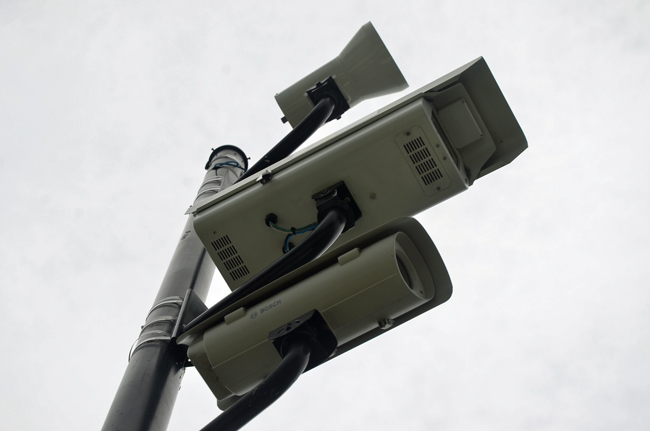 A Florida state senator Thursday filed a bill that, should it become law, would not ban local governments' very unpopular use of automated spy-and-snap red-light cameras, but would severely curtail their cash profitability. For cities like Palm Coast and the companies that run the cameras, such a law would have effects similar to a ban.
Two weeks ago, in another illustration of the cameras' unpopularity, a legislative committee approved a proposal to completeley repeal the use of the cameras. "We're willing to compromise the Fifth Amendment of the United States Constitution: the right against self-incrimination for self-perceived safety," that bill's sponsor, Carlos Trujillo, R-Miami, said. "That's the road we're going down. We're willing to tell somebody, 'You are guilty until proven innocent.'" The new proposal directly addresses that issue, among others.
Red-light cameras in Palm Coast and elsewhere are primarily a way to generate revenue for cities and companies like American Traffic Solutions, which runs Palm Coast's cameras at no cost to the city. Palm Coast and ATS are just completing the installation of 52 cameras in town, up from 10 until last year.
Palm Cast is guaranteed $700 a month from each camera regardless of the number of tickets it either generates or successfully prosecutes. The only way for the company to make the cameras pay is to generate. That's $36,400 a month in new revenue, or $437,000 a year. City Council members claim the red-light cameras are there to improve safety at intersection. But council members have no reliable or scientific data about intersection safety (with or without cameras). They have clearer data about their finances, and the easy money the cameras generate.
But for the cameras to be profitable for ATS, the company must generate a significant number of tickets—over and above the numbers necessary to pay Palm Coast's share, and the numbers necessary to pay for the state's share. In 2011, a new state law went into effect ending local cities illegal use of such cameras, which until then had circumvented a state law prohibiting cameras by classifying them as civil, "code enforcement" devices. The new law allowed the scheme to persist, but it also standardized and regulated the cameras' uses, and the fines they may generate. A ticket must be $158, with the state taking $78 of that, leaving the rest for local governments to split between themselves and the companies that administer the cameras.
//
//
The proposed law, by Sen. Joseph Abruzzo, D-Palm Beach, would do three things that would potentially curtail the cash gravy train.
First, it would explicitly shift the burden of proof that a driver has run a red light to the local governments imposing the fine. For now, a driver is presumed guilty until he or she proves her innocence before a magistrate—a constitutional violation many a lawyer has taken advantage of to beat such fines on behalf of clients, and to take red-light companies to court in class-action suits. ("The burden of proving guilt shall rest upon the governmental entity bringing the charge," the proposed law reads. "A person appearing in any hearing under this section may not be compelled to be a witness against himself or herself.")
Second, it would require local governments to produce actual human beings at hearings where a driver is contesting a ticket. "Any evidence obtained from such device must be authenticated in court by the person receiving or processing the evidence, any person having reviewed such evidence in order to make a decision to issue a notice of violation, and any person who issued the notice of violation or traffic citation," the bill says. That means Palm Coast and ATS would have to have representatives involved in the levying of fines to defend their actions in court. That may not necessarily be an insurmountable obstacle, but it creates another vulnerability for lawyers and drivers to exploit, and another way to erode a city's revenue.
Third, the proposed law would end the imposition of any fine when it involves a violation by way of a right-turn on red, one of the most contentious manners in which tickets are triggered. The proposal makes outright illegal to issue either a notice of violation or a citation for right-hand turns on red.
Together, the new requirements would diminish conviction rates and could, by attrition, make it much more difficult for companies like ATS to make back the money they're investing to run the system, and splitting with governments to be in business. But the red-light camera lobby is very powerful.