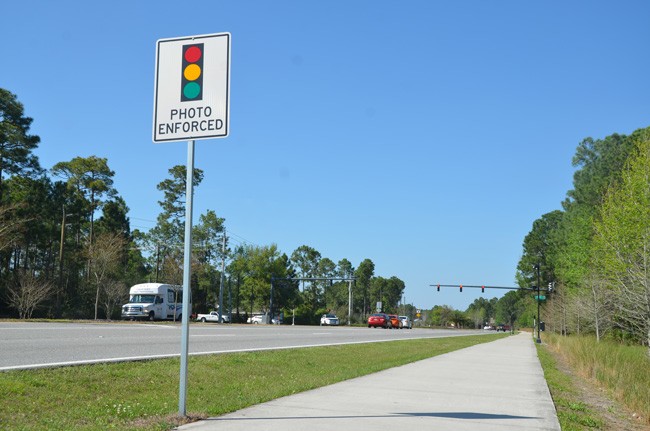 An unusually divided Palm Coast City Council voted 3-2 Tuesday to eliminate 38 of the city's 43 red-light traffic cameras and reduce the contract term with the company running the system from 2019 to September 2017.
The cameras are likely to be reduced to five in a matter of weeks, as soon as the private company that runs the system ratifies the new agreement.
The reduction and the earlier abrogation of the contract means that Palm Coast's take from each camera will be reduced from $700 a month to $350, a nominal amount that won't cover the city's costs of running what will be a larger burden—per camera, but not overall—to keep the program legal. Palm Coast is now responsible for sending out the second-step citation to drivers who ignore the first notice of violation. That had previously been the job of American Traffic Solutions, the private company running the system. But an appeal court ruled that for that segment of the program to be legal, it must be run by a government agency.
Mayor Jon Netts joined perennial red-light camera opponents Steven Nobile and Jason DeLorenzo in the majority. Bill McGuire dissented, which was not a surprise: he's always supported the cameras. But Heidi Shipley also dissented, though she'd run on a campaign to end the cameras. She explained Tuesday that she favored reducing the number of cameras to five, but would have preferred keeping the contract through 2019 to generate the cash that would help defray the city's costs. She also wants the cameras to help improve safety at crash-prone intersections, and wants long-term data to be able to judge whether the cameras are living up to their promise.
---
The council remains deeply divided on the cameras' value as safety devices.
---
McGuire's opposition to the proposal was not so much a vote in favor of the cameras as one against the silence he says he got from Sheriff Jim Manfre on what to do in a post-camera landscape.
"In the last workshop I made a request that Sheriff Manfre would come and make a presentation as to how he would compensate for the loss of red light cameras. I'm still waiting for that presentation," McGuire said. He returned to the same issue after he voted against the proposal. "I said I would not support it unless I heard from the sheriff as to what he was going to do to pick up the difference. This is a public safety issue, it's a law enforcement issue, and I can't support something without knowing what's going to happen down the road and what's behind it."
In an interview this morning, Manfre said he hadn't heard directly from McGuire, but has addressed the issue. "As I told the city manager and the mayor and those who've asked me, we're not going to do anything different, we're going to do everything we've always done," Manfre said. That is, analyze where crashes are taking place and where tickets are being issued, and focus more policing on those areas. "The red-light cameras are helpful but they're not the panacea for traffic solutions. The panacea is presence," the sheriff said, though he is not planning an increase in traffic unit personnel.
Where Cameras Would Remain
---
Northbound, Old Kings Rd. North at Kings Way

Northbound Cypress Pt. Pkwy at Boulder Rock Drive

Westbound Palm Coast Pkwy at Harbor Center

Northbound Belle Terre Pkwy at Rymfire Drive

Northbound Belle Terre Pkwy at Cypress Point Pkway

Undersheriff Rick Staly, who on Tuesday announced he'd be resigning in April, said there will be technological improvements that will help the traffic unit in the near future. "We have already obtained about 50 of the little lights that verify that the light has changed on one side," Staly said. "The city will be installing those, that'll allow us to enforce and win the court cases for running a red light, so it makes it easier for us when a deputy is on one side and can verify that a light had changed in fact to red and somebody went through it. Obviously we'll step up our enforcement as much as we can."
Palm Coast is facing a class-action lawsuit from drivers who will be seeking money back for having paid tickets when they were being illegally issued. Both ATS and the Florida League of Cities are providing legal representation to Palm Coast and cities in its situation. Bill Reischmann, the city attorney, said whatever payout the city faces  "is going to be much smaller than is perceived." City Manager Jim Landon said the money will come out of the same fund that red-light camera revenue has been feeding: the street-improvement fund. Instead of improving certain streets one year, the money will pay for the settlement. "Our annual revenue would more than cover any expenses or any exposure we have," Landon said.
Safer intersections remains a city priority. "If the cameras go away, this city will pursue any other options that there may be. Don't know what they are, but we'll look,"  Netts said.
"It's worthy to say that any other options that this council would pursue would cost money. This program costs zero," McGuire said.
"That's certainly true," Mayor said.
Nobile quickly disagreed. "The program doesn't cost zero," he said. "The program in my opinion is taking $2 to $3 million a year out of our economy. That's not nothing. That's taking money out of the pockets of everyone. Speaking with the sheriff's departments, number of accidents from rear-ends have gone up, not down. We perceive that a red light or a sign is going to stop someone from running a red light. When they're not paying attention in the first place, nothing is going to stop them until they get hit by someone going the other way. Someone texting on the phone, eating a sandwich, putting on make-up, there is no stopping them. This is what we should be attacking, is the distractive driver, not trying to stop the person who's paying attention."
Asked to explain recent years' crash data, Cmdr. Mark Carman said many of the fatalities in 2014 took place on state roads (though many took place in Palm Coast as well, including numerous crashes on the city's main avenues, and some of the state roads, such as State Road 100 and U.S. 1, cross Palm Coast). He said rear-end crashes have fluctuated up and down.
"I get lots and lots of correspondence from people that do not want to see this program go away in any way, shape or form," McGuire said in defense of the system. "I've been to a lot of the hearings where people get up and contest their camera violations and I hear stuff like, well, there wasn't any traffic and I thought it'd be OK, or I've been driving for 37 years and I've never had a ticket, so that must exonerate me. What I'm getting the feeling from and I hope I'm wrong is that these laws that are passed are OK for other people, but me, I'm a good driver, I should be able to use my own judgment, decide whether I want to stop or not." He said eliminating red-light cameras is like prohibiting stores from having security cameras, "because hey, you're picking on those people that want to shoplift. I mean, golly."
DeLorenzo said he'd have preferred to see all cameras eliminated. He's been critical of their effect on local pocketbooks and on the city's image. He was willing to support today's compromise, while strongly countering claims that the cameras have made streets safer.
"I haven't supported this program from the beginning, and my reasoning has been always the same," DeLorenzo said. "From young adults we learn how to drive, and we learn how to drive a certain way, and that's a very consistent way. With the introduction of the cameras, I find that drivers drive nervous and inconsistent. When they drive inconsistent, it causes accidents, because you don't know what the other person is going to do. They don't do what you expect them to do. Since the expansion of the program in 2012, and there's been quite a bit of discussion about it, on average, traffic accidents in Flagler County have increased by 40 percent. It's certain that they can't all be attributed to the camera locations, but there has to be some correlation, because 40 percent is a really big number. We went in 2011 from 620 accidents to over 1,000 in 2013, the first full year with all the expanded cameras in place. Like I said, certainly not all attributed to those intersections, but there has to be a connection."