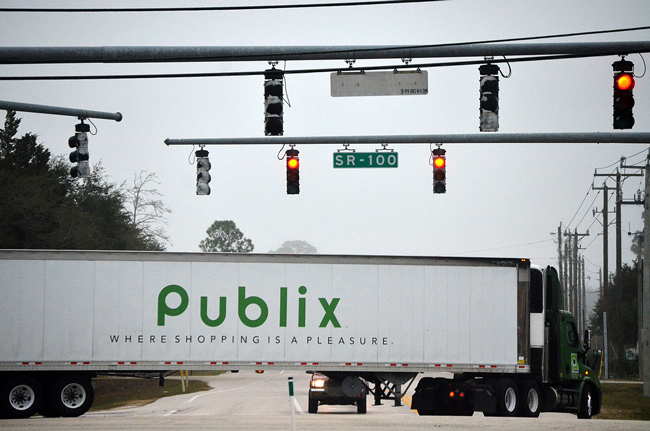 A relatively new state law allowing local governments to use cameras to catch red light runners would be repealed under a bill that narrowly passed in the House Economic Affairs Committee on Thursday.
The nearly two-hour debate ranged from drivers' constitutional rights to the plight of ticketed tourists to studies showing reduced injuries at intersections after red-light cameras were installed.
The law has been under attack almost since state lawmakers voted in 2010 to allow local governments to use the cameras.
This year's repeal bill (HB 4011), a bipartisan effort sponsored by Reps. Daphne Campbell, D-Miami, and Carlos Trujillo, R-Miami, was approved 10-8 by the Economic Affairs panel, its first committee stop in the House.
Trujillo touched a chord with Republican lawmakers, most of whom voted for the bill, by arguing that public safety isn't worth sacrificing constitutional rights.
"We're willing to compromise the Fifth Amendment of the United States Constitution: the right against self-incrimination for self-perceived safety," he said. "That's the road we're going down. We're willing to tell somebody, 'You are guilty until proven innocent.'"
Law enforcement interests and municipal governments, which get a portion of the fines paid by red light runners, are strongly opposed to the measure.
"I think it's obvious that it does change people's driving behaviors, and I think it is obvious that it also helps to save lives and prevent people from having serious injuries," said Haines City Police Chief Rick Sloan.
Last month, the Department of Highway Safety and Motor Vehicles released a report showing that crashes were less frequent at intersections monitored by red light cameras. The report, based on data from 73 agencies, found accidents were less frequent at monitored intersections in 41 jurisdictions but more frequent at monitored intersections in 11 jurisdictions.
The panel also debated the question of local governments, law enforcement agencies and contractors making money from the fines.
"This law is strictly revenue driven," Campbell said.
In Palm Coast, where the city council last year approved increasing the number of cameras to 52, from 10, the city makes $700 a month from each camera emplacement, whether that camera flashes enough enforceable tickets or not. But for American Trafic Solutions, the private company that runs the cameras for the city, to make money, each camera must snap considerably more than the number of tickets that cover Palm Coast's profits, because the state, too, gets a cut from the $158 tickets. The state's share is more than half the amount. Palm Coast stands to cash in on more than $300,000 a year in profits if all 52 cameras are installed. That's as much as Orlando has been making from its cameras.
According to Kathleen Russell, a lobbyist for the City of Orlando, the city took in $6.1 million over the last two years and turned over $3.1 million to the state. After Orlando paid its costs, she said, its profit from the fines was $300,000.
"Whether we're going to call it a fine, a tax or not, I feel like when we're creating a system that … allows maybe excessive fines to be produced, I don't think it is the best interests of what we should be doing for the citizens," said Rep. Jimmy Patronis of Panama City. The Republican committee chairman, voted for the repeal bill.
Campbell alleged that having red light cameras at intersections discriminates against minorities, the elderly and the poor based on where they are placed, though law enforcement officials denied that was the case.
The Tampa Bay Times and Miami Herald reported last week that Campbell's husband's Honda Odyssey minivan had been caught on camera running a red light five times since the law passed. Campbell told the newspapers she only knew about one of those and doubted that others had occurred. She declined to comment after Thursday's committee hearing.
The bill now goes to the House Appropriations Committee, its last stop before reaching the House floor, but so far, the measure has no Senate sponsor.
–Margie Menzel, News Service of Florida