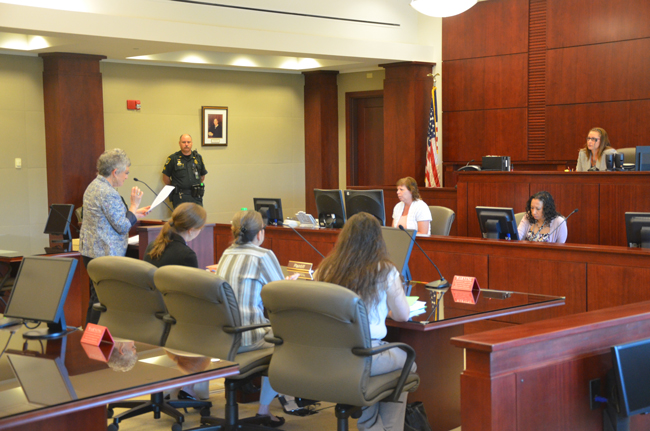 In summary: Hundreds of red-light camera tickets issued by ATS, the private company running Palm Coast's red-light camera system, end up undelivered, triggering court-issued citations and, often, suspended licenses, even though it's neither the driver's nor the city of Palm Coast's fault–but rather ATS's inability or unwillingness to better follow through on undelivered mail. The problem led to a court intervention, which has now been resolved, but only in so far as Palm Coast's procedures with the court are concerned. ATS' problematic procedures are still unresolved.

This time Palm Coast showed up. In triplicate.
A hearing before Flagler County Court Judge Melissa Moore-Stens Friday morning on Palm Coast's mis-handling of certain red-light camera tickets ended with the city agreeing no longer to accept fines from ticketed drivers whose case is transferred out of the city's jurisdiction and turned into a court-issued citation. In such cases, only the clerk of court has the authority to accept money from drivers or, alternately, to dismiss the case.
For months, Palm Coast had been requesting that certain cases that had made it into the court system be dismissed, and without waiting for conformation of the court's dismissals, was reissuing tickets on the city's side and compelling drivers to pay a $158 fine in exchange for the case presumably being dismisses from court review, where the fines are generally more expensive.
Clerk of Court Gail Wadsworth and Moore-Stens said that Palm Coast was acting on authority it did not have under state law, while also denying a flow of money legitimately owed the court system.
When Moore-Stens held a hearing on the matter a month ago, Palm Coast didn't show up. The judge tried, during the hearing, to reach a city representative. She reached Liliana Filipe, a Palm Coast code enforcement customer service representative and data-entry clerk by phone, who said a city representative would show up in person soon, but none did. The judge issued an order to the city to "show cause" as to why the judge shouldn't hold the city in contempt, scheduling today's hearing to give Palm Coast a chance to explain itself.
The city sent attorney Robin McKinney, Filipe, and Code Enforcement Manager Barbara Grossman. The proceedings were cordial, brief and, in the end, anti-climactic, as the city had no clear explanation as to why it had conducted business as it had, past a non-written, informal agreement it referred to, with the clerk, that left the city under the impression that it could seek case dismissals routinely.
"There never was an agreement," Wadsworth said, contradicting the city's position. Indeed, there is no such agreement in writing.
The hearing exposed what appears to be communication fissures on two fronts: between the city and the clerk of court, and, more seriously, between the city and American Traffic Solutions, the Arizona-based private company that runs Palm Coast's red light cameras and issues the traffic citations.
When ATS issues the citation initially, it's called a notice of violation. At that point, the court system has nothing to do with it. The violation is like a parking ticket. It's issued from ATS to the owner of the car caught in the infraction, in the name of Palm Coast Code Enforcement. At that point it's a $158 ticket. The owner of the car can either pay the ticket within 60 days or contest it either before a city hearing officer or before a court hearing officer. If the ticket is not paid within 60 days, it becomes automatically a Uniform Traffic Citation through the court system. At that point, Palm Coast is no longer involved.
What has been happening is this: ATS has been issuing hundreds of tickets that vehicle owners never receive, either because the tickets get lost in the mail, or because ATS is sending them to the wrong address, and they are returned to ATS, which does not properly follow through by informing the city of the returned mail, according to Wadsworth. But once ATS issues a citation, regardless of its reaching a car owner or not, unless it is cancelled, the violation automatically becomes a court-issued UTC if it has not been addressed within 60 days. And if drivers don't address it after that, they may—and often do—lose their license. In essence, hundreds of people unaware that they had a ticket issued against them have lost their license, and found out the hard way.
Wadsworth described one case involving the mother of a soldier who went to pick up her son after a deployment, only to find herself spending the night in jail because she was stopped, driving on a suspended license, though she had been unaware that she'd ever lost the license. At the root of it: a red-light camera ticket she never knew had been issued against her.
It's been an ongoing problem, Wadsworth said. "At one point our tabulation was 75 percent of the people who came to court to contest these" had had tickets issued against them without their knowledge, Wadsworth said, "which is huge for me." She said that resulted in poor customer service, with the court system paying the price, both in reputation and lost revenue.
"It seems as though there may need to be a little bit more communication between the city and ATS," Moore-Stens said. "I don't want to tell anybody what to do. I just want to make sure that what's being done is within the parameters of the law."
Palm Coast got in trouble with the court when the city routinely started telling drivers that they could get their UTC citation dismissed, along with the possibility of a blot on their driving record and higher fines, if they agreed to return to the city and pay the city the initial $158. But by doing so, the city was assuming that the court would dismiss the case. The city had no authority to make that assumption, Moore-Stens said. Only Wadsworth has that authority.
While Wadsworth agreed to have all obvious cases of mistaken identity or lost mail or undelivered mail immediately dismissed, the city agreed to have all other questionable cases become UTCs until the clerk alone chooses either to dismiss them, on a case by case basis, or let them make their way through the court system.
"What was achieved truly is a compliance with the law as re-written," Wadsworth said, "and that once a UTC is issued, it's in the province of the court, which means yes, our hearing officers will get more. But I don't know that I will get more personally to dismiss." The moment a UTC ticket is issued, the recipient automatically gets a courtesy notice. If it comes back undeliverable, then it is almost automatically dismissed by Wadsworth.
A similar system does not exist at ATS, whose envelopes to drivers for years didn't even carry a return address, Wadsworth said. Rather, returned tickets end up languishing with ATS, and triggering the unintended consequences that then lead to the sort of conflicts that brought Palm Coast and the court to a head. In sum, neither the court nor the city wanted a conflict that neither had much to do with anyway. Palm Coast isn't making less—or more—money if more or less tickets are issued. It gets a flat fee.
But ATS does stand to lose money from tickets that get contested through the courts, because many of those tickets end up being dismissed, and many—Wadsworth showed an example—have their fines reduced, along with the amount of money that goes to Palm Coast. Normally, Palm Coast gets $75 from a $158 fine. But in one case that went to the court, the judge reduced a fine from $264 back down to $158. That reduced Palm Coast's share to $52, according to court documents, because all tickets issued through the court system generate revenue that must then be disbursed through a series of state and local agencies (including $12.50 per ticket to the local court system, to cover administrative costs). The reduction from $75 to $52 is a reduction that ATS alone must "eat." And when tickets are dismissed outright, ATS loses that revenue entirely. So it's to the company's advantage not to have tickets run through the court system.
But what's good for ATS has not been good for Palm Coast, which ended up with a black eye from the court case in More-Stens's courtroom. The city today wanted to be done with the case, and strictly speaking, it is. But the root of the problem—the miscommunication or lack of communication between ATS and Palm Coast—has not been addressed, which means many drivers will find themselves, as in the past, bringing their anger to the city's code enforcement department and looking for solutions that are not quite in Palm Coast's authority to provide.
Such conflicts are among the many reasons City Manager Jim Landon and city council members have been losing patience with the red-light camera system, despite the more than $300,000 a year it brings to the city (and the more than $2 million it takes out of the local economy, in revenue distributed to the state and to ATS). The court case today addressed none of those problems.