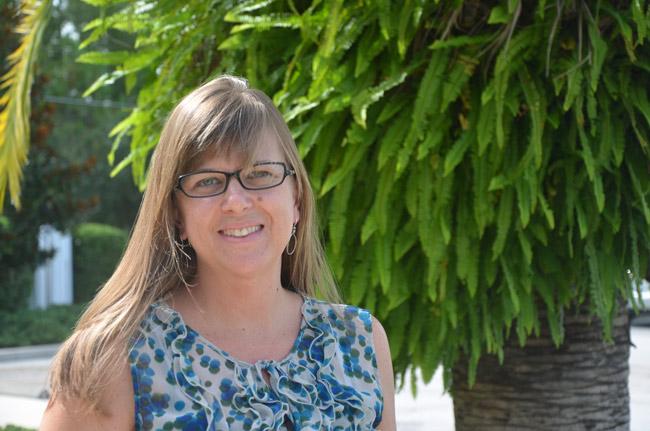 Rebecca DeLorenzo, the interim president at the Flagler County Chamber of Commerce and Affiliates, has earned the Certified Association Executive (CAE) credential from the Washington, D.C.-based Center for Association leadership, the highest professional credential in the association industry. Less than five percent of the association's 21,000 professionals earn the designation. The designation is timely: DeLorenzo is in the running to be the chamber's permanent president. The designation burnishes her already substantial credentials.
"Last year, we were impressed that Rebecca earned her IOM designation from the Institute of Organizational Management," Scott Sowers, the newly installed chamber chairman, said. "By earning the CAE credential, Rebecca has now joined a distinguished group of top association professionals and nonprofit executives in our country. We appreciate her commitment to professional development and congratulate her for this accomplishment."
Sowers said the certification reflects DeLorenzo's willingness and commitment to leading the chamber: a chamber vice president for five years, she is vying to be the permanent replacement for Doug Baxter, who resigned abruptly in December. Thirteen people currently work at the chamber.
Last year DeLorenzo was named Woman of the Year by the Flagler Business Women. She is married to Jason DeLorenzo, the first-term Palm Coast City Council member and government affairs director at the Flagler Homebuilders Association, whose members closely align with the chamber's.
To be certified, an applicant must have a minimum of three years of experience in nonprofit organization management, complete a minimum of 100 hours of specialized professional development, pass a stringent examination in association management and pledge to uphold a code of ethics. (The chamber is a private-for-profit organization with a non-profit arm.) To maintain the certification, individuals must undertake professional development and activities in association and nonprofit management. The CAE program is accredited by the National Commission for Certifying Agencies.
ASAE is a membership organization whose executives and industry partners represent 10,000 organizations. Its members manage leading trade associations, individual membership societies and voluntary organizations across the United States and in nearly 50 countries around the world.