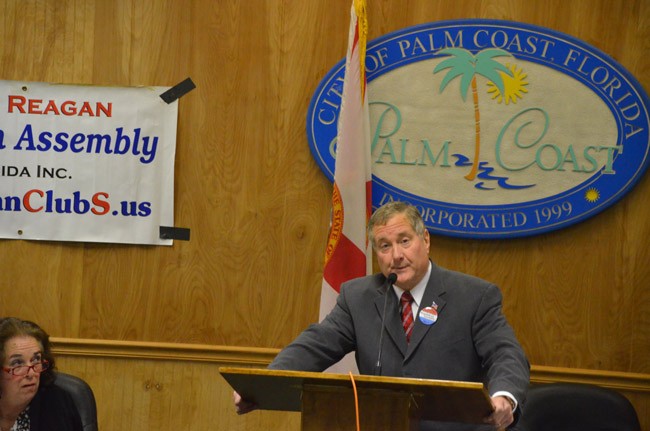 By Mike McElroy
I read with great interest–and some amusement–renewed discussion of a charter review for Palm Coast. The issue was raised earlier this week by a citizen at a very recent Palm Coast City Council meeting. For those who do not recall, back in May of this year, Councilman Steve Nobile proposed a citizen commission be appointed to take a look at the Charter. This was met with little apparent public support and, with the exception of Nobile, no support from city government or his colleagues.
In the discussions and comments that followed the May meeting, there was, at least on the part of a few, a concern that behind the review proposal was the Ronald Reagan Assembly of Flagler County. Wild speculation ensued about the RRR's motives for supporting such a review. A few of these included elimination of non-partisan elections, the overthrow of city government, a commission stacked with RRR drones, and heavens knows what else.
No matter the reasons ascribed to the Assembly for wanting the charter review, the accusations don't hold much water. First, Nobile proposed the review and asked if any Ronald Reagan Assembly members supported such a position. If they did, he requested they attend the council meeting to express their views. Full disclosure: as president of the Ronald Reagan Republican Assembly, I sent a note to members asking them to attend the meeting if they supported a charter review. Very few did attend. I was there, but did not speak as I am not a Palm Coast resident and really didn't believe it was my place to express an opinion.
---
Implying that Nobile's charter push is an effort to stack the city council with RRRs is termed absurd.
---
Although Steven is a member of the Assembly, he doesn't attend many meetings and his views are his own. He isn't the Ronald Reagan Assembly Councilman. He was elected by a majority of voters in the City of Palm Coast. Right or wrong, he is fulfilling his duties by attempting to represent his constituents and lead with ideas.
As to the ability of a lone councilperson to stack a citizen review committee appointed by the entire city council, well, it's an absurd suggestion. Concerning the meat of the matter, does the city benefit from such a review? The question is best answered either by the people or by those elected to represent the voters.
One fact I would note is that during the sometimes vehement discussions in May, I believe that the legal counsel for the city identified at least one outmoded section of the Charter that might be in conflict with Florida law. It really is hard to fathom why leaders wouldn't want to examine the Charter for archaic language or legal changes that affect the charter, or just because it's a good idea. I have heard cost mentioned, but since it would be a panel of citizens volunteering their time, the expenses would relate to staff time and legal opinions that occur regularly in many legislative bodies.
Many municipalities do undertake a periodic review of their charter. Why not Palm Coast?

Mike McElroy, a retired law enforcement officer, is president of the Ronald Reagan Republican Assemblies of Flagler County.