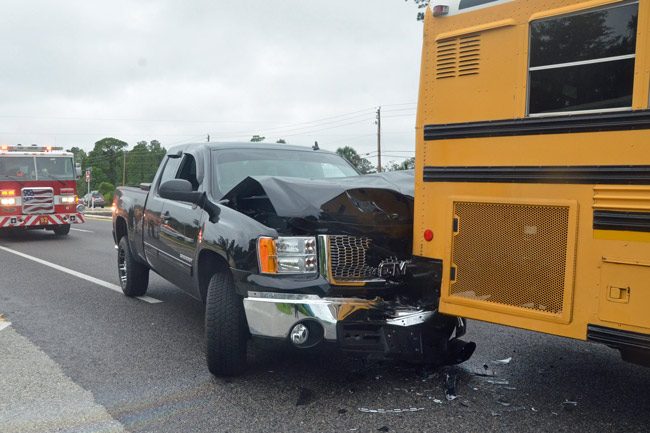 A House panel in the Florida Legislature this afternoon voted 13-1 to ban red-light cameras by July 2020 across the state in the first of three committee steps before the full House votes on the bill.
The House has approved similar bills in previous years. But the Senate has not. This time, members of the Transportation and Infrastructure Subcommittee said, the bill-H.B. 6007, by a proposal by Rep. Bryan Avila, R-Hialeah and several co-sponsors, may have stronger support in the Senate, where a companion bill, SB 178, was filed by Sen. Frank Artiles, R-Miami.
Both Artiles and Avila consider red-light cameras money-making schemes for local governments and the private companies contracted to run such systems, such as American Traffic Solutions, which has the most such contracts in Florida. Palm Coast has been contracting with ATS since 2007, and at one point had some 45 cameras in place.
---
The four working red-light cameras in Palm Coast:
Northbound Old Kings Rd. and Kings Way
Northbound Cypress Pt. Pkwy and Boulder Rock Dr.
Northbound Belle Terre Pkwy and Rymfire Drive
Northbound Belle Terre Pkwy and Cypress Point Pkwy
But the city's program has been mired in controversy almost since its inception—the city's pre-2010 program was ruled illegal by the state Supreme Court—and the city council finally decided to move up the termination of the contract with ATS by two years. That contract is set to end on Sept. 30 this year. Until then, four cameras are still operating in the city, generating $16,500 for city coffers. The rest goes to ATS and state government. So even if this latest attempt by lawmakers to ban red-light cameras is successful, it will be a moot point in Palm Coast, assuming the current council does not reverse course and somehow renews the contract with ATS.
Avila this afternoon told the subcommiottee the story of an elderly woman in Tamarac, in South Florida, who was facing a life-and-death situation as she was driving to the hospital. (She had kidney stones.) . She made a turn on red at the intersection outside the hospital—and got a notice of violation. She thought she could appeal and that the hearing officer would understand. Instead, the price of her ticket nearly doubled, because the hearing officer wouldn't concede that there were extenuating circumstances, and she had to pay the additional costs of the appeal.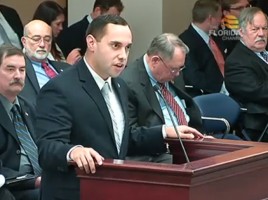 "That could occur to any of us, to any of our constituents," Avila said. "Why would a jurisdiction place a red-light camera at the entrance of an ER? And the truth is, it's obvious. It's a revenue stream."
Safety is a priority, Avila said. And even though the 2010 Mark Wandell Act that legalized red-light cameras across Florida may have been well-intentioned, he said, it has not lived up to its promise of making intersections safer. But 108 local governments have actually abandoned red-light cameras because "they are essentially losing a ton of money"—this, following the 2010 law's passage. Before that law, cities like Palm Coast were raking in revenue, and splitting it only with their contractors. Since 2010, the money has had to be split with the state and contractors: a violation results in a $158 fine, with $83 of that going to the state and the rest getting divided according to contractual arrangements between local governments and their contractor. Those contractors are still making about $35 million a year, Avila said.
"So the cost is significant, there is no disputing that," he said. As for changing driving behavior—the repeated and favored mantra of red-light-camera advocates—"the facts are clear," Avila continued. "Over 150,000 Notice of Violations were issued to repeat offenders" in 2015-16. That is three times the amount more than the 2014-2015 report. So that illustrates that it is not changing driving behaviors."
This year's proposal to ban the cameras has some momentum because of a new study by the Florida Department of Highway Safety and Motor Vehicles analyzing crash data in dozens of cities and counties that use the cameras in Florida, including them Palm Coast. Contrary to previous, anecdotal claims, the evidence points to an increase in crashes at red-light camera intersections, particularly of crashes that result in incapacitating injuries.
The data has been disputed by red-light camera advocates, saying it's not comprehensive, a point the department concedes. But it is more broadly empirical data than has been presented regarding red-light cameras in Florida than was previously available.
The committee heard from advocates and opponents of the ban proposal, among them the head of the Florida Police Chiefs Association, who maintained that cameras do change behavior for the better (he did not provide evidence) and that "they do save lives," and from Norm Ardette, a bus operator in DeLand who was previously a bus drivers' union chief, who agreed that the cameras change behavior, but for the worse.
"I care for my passengers, for their safety, they're my family," he said, but slamming down the brakes to avoid running a red light would send people "flying" in buses, and cause injuries.
The only dissenting vote in today's subcommittee action was by Barbara Watson, the ranking Democrat on the committee, who represents North Miami Gardens.
The ban proposal's next stops are in the House Appropriations Committee, then the Government Accountability Committee.

Legislators' analysis and background materials on House Bill 2006 banning red-light cameras by 2020: