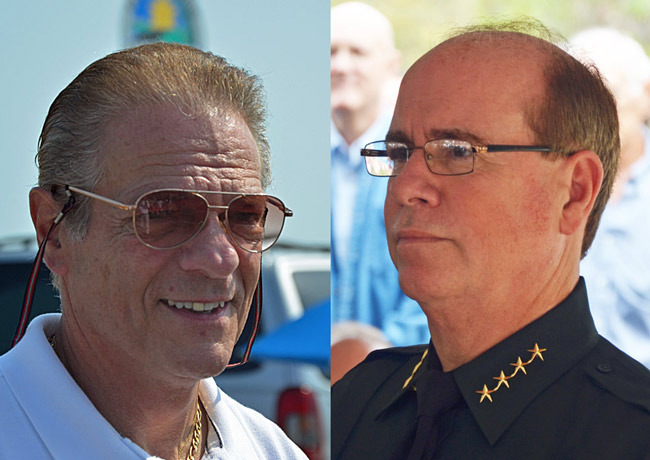 Jim Manfre beat Don Fleming in last November's election by 332 votes out of almost 49,000 votes cast, a margin of less than 0.7 percent. Ray Stevens likely made the difference. The Republican and two-time sheriff candidate who'd come in second in a three-way primary in August went out on a limb and endorsed Manfre, a Democrat, for the general. He even campaigned with him, and became a member of Manfre's transition team.
On Thursday, Stevens said if he knew then what he now knows of Manfre's handling of the sheriff's office, he would not have endorsed him.
"There was never any discussion of wholesale firings involving career officers," Stevens said in a statement, referring to the firings and forced resignations of two captains and David O'Brien, who was chief deputy. "In fact, if my memory serves, quite the opposite was promised. I now find myself disturbed with the turn of events in the Sheriff's Department."
In a follow-up interview, Stevens said he did not regret his endorsement based on what he knew and had been told at the time, "but I do regret the direction the agency has taken," and wished Manfre would take a different track.
"He should be more sensitive to the needs of his personnel," Stevens said. "I think he's closed the door in respect to rehiring these people. I understand that there are some lawsuits, some of these individuals have consulted attorneys, and frankly if I were king, if the court ruled against me I would not fight it. But the tone and tenor of the department now is one where everybody is looking over their shoulders, and when is the other shoe going to drop."
Responding to Stevens's change of heart, Manfre was gracious toward Stevens, but stood his ground regarding the way he's handled the transition and the first two months of his tenure. "I appreciate Ray's support, I appreciate his part in the transition team, I respect his opinion and I wish him well in the future. That's all I have to say," Manfre said.
The sheriff said that during the transition he had spoken with his attorney, Sid Nowell, and that of the Florida Sheriffs' Association to be on legal ground regarding what could and could not be done regarding personnel matters. "Everything we've done has been on advice of counsel," he said, stressing that during the transition he'd not made blanket promises not to fire anyone. "I didn't say anything during the transition, the idea was to get information first and then make decisions based on that information."
The day Manfre took over for Fleming, he demoted a number of people—deputies and civilians—and eliminated the captains' ranks, fired long-time majors Steve Clair and John Plummer, reorganized the agency's command structure and management methods, and last week offered O'Brien the choice to be fired or forcibly resign. O'Brien resigned. Manfre said none of it was heavy handed. Rather, he said, it was needed.
"I think we have dramatically changed the atmosphere of the agency. When I walked in the door people were in survival mode. There was no leadership," Manfre said, describing an organization lacking a chain of command because what leadership did exist was a "multi-headed monster," with a variety of majors and captains assuming competing commanding roles to fill a vacuum at the center. Most of the agency's personnel, he said, was grateful for the way Manfre's team restored clearer, more direct lines of leadership and responsibility while witnessing a more engaged management team. (Manfre said he'd joined a bike patrol earlier this month for four hours—along with County Commissioner Charlie Ericksen, an avid and daily long-distance biker—and intended to continue doing so once a month).
Speaking of O'Brien specifically, he said: "They saw what I saw, the lack of energy coming from that position, the lack of participation in the daily routine of line deputies, and very excited about Lt. Bovnino being the acting commander, energizing the patrol division, and going out and taking part in the daily routine of the line deputies. That's what they want to see, they want to see the people at the top engaged."
Paul Bovino, who headed the department's SWAT team, was among the captains demoted to lieutenant. Another was Lynn Catoggio. Both, Manfre said, responded by working hard, and both were rewarded with more authority: Catoggio is a watch commander, and Bovino was appointed acting chief deputy, an appointment likely to be made permanent before long. Reappointing or shifting higher brass instead of removing them from the agency would have been impossible, Manfre said.
Stevens had not sent his statement to Manfre, nor had he spoken to him in the last few weeks, their last conversation going back to January, after the sheriff's inauguration. By then Stevens's ideas (he'd provided several pages on the investigative division) were no longer being solicited. Stevens's support of Manfre earned him a political beating from fellow-Republicans, who nevertheless took him back in the fold after the election: Stevens is a member of the Republican Executive Committee and is again involved with other Republicans such as the Ronald Reagan Assemblies.
Stevens isn't questioning Manfre's shake-ups: he said the agency was in dire need of better management. That was one of Stevens's own campaign themes when he ran against Fleming during the primary. But Stevens repeatedly stressed that he wanted to "distance" himself from the firings, and warned that the approach could damage morale instead of lifting it.
Not to worry, Manfre said. "The overall morale is very high," he said. "There are those people who are not happy with the way we're going. I believe they're a minority. My job is not to make everybody happy."