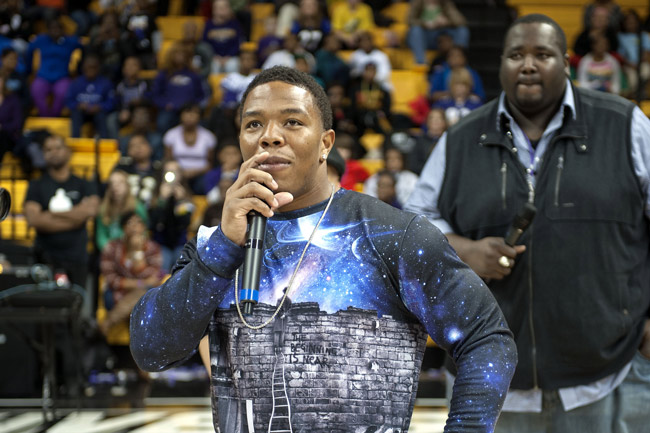 Ray Rice is a 27-year-old running back for the Baltimore Ravens who makes $5 million a year. On Feb. Rice, the 15 at the Revel Casino and Hotel in Atlantic City, he beat up his fiancée, Janay Palmer, in an elevator. He beat her so violently that he knocked her out. Ray Rice: the guy who headlines anti-bullying events for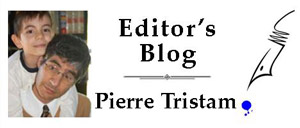 TMZ posted a video of the immediate aftermath of Rice's brutality. He drags a limp Palmer out of the elevator, his arms under her armpit, her legs trailing behind her. He dumps her on the floor in front of the elevator door. He jerks a shoe off her foot. He shoves her legs aside nonchalantly, presumably so the elevator doors can close. He tries to pick her up again, sac-of-potato-like, and slumps her back down. She appears to teeter on her knees. By then another man has approached the couple. Neither man shows the slightest whit of concern for the woman on the ground. The two men chat. The video ends.
Battery charges were initially filed against Rice and Palmer. The charge against Palmer was dropped. A grand jury indicted Rice on a third-degree assault charge. He got that dropped to one of those pre-trial diversionary agreements: if he behaves for so many months afterward, the charge will disappear, his record will be clean, expunged, as if it never happened.
The NFL's response? A two-game suspension.
Two games.
If he'd been found to be using steroids, he'd have been suspended for four games. If he'd kicked another player on the field, during the game, as Albert Haynesworth did to Andre Gurode's head in 2006, he'd have gotten a five-game suspension. Still pitiful, but it's the contrast that reeks.
When Uruguayan footballer Luis Suarez, one of the world's five best players, bit another player during a World Cup game in June, he was suspended for nine international competition games and banned from any soccer activity, including stepping into any soccer stadium, for four months. (An appeals board may, outrageously, be revoking the four-month ban, but not the nine-game suspension.)
Yesterday Rice was on the field with his team, "trying to digest the news" of his suspension, in the words of mmqb's Peter King. The excuses have been drooling since. The NFL, according to King, took in consideration Rice's "moving" appeal (the couple married since Rice's boxing gift to Palmer), as the pummeling was a one-time event, that it was Rice's first violation of NFL "policy," and so on.
So wife-beating is OK if it's a one-time event. Especially in the eyes of the NFL. Especially when a star player is involved. Besides, he went into counseling. Just like the good Catholic who beats up his wife on Saturday, confesses on Sunday, and gets off on 10 hail Marys and a wink from the padre.
Then we wonder why women-hating decisions like Hobby Lobby should surprise anyone. Or why goons can always depend on a perverted degree of hero-worship in this country. Keith Olbermann said it all Thursday evening: