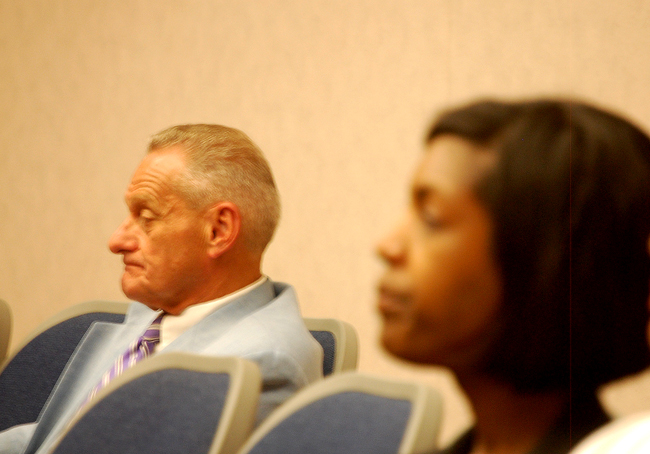 There are clear differences between John Fischer and Raven Sword, the candidates for school board vying to replace Evie Shellenberger—differences of style, substance and understanding of the issues at stake.
Fischer is forceful. He knows how to say phrases that may resonate with large segments of the public. He's a hard campaigner, and a clever one: he has worked to secure the Catholic vote and the tea party vote while making appearances at almost any event of note.  But just past the clichés and the promises, he is incoherent. He has a poor to non-existent grasp of the responsibilities of a school board member, of the limits of school boards' authority, of the district's finances or, down to the details, of, say, the way special or exceptional students needs are met. To some extent almost all candidates who've never served in government display similar gaps between what they think they know and what the reality may be. In Fischer's case, it's more of a gulf.
Most strikingly, Fischer, an insurance agent, cannot speak in complete sentences or complete thoughts: he cannot follow an argument, let alone make one. It is not merely a difficulty with speech—he's never at a loss for words, or decibels—but with mere comprehension of an issue in its component parts, and the ability to explain it.
Sword is neither as forceful nor as ubiquitous a campaigner. Sword sightings are more rare than Fischer sightings. She doesn't have a natural constituency, like Fischer's churches or his legion of Knights of Columbus followers, cultivated over many years. And she's black, which—regardless of what people will claim—is enough for some people to vote against her. This isn't 2008, when she could count on a big turnout in black precincts. And the influence of Jim Guines, the long-time school board member, who's leading her campaign, is not as palpable as it was two or three years ago.
But Sword, an attorney, has the sharp intelligence of a quick thinker who can tackle an issue and boil it down to its essentials in moments. She has an analytical mind, an eye for detail, and isn't interested in flimflam arguments or empty promises: a key difference between her and Fischer is the way they've gone about addressing the teachers union. Fischer is promising them raises. Sword is not making those promises any more than other, sitting school board members are promising them. (The union and the board have been negotiating since spring. They won't sign a deal until after the election.) Sword says she'll have to wait and see how voters vote on the continuation of a school tax and where finances will be once the state's revenue estimates are in. That won't happen until after the election. Those estimates could mean more budget cuts from the state.
A closer look at the two candidates reveals two recurring threads: Fischer's relationship with fact is fuzzier than Swords'. Fischer, making compulsive use of wild exaggerations on the spot (the sort of exaggerations that most people won't verify) makes claims that are simply not true—whether it's his claim that he's been a school board adviser whose advice has been followed, or his claim that the school board hides its spending from public view. Those are flat-out false accusations that nevertheless win him praise from listeners who take him at his word.
Sword, cautious to a fault, doesn't make wild claims—or accusations—though she, too, can throw out the occasional exaggeration. She is more interested in weighing and analyzing issues in concrete terms than in speaking in catchy generalities.
Those traits were in evidence at the two candidates' latest forum last week in Bunnell, a forum hosted by the Flagler Palm Coast Civic Association. They spoke for about 40 minutes.
The first question they faced was about the $0.25-per-thousand property tax the school board is asking voters to continue paying, through a referendum, as they have for years (though until now the school board passed the tax on its own).
"I definitely support this quarter mil, because guess what, it's nothing new, it's the same amount of money, you're not going to get an increase in your taxes," Sword said.
As he has before, Fischer falsely described the tax as a new tax. "We can't afford another tax." Either Fischer does not understand that it is not a new tax, which is difficult to imagine after the issue has been explained to him repeatedly—and for a man who claims to have what it takes to lead from a school board. Alternately, he does understand, but continues to portray it as a new tax, in which case he's being mendacious—purposefully mis-representing the issue to score points with voters. That's sheer dishonesty.
Fischer, in his answer, was quick to shift the matter to teacher raises—which was not the question. He said the school board should use its reserve fund, currently at around $9 million, to give teachers a raise. He did not mention that the reserve fund is at $9 million because of recent budget cuts—and because more than $2 million a year has been generated through that .25-mill tax. Nor did he note that the reserves are to buffer the disappearance of $5 million in federal stimulus dollars after next year. Fischer is looking to eliminate that tax and give teachers an unconditional raise, thus ensuring that the district's reserves would be nearly wiped out. The last time that happened, in 2003, a state audit warned the district that if reserves were not kept at a minimum of 3 percent or more of the general fund budget, the district could face consequences.
"Again," Sword said of Fischer's answer, "it's a fundamental misunderstanding of what the quarter mil is. That money is used for the district's critical needs, and if we don't have it, then we're going to face some significant problems."
The candidates were then asked to explain their positions on special education and exceptional education students. Sword's answer was not specific. She said she'd spoken to teachers in the field who spoke of needing more help, "just like every other program in the system."
---
Fischer Confuses "Lepers" With "Leopards"[media id=97 width=250 height=100]
Fischer's answer, however, was simply incomprehensible. This is his full answer, uncut: "Also there's different areas also that, like, special Olympics which I'm involved in quite a bit, and also there's a down syndrome, in fact there's a buddy walk here in a week or so, and these are different—in fact there's a doctor Abrams who ran for school board last time, he's got many awards for down syndrome. So there are other aspects as far as just not in our school but these children are, many of them are students in the school, and they have been kind of like, like leopards type situations, and we have to make them accepted, and it's just like a mentoring program. The mentoring program has to be for everyone, and the exceptional children has to be for everyone."
There is no other way to put it: Fischer does not know what he's talking about.
He displayed the same incoherence with the very next question, on virtual schooling, which he appeared not to understand even conceptually. The candidates were asked how they thought the current virtual school program was working. (Hundreds of students attend school through the state's and the district's virtual school program, easing pressure on class sizes and enabling some students who don't perform well in classroom or school settings, for whatever reason, to thrive better online.)
Sword answered the question along those concrete lines: "It's a viable alternative," she said, describing one parent who didn't like the system and one who did, "because when her son was in the mainstream population, he just was kind of getting lost in the shuffle, and so he was able to be successful." Online. At the end of the day, Sword said, "our goal needs to be whatever source of education is available."
Fischer's answer, again, was incomprehensible. He did not answer the question about virtual schooling to any degree that showed understanding with the program. He then launched into another rhetorical rodeo that threw off one idea after another: "I agree with the virtual school and what they're doing, but we have to take a look at all of our children because they all are different personalities and learning levels, and we have to develop something whereas, we can find a happy medium so as to take these children and listen to them to see what their needs are. There's some awful lot of children in our schools that just have to be listened to, talked to, to find out, what would they would like, like be an architect, or whatever it may be, some kind of a plumber, whatever it may be, a computer, but listening to them and their parents, get the parents involved with the children, in with the children, be creative. There's Diane Tomko did such a wonderful thing with the creation of the kids, and Karen Driscoll"—[head of gifted education at Bunnell Elementary]—"these are things very imaginative that are building things for the children's future."
The forum went on along those lines.
Fischer's mishandling of facts was particularly glaring on several occasions.
When asked what he would do about cyber-bullying, Sword said school policy would have to keep up with changes. Fischer said it was a matter of bringing back uniforms—although cyber-bullying, by definition, has little to nothing to do with the physical contact between students, but virtual contact between them, in or out of school, whatever they may be wearing.
Pressing the issue, Fischer said that when Osceola County schools imposed uniforms, "70 percent were doing better in school" six months after the policy was implemented. That's not true: the Osceola district reported a 30 percent drop in disciplinary reports over the whole of 2008-09, and a 5 percent drop in 2009-2010, though it's not clear what other factors played into drop: schools across Florida have been removing school resource deputies from hallways to save money, and with fewer deputies writing them, there can be fewer documented disciplinary reports.
The candidates were then asked about school concurrency—the state law that requires developers to ensure that schools are built and ready to take in students when new developments are built. Sword answered the question as just that. Fischer, after explaining the law's purpose, said: "I don't think it's a question for the school board to be answering." But it is. School districts have plenty of authority when it comes to concurrency, and the Flagler district just exercised it to extract concessions from two major developments planned for the next couple of decades, concessions that will defray the cost of new schools.
Sword peddled an inaccuracy, too, when she was asked what grade she'd give the Flagler school district ("a solid B"). She said: "We have been rated an A school district several years in a row, and not very many school districts if at all have been able to have those same bragging rights." That's not true: those grades have been watered down over the years. The majority of districts are now A and B rated districts, and about two dozen have managed A's three years in a row.
Fischer and Sword were both wrong when it came to the budget, which they said should be online. It already is.
Beyond that, the inaccuracies were all Fischer's: he railed at the FCAT (the Florida Comprehensive Assessment Test) as one reason to give the Flagler school district a C+, saying the test should be done away with—a message that resonates with many parents and teachers, but that has no relationship to what the school district can do: the FCAT is state law, and local districts are powerless to affect it, even though most are also displeased with its effects on schools. Fischer, in other words, used the question as an opportunity to speak slogans and score points without addressing the issue: the quality of the local school district.
One of Fischer's recurring complaints is the district's transparency. He claimed that "50 to 60 items" are placed on the school board's consent agenda at every meeting—that portion of the agenda that doesn't get discussed, necessarily, and gets approved with one vote. Every local government has its version of a consent agenda. But Fischer was wrong: the district's consent agenda is usually about a dozen or, at most, two dozen items, most of those involve permission for students or teachers to travel out of county for one school activity or another, and other such routine matters—and board members themselves routinely pull items off the consent agenda for fuller discussions.
Fischer also claimed, wrongly, that spending of less than $10,000 is invisible to the public. Not so. Every dollar the district spends is publicized on its website, including every check written for every purchase.
But no one at public forums questions a candidate's figures. No one fact-checks them, least of all the forum's moderators, who never so much as ask follow up questions that could help clarify a candidate's muddled thinking or outrageous claims. Fischer knows that much, as do many other candidates on the trail. So they continue to make their wild claims. And they get away with it. Fischer is poised to get away with it all the way to a victory on Nov. 2.