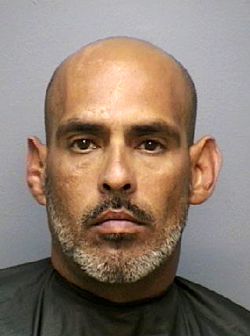 Flagler County Sheriff's detectives are labeling as suspicious the death of a 46-year-old Palm Coast woman who was found unresponsive in her bed shortly after 2 a.m. Monday morning in an apartment at Integra Woods off Seminole Woods Boulevard.
The mother of Margaret Miller of Shady Oaks Drive called the Sheriff's Office when she received a call from her daughter's cell phone early Monday morning. The mother, Margaret Knight of Daytona Beach, said she could hear her daughter's boyfriend, Raphael Santiago, yelling and then the phone disconnected.
When Knight called back and asked to speak to her daughter, Santiago told her she was not there, so she contacted the Sheriff's Office.
Deputies responded to the unit in the Integra Woods Apartment complex, which dubs itself a "luxury" rental "community." Santiago answered the door and told deputies Miller was sleeping. Deputies reported they could see Miller from the door and after calling her name several times with no response, they entered the bedroom where they found her not breathing.
The cause of death has not been determined pending the outcome of the Medical Examiner's autopsy. Miller was the mother of a teen-age daughter.
Investigators have charged Santiago with possession of less than 20 grams of marijuana, and with tampering or destroying evidence. He is currently being held at the Flagler County jail on $100,500 bond.
The sheriff's office would not release the arrest report.