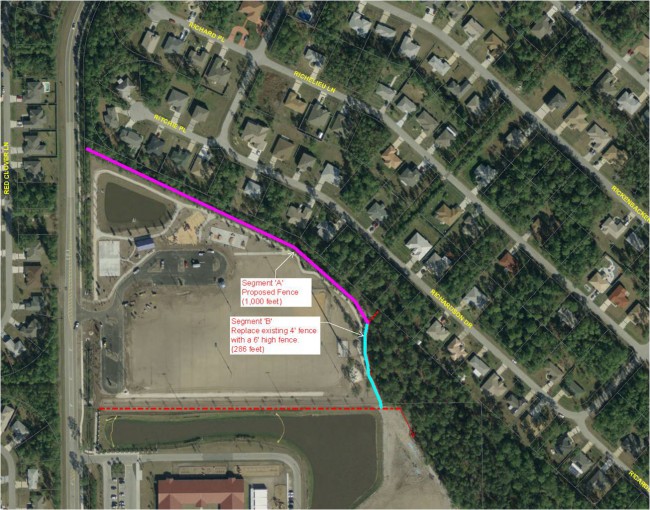 Ralph Carter Park is a handsome, popular, 13-acre playground for basketball enthusiasts, skateboarders, tiny children, soccer and football players and, on occasion at midday, when the park is not in much use, golfers practicing their tee shots. As with all of Palm Coast's parks, Ralph Carter is well maintained, the grass is always manicured, the grounds are kept clean, and aside from the occasional vandalism—which occurs at any of the city's high-use parks—the place remains welcoming, which partly explains its popularity. The park is named after Ralph Carter, Palm Coast's first black council member. He died in 2005.
The $2.2 million park, on Palm Coast's southwest side, opened two years ago along Rymfire Drive to the west and Rymfire Elementary school to its south.
Then there's Richardson Drive, curving around the park's northeast in the shape of a machete. It's not an exaggerated comparison: many people who live along Richardson Drive—mostly white, mostly older, mostly middle class people—don't like the people who hang out at and around Ralph Carter Park, who happen to be mostly black, mostly young, and like teenagers from here to American graffiti, often boisterous. The people of Richardson Drive, led by Marion Petruzzi, have called the users of Ralph Carter Park "undesirables," among the relatively printable things that have been said of them, and complained vehemently to the city against park users who cut through their properties as shortcuts, littering, peeing and supposedly dropping condoms along the way, among other alleged nuisances.  Petruzzi has taken her case to the Palm Coast City Council several times on behalf of the Richardson Drive neighborhood.
To Bill Lewis, one of two black council members, the criticism of park users is racially motivated. "There are people who don't like black folk," he told the News-Journal last month. "That is Ralph Carter Park. That's what I'm talking about." Petruzzi denies it in the same sentence as she specifies that the problem is black people short-cutting through woods, vacant lots and properties.
For over a year, the fault line between the park's younger users and its Richardson Street neighbors has been a headache to the city, the Flagler County Sheriff's Office and young park users, whom the sheriff's office has filmed secretly and questioned frequently while the city used the park as the starting point of a permanent camera surveillance system. Judging from a year's worth of police reports from across the city, however, Ralph Carter Park is not a particularly volatile area: complaints are far more frequent than arrests for cause, which suggests antipathy or harassment rather than criminal behavior.
The conflict culminated in a forum on the matter in late April, where City Manager Jim Landon heard demands for a fence between Richardson Drive and the park.
It wasn't a new idea. Last year Landon and Mark Carman, the sheriff's office head of Palm Coast operations, said a fence would not solve the problem. Fences can be scaled, cut, vandalized, they said.
On Tuesday, Landon, who's been at somewhat of a loss on how to address the matter anymore, submitted to the council a set of options on building a 1,000-foot fence along Richardson Drive. It was the result of several suggestions from the city after many were batted down by the Richardson Drive neighborhood.
The cheapest option would be $14,500. The most expensive would be $69,000, or close to the cost of two sheriff deputies's salaries for a year, not including benefits, training and equipment (the city contracts law enforcement services from the sheriff's office). The range reflects varieties in the robustness of a fence, though once the city goes above $25,000, it must go through a formal bidding process for the project (as opposed to gathering  three quotes if it's under $25,000).
Cost, at a time when the city is looking toward a loss of more than $2 million in revenue as it prepares next year's budget, was not much discussed.
Landon made no recommendation. "You really need to let the public come and talk to you again," he said, noting the persistent divisions on the matter. "You've also seen input from people who don't think a fence should be there at all."
A decision would follow yet another round of public comments, though on Tuesday council members seemed to lean toward two options: a fence around the park, its strength and cost yet to be determined, but also a back-door way into the park, though Richardson Drive residents—who want the park users caged in, not accommodated—would oppose that approach. Council member Frank Meeker used his father's experience to describe how his father's citrus groves in Fort Pierce were used and misused by young people when a convenience store opened nearby until a fence was built. A fence, in Meeker's view, channels traffic.  "Can we keep the casual person from strolling through people's property, take a shortcut to the park, yeah, I think we can," he said. "And most normal people I think will avoid the fence, they know what it means."
Lewis doesn't buy it. Lewis: "You already know where I stand on the fence," he said. "We're spending taxpayers' money to put out something that supposedly is going to stop criminal activity, so we're putting up a fence, the city, to do law enforcement, which is not our role." The sheriff's office should be doing that, he said. "My concern is those people who are silent, those people who are not boisterous, who sit back and send emails and that sort of thing, those people who say well, I take my kids to the park, and I take the shortcut—so we keep them out also." The park, he said, should be open and accessible to everyone. He's displeased with the city acceding only to the noisier complainers.
It was as a concession to Lewis that talk of a back-way into the park mixed with discussion of a fence. But that entails escalating costs, though Landon didn't have those ready, since the notion hadn't been proposed before. He'll be producing the numbers at a subsequent meeting, when those who complain of "undesirables" are certain to make their voices heard again.