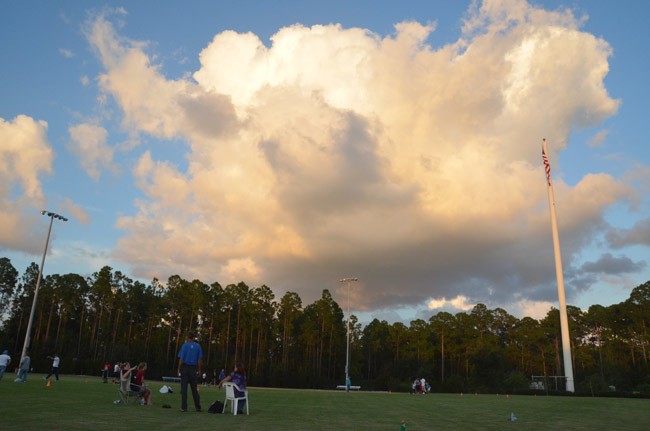 There will be no fence around Ralph Carter Park. At least not for now.
Some residents are still wondering why a fence hasn't gone up since a neighborhood watch group centered on the R-Section's Richardson Drive last organized an email assault on city council members for a fence in spring. But the Palm Coast City Council on Tuesday went along with a police commander's and the city manager's strong recommendations against a fence.
"I think you all know my opinion," City Manager Jim Landon told council members during a budget workshop, when council members decide what to spend money on—and what not to spend money on. "We have conflict in the neighborhood. Building a fence around the park isn't going to solve the problem, and to spend $70,000 to $170,000 in my opinion is a waste of money."
That's what building a 1,286-foot fence all around the park would have cost. To build a fence like what the city did along Palm Coast Parkway over I-95, the estimated cost is $125 per linear foot, or $160,000 "to put that type of fence all the way around Ralph carter Park to keep the Richardson Drive people out,"  Landon said. The option of a smaller mesh fence without an overhang would have cost $70,000.
Council members had recently received a long email from the neighborhood watch leader pressing them for answers. The email, council member Steven Nobile said, didn't characterize the situation in the neighborhood as good or bad. Rather, it reflected an impression among some residents that the council was set to put up a fence but had not.
That was not actually what the council had agreed to last spring. It had agreed to look at options and costs in response to complaints from the neighborhood watch group—a predominantly white, older group that's repeatedly complained about younger black residents who walk around the neighborhood and cut through private properties to gain access to the park. But matters had quieted down since late spring.
Heidi Shipley, a council member who's been in contact with the group, had thought that  "Maybe at this point while everything is quiet, hold off on the fence, let's not do the fence, and it all went crazy from there," she said. "I don't see anything happening in that area. I hate the thought of putting up a fence that might make the area look worse, make it more city-looking, if we don't need it."
One factor appears to have made it quieter in the neighborhood: a single arrest. "I can tell you that ever since we had an arrest in the neighborhood we haven't heard the kind of conflict we were hearing before the arrest took place," Landon said. He summoned Mark Carman, the Flagler County Sheriff's commander and, essentially, the Palm Coast police chief, to explain what had taken place since spring.
Carman was very cryptic. "We worked it, we put a lot of resources down there,"  he said, telling council members that he wasn't at liberty to speak more publicly about the arrest or how it came to be.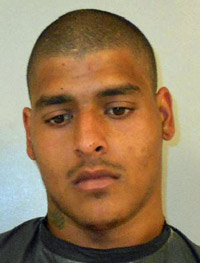 But there's no secret about it, and there doesn't seem to be any reason for the secrecy. The case was disposed of in open court. It involved Eddie Wiley, a 21-year-old resident of 15 Richardson Drive. He happens to be black. He lived next-door to a lot of the white residents who'd use various demeaning euphemisms to describe blacks, stopping short of calling out their skin color.
In late January—well before the latest outburst of complaints from neighborhood residents—a cop spotted Wiley allegedly rolling a joint near the bathroom at Ralph Carter Park. He was immediately handcuffed. While searching Wiley's person, the cop pulled up Wiley's pants because they were "sagging," according to the arrest report, causing Wiley to recoil and object to having his pants handled. Three cops forced him to the ground "until he calmed down and agreed to cooperate." The joint and another gram of pot found in his backpack resulted in a charge of possessing less than 20 grams of pot, a first-degree misdemeanor. For the pants bit, he was also charged with obstructing an officer, also a first-degree misdemeanor. (The arresting officer noted in his arrest report that he had not turned on his body camera "due to immediately contacting Eddie upon entering into the park.")
He would have been unlikely to get more than six months' probation, as numerous offenders facing similar charges get.
But it wasn't his first offense. Last year he was found guilty of possession of drug paraphernalia, a first-degree misdemeanor, and unlawful possession of a controlled substance, a third-degree felony. He got drug-offender probation for that. (Other than that, and a couple of traffic tickets, he has no further record.)
But because of the joint incident in January, and a subsequent report by his probation officer, his probation was revoked. (On May 1, his probation officer charged that Wiley was using prescription drugs and claims he had received a call from the mother of Wiley's girlfriend saying Wiley was dealing drugs out of the house and wanted him out. A May 1 search of Wiley's room revealed a dozen prescription pills, marijuana pipes, a scale, baggies "known to be used in the sale of drugs," and some 100 rounds of 9mm ammunition.) Wiley was re-arrested on May 1. On June 25 he got sentenced to nine months at the county jail, with credit for time served. He is scheduled to be released on Dec. 3.
In other words, council member Steven Nobile said by way of summing up, the leader of the neighborhood watch group "reported a problem, we were on it, we just couldn't talk about what we were doing, and we knew what the problem was but just couldn't lay it out and now it's basically been resolved." At that point, none of the council members appeared to know the particulars of the Wiley arrest.
"We have trouble in the area that far outweigh" the problems at Ralph Carter Park, Carman said. When Landon asked him if a fence would help, Carman replied: "I don't think it would change anything. Personally, I don't see a need for it."
"That isn't to say that we won't have other problems in this neighborhood or other neighborhoods," Landon said, "and when we do we'll tackle those too, and if there is traffic going back and forth from the neighborhood to the park and that becomes a problem again, we always revisit this. This doesn't close the door on anything. But to spend money on something to address a problem that those dollars aren't going to help the problem is inefficient way to spend tax dollars."