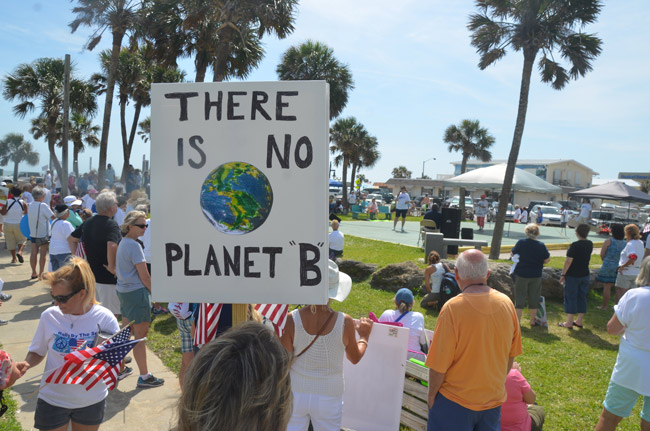 One sign said it all: "Oceans are rising. So are we." It's a bluish message that until today had been unheard in red-tide Flagler, where Donald Trump's sweep last November turned the county into a one-party county for Republicans as never before. But a rally in Flagler Beach, organized by a group barely a few months old, suggests the sweep is not as total as it appears, or Trumpism the only movement in town.
The day after Trump's inauguration, Rebecca Cappetta had traveled to Washington, D.C., to be among the 1 million participants in the Women's March, one of thousands like it around the globe rebuking the new president. When she returned she was told by one of her caucus members of today's People's Climate March, and that they should all go up to the nation's capital again. "And I said no, I can't go to Washington D.C. again. We need to do something here in Flagler County. And that's how it came about."
What came about Saturday, starting with a march from Wadsworth Park across the Flagler Beach bridge to Veterans Park, was certainly a call to protect the planet's climate, but it also turned into the largest rally for social-justice and progressive-liberal causes organized in Flagler County proper in recent memory. Many groups have been holding such rallies with increasing frequency since Trump's election, but all in surrounding counties. Cappetta, who heads the newly established Coquina Coast Democratic Progressive Caucus with her wife Stephanie Capehart–itself one of several new groups mushrooming as part of the Trump-resistance movement–wanted to bring those issues home. "We always have to travel to Volusia or St. Johns and I just anted people to come out and express themselves," she said, "and feel that sense of community here."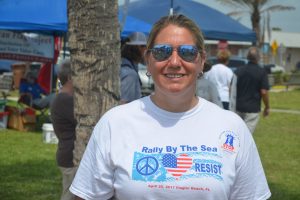 So they did, between 200 and 300 of them of them marching "for jobs, justice and climate," as Cappetta put it, though the Rally By the Sea, as it was dubbed, managed to gather representatives of many more causes, including the ACLU, a group pushing for the restoration of felons' voting rights, Veterans for Peace, Equality Florida, the Sierra Club, the NAACP, the new Indivisible movement, the reorganized local Democratic Club of Palm Coast (now at 60 members under the leadership of newly-minted president Mike Cocchiola), and the director of the Orlando-based Center for Peace, a subset of the Islamic Society of Central Florida.
They spoke to an initially considerable throng of people, many of whom whom had made the trek over the bridge, all of whom half-circled the stage at Veterans Park with home-made signs ("There Is No Planet B," "Global Warming is REAL," "Resist, Persist, Insist," "Da Nile Gives Life, Denial Will Kill Us," "Denial Is Not a Policy"), the signs usually mixing with fluttering American flags and their wavers' equally message-rich t-shirts).
As speaker after speaker took the stage at Veterans Park, there were messages about the planet's health–the late-April heat itself an echo of what may be record-breaking heat in Washington, D.C. today, underscoring the message of marchers there and here just a week after worldwide marches for science–but there were also many calls against the repeal of the Affordable Care Act, calls for more protection in Florida of the LGBTQ community, and calls for what the ACLU is now calling "People Power," a new grass-roots movement.
"Most people think of the ACLU as 'we'll see you in court,'" said George Griffin of the Volusia/Flagler chapter of the ACLU. "People Power is more, we'll see you in the streets. So we have local groups that are gathering to work on local issues without somebody from the top of ACLU."
Diana Becker LeBrun, leader of the local Indivisble movement, took the stage to speak of her own personal history's intersection with the Affordable Care Act, also known as Obamacare, the health care law Republicans in Congress and Trump had vowed for years to repeal, though they have been coming up short. LeBrun's husband 16 years ago was diagnosed with Polycystic Kidney Disease and needed a transplant, She was ineligible: their blood type didn't match. "The good news is, a lady in our town stepped up and donated her kidney," LeBrun said. "Since I had no way to pay her back, I knew that I needed to help someone else." She called the transplant center and put up her kidney for someone else, which she did 14 years ago, to a stranger whom she had a chance to meet.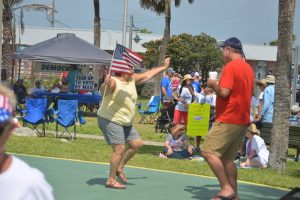 This is how the nation's insurance industry repaid her: because she donated a kidney, she was from then on considered to have a pre-existing condition. The ADA saved her from that discrimination, as the ADA forbids insurers from jacking up insurance premiums to people with existing conditions, or from turning them down (though a proposal currently floating in Congress would do just that again). "Stories change people's heart, and I think you can all agree, LeBrun said, "that just because I donated a kidney, I shouldn't be discriminated against."
It wasn't the sort of crowd where anyone would disagree, at least not audibly, though outside of strictly Democratic Party events, which themselves have been few and small, the remarkable thing about today's rally was the number of people it drew in a county where Republicans now enjoy a near-total sweep of all elected offices but two (a school board member and a Flagler Beach city commissioner).
That's just why Cappetta felt the rally was necessary in Flagler. "People need to be able to express themselves and have a voice especially here in Flagler County. We are not the majority," she said, "we have [two] elected Democrat in office, we just wanted people to be able to come out and know we're all here, and we're together."
Evelyn Brogden, who heads an outreach project for Equality Florida Institute, spoke about the current state of LGBTQ rights in Florida, the myths, and the growing scope of people covered under what had formerly been merely "gay rights." Today, it's LGBTQIA: lesbian, gay, bisexual, transgender, queer, intersex and asexual people (the University of California at Davis has a fairly comprehensive glossary of terms here.)
"Currently there are no statewide anti-discrimination protections in the state of Florida" for the LGBTQ community. "We are having to go city by city, municipality to municipality, to get local ordinances in place to accord the same protections against discrimination as other marginalized groups." What about the Civil Rights Act? Originally passed at a time when homosexuality was still officially classified as a mental illness, the Civil Rights Act has no such designated protections. "That is the myth, that there are already national protections in place," Brogden said.
There was a good deal of speaking, and a good deal of it not related to the climate, but one man was visible, soaking with sweat and armed with a roll of garbage bags, crisscrossing park and picking up trash. You wouldn't know it from looking at Eric Cooley, but he's a Flagler Beach business owner (he owns the 7-Eleven down the street) and is becoming a commissioner emeritus, appearing at and usually taking part in every city commission meeting, either to report on a recent community initiative or propose one. His today was not just to keep the park clean, but to make a point about the stream of words on behalf of the planet's health: "That's my biggest thing," Cooley said. "I'm here for the environmental message. I'm a big doer. I don't like to talk a lot. I just like to get out here and do the message rather than just talk about it. That's my thing." He spreads it around, too: the deal at his store is that any child who grabs a garbage bag and fills it with beach garbage gets a free drink.
"Walk the walk, be the change, practice what you preach, all that good stuff," Adam Morley, who was speaking with Cooley, said. Morley, an environmental activist and Democrat, has twice run for a House seat, managing in his last attempt to get close to 40 percent of the vote against Republican Paul Renner, though Renner outspent him by a factor of 28 to 1. (Morley is gathering petitions to run again, and appears to have Cooley's backing, or at least shares his Voltairean cultivate-your-garden philosophy.)
"You know what's disappointing that I've learned," Cooley said, "as I'm picking up stuff, everybody is really quick to go, I didn't do that, that's not mine. I get that. Does it matter? It doesn't matter if it's yours. If you want to do good, then do good, don;t just do good for just your little spot. It was really strange. Everybody. 'I didn't do that.'" Nor had Cooley, of course, though he was picking up the entire park's trash. "I'm going to take responsibility for the entire park's trash, I'm not going to take responsibility only for my water bottle."
Back on stage, one of the speakers was Bassem Chaaban, director of Orlando's Center for Peace, the outreach arm of the Islamic Society of Central Florida, itself intended to project a more accurate understanding of Islam against a cacophony of misconceptions and Islamophobia. "We feel that for the last 15, 17 years, we had to defend ourselves from something we had nothing to do with," Chaaban said, "and this is an example of the unfortunate history of our country and our world where if we do not engage with each other the right way, considering our differences, we can create boogeymen of each other."
He quoted several lines from a celebrated John Kennedy speech on diversity ("We all breathe the same air. We all cherish our children's future. And we are all mortal") before concluding: "It's not enough to protest. It's not enough to just gather. But the real action is what happens after today, because my message to you is to go back to your local communities, to your neighborhoods, get involved in local government or state government, but make sure you know your neighbor, who is not like you, who maybe has a different ethnicity, has a different religion, has a different view of life, and just engage in, maybe, civil discourse. That's OK, no one told us we have to agree on everything. All of us came for different reasons to one place. So we need to reach out and be the better person, and be maybe the better party sometimes to really engage with the differences that we have in this country, because this country was built based on differences."