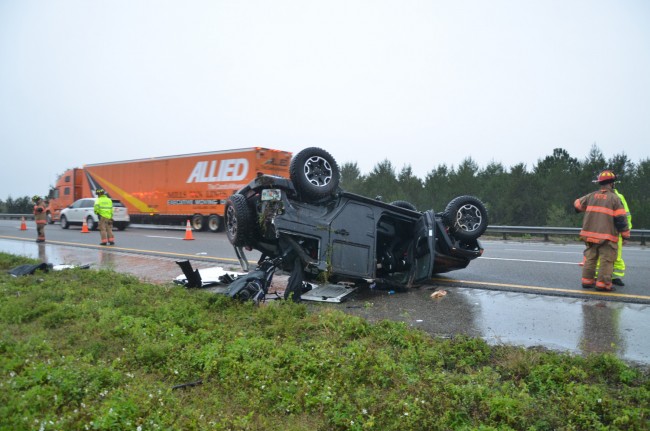 A pair of wrecks involving up to four vehicles but with relatively minor injuries snarled traffic on I-95 Monday afternoon as rain fell heavily in the area of State Road 100. Both wrecks took place around mile marker 284.
The first wreck occurred at 4:40 p.m., involving an SUV and a Volkswagen. The circumstances of the crash are not clear–Florida Highway Patrol troopers are at the scene, investigating–but the SUV rolled over and ended up on its roof, straddling the emergency lane and the inside lane of the southbound lanes of I-95, just before the bridge over SR100. The Volkswagen, only lightly damaged, was in the emergency lane of the northbound lanes, suggesting that the SUV may have been traveling north and flipped over the guard rail. Some debris and personal belongings from the SUV was visible on the ground in the northbound inside-emergency lane. The VW ended up against a guardrail, facing south, on the northbound side.
That wreck led to at least one injury that, preliminary reports indicate, was not life-threatening. The wreck reduced southbound traffic to two lanes and backed up traffic about a mile and a half by 5 p.m.
At 5:10 p.m., two vehicles were involved in another wreck in the northbound lanes of I-95. That wreck brought northbound traffic to a virtual standstill. Conditions were very poor, with heavy rain falling steadily and dusk making conditions more difficult. Flagler County Fire Rescue and the Palm Coast Fire Department had responded to the wrecks, with the Palm Coast Fire Police regulating traffic on either sides of I0-95.
Shortly after the second wreck on I-95, yet another wreck was reported on Old Kings Road, near McDonald's by Palm Coast Parkway, further stretching emergency responders. FHP was reporting that ,many of its troopers were involved in crash investigations in Flagler, Putnam, Duval and St. Johns counties.