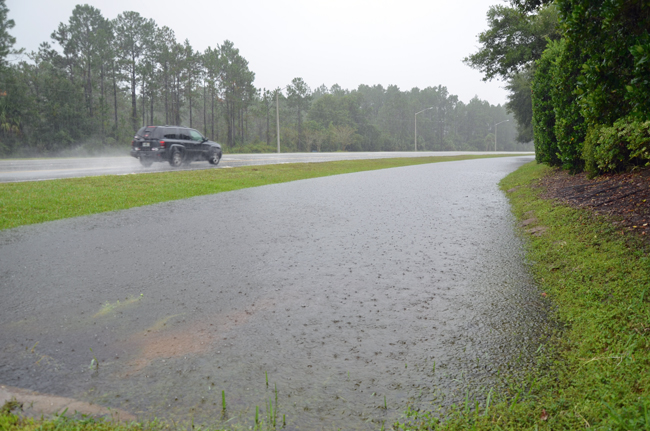 After two days of torrential rain in places and a maximum-recorded reading of 16 inches in central Palm Coast, two days of calm have restored normalcy to the city's sewer system, lifting restrictions on water usage and ending cases of isolated flooding.
The city this afternoon released its latest update with a few recommendations to residents.
Property Appraiser Jay Gardner has estimated the total damage from flooding at $380,000, spread between some 36 homes in Palm Coast.
Home and business owners who have not yet reported damage from the flooding to their property should call the Flagler County Emergency Operations Center at 386/313-4200 to report the damage. But absent homeowner's insurance, emergency management's capacities are limited. Many residents have called emergency management to complain about lacking insurance.
There never was a local state of emergency declared, so each local government conducted whatever emergency response was necessary within its own jurisdiction. During a state of emergency, Emergency Management Director Kevin Guthrie would be in charge of directing the response. Informally, his office was still the information hub during the two-day event.
Tuesday and Wednesday rain fell but in spots and only briefly. For the first time since Friday, Flagler and Palm Coast saw no flood watch warnings, advisories or watches on Wednesday.
More spotty rain is expected through the end of the week, with the possibility of locally heavy downpours, according to Bob Pickering, emergency management's weather specialist. But a front moving through the area over the weekend will bring dry, fall temperatures by Sunday.
The city this afternoon released a few recommendations to residents.
If a resident's pep tank alarm goes off, the resident should try to silence the alarm and then call the City of Palm Coast Utility Department to report the alarm. Information on pep tanks, including how to silence the alarm, is located in the manual provided to homeowners with pep tanks. That manual can be found online here.
Depending on which model the home has, the audible alarm button is located in the front panel or on the bottom of the panel. Push that button to silence the alarm, and immediately call the Utility Department at at 386-986-2360. (Note: if the tank is full and it's under water, the alarm cannot be silenced by the homeowner. In that case, immediately call the Utility Department.)
After hours or on weekends, if the pep alarm sounds, call Flagler County Sheriff's Office Dispatch at 386/313-4911, and the Sheriff's Office will notify the City of Palm Coast Utility Department. City personnel should be available 24 hours a day, seven days a week, through those two telephone numbers.
The city is not able to assist residents with overflowing swimming pools. Residents should either drain their pool themselves or call a pool service.
A couple of roads remain closed: Hargrove Grade-Otis Stone to Hargrove at the rail road tracks just west of U.S. 1 in the unincorporated county area, and Otis Stone Hunter from US Highway 1 to Main Street, also in Flagler.
Puckering also provided the following rainfall report for September. "Rainfall figures were as you would expect higher than typical climate values across the county," he said, "with amounts coming in from just below to well above normal. The localized nature of tropical rainfall can be shown here by the dramatic differences in rainfall numbers reported.
Rainfall reports for September 2014:
Bunnell, Flagler EOC:      5.06"         YTD: 38.80"
East Palm Coast:               10.36"       YTD: 50.03"
Northeast Palm Coast:   11.44"       YTD: 54.47"
Central Palm Coast:         21.07"       YTD: 74.80"
South Palm Coast:           8.90"         YTD: 45.13"
West Palm Coast:             17.20"       YTD: 57.40"
Marineland                         8.33"          YTD: 41.33"
Flagler Beach:                    8.01"         YTD: 39.85"
Eagle Rock Estates:          9.13"         YTD: NA (New Station)
The Climate Prediction Center (CPC) continues to maintain that Flagler County is currently drought free.  This status has persisted the entire rainy season and correlates with the rainfall totals observed.  The CPC is predicting that Flagler County will maintain drought free conditions through December, taking into consideration a forecast with continued above normal precipitation.  The tropical rainy season typically ends in October.