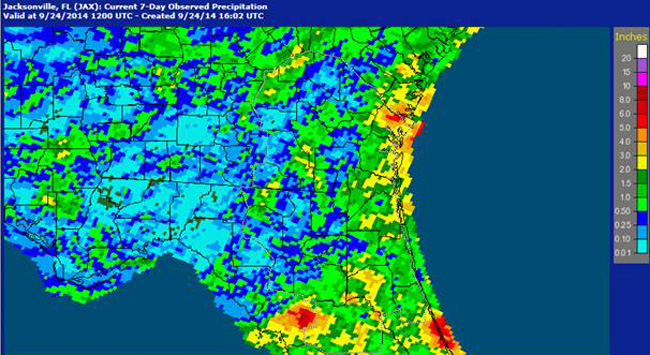 Don't stock up on sandbags in Flagler County just yet: heavy rainfalls flooded roads and some 12 to 20 homes and a few apartment buildings in parts of Volusia County early Wednesday morning, and some rain is expected in Flagler over the next 24 hours, but the county's emergency management director says residents should not be alarmed by what they see in Volusia and expect it replicated here.
"A lot of people trying to associate their rains with Flagler's," Kevin Guthrie, the emergency management director, said. "They are nowhere close to being apples to apples. Our rainfall is significantly less than what Volusia County has experienced." In all, an inch or less has fallen in Flagler County in the past seven days, with some very isolated areas getting two to three inches, Laura Hite, the county's mitigation planner, reported.
It's been a different story in Volusia, where Daytona Beach got 6 inches and New Smyrna Beach 7 inches overnight, closing some major arteries such as parts of International Speedway Boulevard and Dunlawton Avenue in Port Orange.
None of that is expected in Flagler. Tonight's forecast calls for scattered thunderstorms, with light rain to scattered thunderstorm for some of the day and evening Thursday.
"We are monitoring, constantly monitoring weather events, and this is a weather event," Guthrie said. "If things should change on a moment's notice we will be responding to such but at this point in time, based on what we're getting out of Jacksonville National Weather Service, we do not anticipate getting anything like what Volusia County is experiencing."
The county's Emergency Operations Center is stocked with sandbags, and those are ready to be filled if and when necessary, at least on a case by case basis, but officials don't see that happening any time soon.
Meanwhile, the region, and the nation, continue to emnjoy an unusually quiet hurricane season, with just five named storms through Sept. 22–Arthur, Bertha, Cristobal, Dolly, and Edouard. If you're not familiar with the names, it's because none made landfall except for Arthur briefly flirting with North Carolina's Outer Banks and Dolly making a tepid incursion into Mexico, and even then as a mere tropical storm, before petering out.
Forecasters had predicted a calmer season.
Nevertheless, the actual number of hurricanes is in live with seasonal averages, the Weather Channel notes (and warns), suggesting that all is not done before the season's end on Nov. 1. "An average Atlantic season will generate another five named storms, two hurricanes, and at least one major hurricane from late September through November," the Weather Channel reports. "October U.S. hurricane landfalls are not frequent. However, Wilma (2005) and Sandy (2012), two of the five costliest hurricanes in U.S. history, both recently wreaked havoc in October."