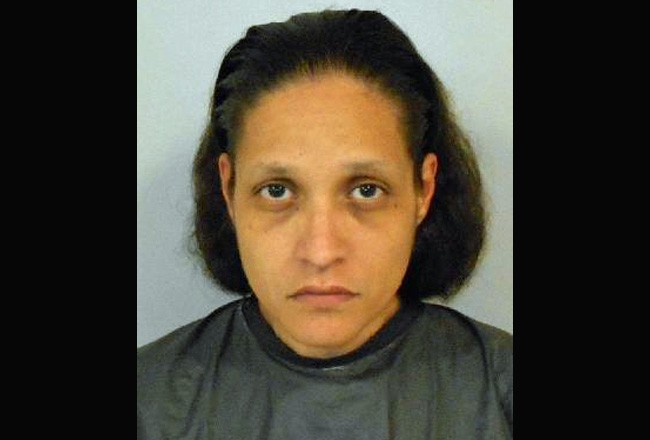 When police hear allegations of crimes from victims, or alleged victims, they don't often get prepared statements ahead of time, let alone prepared, videotaped statements. But Flagler County Sheriff's Deputy George Hristakopoulos got just such a video statement from Magdaline Scott, a 38-year-old resident of Berkshire Lane in Palm Coast Thursday morning, when he responded to the woman's home.
In her sworn statement, Scott claimed she'd gone to Walmart late Wednesday evening when, as she was attempting to enter the store's west entrance, she was allegedly approached by two black men in their 20s or early 30s. She described both men, one of them as "dark-skinned," the other with "long dreads," also "dark-skinned." She claimed that one of the men "forcefully snatched her book bag off her back." When she started going after the men, one of them, she claimed, said: "If I were you I wouldn't try it." So she got scared and went home.
She described the allegedly stolen book bag as pink and black, with keys, an ID card, credit cards, a handheld game, medication and a knife inside. She described the list of pills in the bag. When the deputy asked her why she hadn't reported the alleged theft when it took place that night, she said she'd been scared to do so.
Hristakopoulos then asked Scott whether he'd see the robbery on surveillance footage from Walmart's cameras. Scott, according to the deputy, "appeared startled at my question, and began shrugging her shoulders. Ms. Scott said she did not know if the robbery would have been caught on camera." The deputy told her that almost every square foot of Walmart's parking lot is covered by surveillance cameras. "I could see," he noted in his arrest report, "that Ms. Scott was showing several signs of deception, such as looking down when answering, becoming increasingly fidgety, and responding with 'huh,' to my clearly worded question."
Then Scott owned up to it: the story was entirely fabricated, she told the deputy. But then she claimed that her mother had told her to fabricate the tale about the two black men. That, too, was a lie: after further questioning, Scott admitted to the deputy, according to her arrest report, that her mother had told her no such thing, and that she had merely lost the back pack, possibly in Port Orange. Yet again, that proved to be false.
When the deputy read her her Miranda rights, Scott pleaded with him not to arrest her. The backpack, as it turned out was in her house. She retrieved it. The pills it contained appeared all legally prescribed to Scott. It is a first-degree misdemeanor to make a false report of a crime. Scott was arrested and has been held at the Flagler County Jail since Thursday afternoion on $500 bond.
Six years ago she was found guilty of refusing or failing to have a child attend school, a second-degree misdemeanor. She signed on to a deferred prosecution agreement which, had she fulfilled it, would have led to the charge being dropped. She failed to comply. In 2003, when she was Magdaline Munoz, she was found guilty of public assistance fraud, a third-degree felony, and was placed on probation, which she subsequently violated.