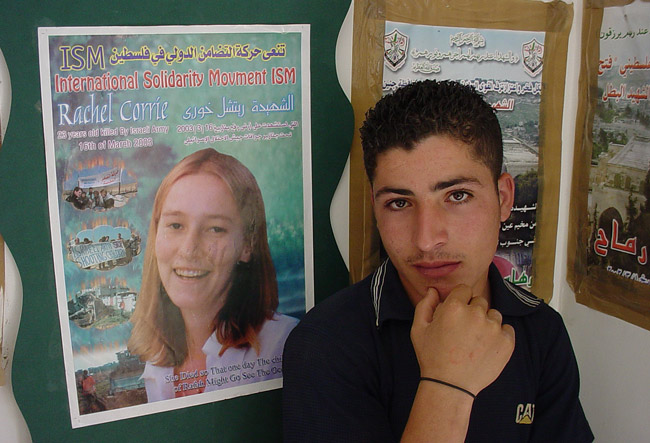 Rachel Corrie was a 23-year-old pro-Palestinian peace activist from Olympia, Wash., who, on  March 16, 2003, was protesting the illegal demolition of Palestinian homes by the Israeli military in Rafah, in the Gaza Strip, when she was crushed to death by a bulldozer driven by an Israeli army soldier. The Israeli army claims it was an accident. Eyewitnesses and members of the International Solidarity Movement with which Corrie was affiliated, and who were at the scene, say the killing was deliberate.
On Aug. 28, 2012, Haifa District Court Judge Oded Gershon, in a 62-page civil case ruling, declared Corrie's death to have been an accident and absolved the Israeli military of any responsibility in the killing, going as far as saying that the driver of the bulldozer that crushed Corrie would not have seen her. Gershon called Rachel Corrie's death "regrettable," but said that "she chose to put herself in danger," and "could have easily distanced herself from the danger like any reasonable person would."
The lawsuit was filed by Corrie's parents, Cindy and Craig Corrie, claiming $1 in damages and legal expenses, and accusing the Israeli Defense Forces–the official name of the Israeli military–of unlawfully or intentionally killing Rachel or of gross negligence. They lost: The judge denied their claim, but waived the Corries' court costs.
"I believe this was a bad day, not only for our family, but for human rights, humanity, the rule of law and also for the country of Israel," Cindy Corrie said at a news conference following the ruling. She accused the state of putting to work a "well-heeled system" to provide immunity to its soldiers. "As a family, we've had to push for answers, accountability and justice."
The family is appealing the ruling to the Israeli Supreme Court.
Hussein Abu Hussein, the family's lawyer, said: "This verdict is yet another example of where impunity has prevailed over accountability and fairness. Rachel Corrie was killed while non-violently protesting home demolitions and injustice in Gaza, and today, this court has given its stamp of approval to flawed and illegal practices that failed to protect civilian life. We knew from the beginning that we had an uphill battle to get truthful answers and justice, but we are convinced that this verdict distorts the strong evidence presented in court, and contradicts fundamental principles of international law with regard to protection of human rights defenders. In denying justice in Rachel Corrie's killing, this verdict speaks to the systemic failure to hold the Israeli military accountable for continuing violations of basic human rights."
The Israeli Ministry of Justice described the situation this way in a statement released after the judge's ruling was handed down: "The death of Rachel Corrie is without a doubt a tragic accident. As the verdict states, the driver of the bulldozer and his commander had a very limited field of vision, such that they had no possibility of seeing Ms Corrie and thus are exonerated of any blame for negligence […] he security forces … were compelled to carry out 'levelling' work against explosive devices that posed a tangible danger to life and limb, and were not in any form posing a threat to Palestinian homes. The work was done while exercising maximum caution and prudence, and without the ability to foresee harming anyone."
The Israeli military had been on a demolition operation in a strip of land between the Rafah refugee Palestinian camp and the Gaza border with Egypt. It had deployed two D-9 bulldozers and a tank for protection. Three buildings were demolished when members of the solidarity movement took up bullhorns to protest the demolitions and press the drivers to stop. The military's forces retreated, then returned for more demolitions.
"They began demolishing one house," said one ISM activist who said his name was Richard told Haaretz, the Israeli daily. "We gathered around and called out to them and went into the house, so they backed out. During the entire time they knew who we were and what we were doing, because they didn't shoot at us. We stood in their way and shouted. There were about eight of us in an area about 70 square meters. Suddenly, we saw they turned to a house they had started to demolish before, and I saw Rachel standing in the way of the front bulldozer."
The activist told the newspaper that Corrie was wearing a bright jacket and climbed onto the bulldozer shovel-plow and began shouting at the driver. She was attempting to protect a home belonging to Samir Nasrallah, a Palestinian doctor. "There's no way he didn't see her," the peace activist told Haaretz, "since she was practically looking into the cabin. At one stage, he turned around toward the building. The bulldozer kept moving, and she slipped and fell off the plow. But the bulldozer kept moving, the shovel above her. I guess it was about 10 or 15 meters that it dragged her and for some reason didn't stop. We shouted like crazy to the driver through loudspeakers that he should stop, but he just kept going and didn't lift the shovel. Then it stopped and backed up. We ran to Rachel. She was still breathing."
A Red Crescent ambulance took Corrie to Abu Yusef Najar Hospital in Rafah, where she was declared dead on arrival.
Corrie was one of three children, the daughter of Craig and Cindy Corrie (he an insurance executive and Vietnam War veteran and she a school volunteer and flutist). She was an idealist from an early age in a family that frequently hosted international exchange students. Corrie herself had traveled to Russia as an exchange student. She was enrolled at Evergreen State College, needing one quarter to graduate with an international studies and art degeree, when she decided to spend a few weeks in Gaza on a mission to establish a sister-city relationship between Rafah and Olympia–and join other human shields against the demolition of Palestinian homes.
In March 2006 in London, "My Name Is Rachel Corrie," a one-woman play based on Corrie's diary entries and letters home, opened in London–after New York Theater Workshop opted to to put the play on hold. The play eventually opened in October at New York's Minetta Lane Theater. "The play," Ben Brantley wrote in The New York Times, "is not an animated recruiting poster for Palestinian activists. Its deeper fascination lies in its invigoratingly detailed portrait of a passionate political idealist in search of a constructive outlet. And its inevitable sentimental power is in its presentation of a blazing young life that you realize is on the verge of being snuffed out."
The play closed in December after 71 performances. Corrie's parents sued the Israeli Ministry of Defense, charging that their daughter's death was the result of intent or negligence. The case went to trial on March 10, 2010, in Israel. The Corries are seeking unspecified damages.
In 1990, age 11, Corrie wrote in her diary (from segments excerpted by The Guardian and published by W.W. Norton in book form in Let Me Stand Alone: "I want to be a lawyer, a dancer, an actress, a mother, a wife, a children's author, a distance runner, a poet, a pianist, a pet store owner, an astronaut, an environmental and humanitarian activist, a psychiatrist, a ballet teacher, and the first woman president."
On Jan. 29, 2003, a few weeks before she was killed, Corrie wrote: "I don't have time to write, but we need more people here. This is a jail that the jailkeepers decided was too big, so now they are squeezing it smaller. The people here live within smell of the ocean but they can't go see it any more." And in her final email home, four days before her death, she wrote: "Let me know if you have any ideas about what I should do with the rest of my life. I love you very much. If you want, you can write to me as if I was on vacation at a camp on the big island of Hawaii learning to weave. One thing I do to make things easier here is to utterly retreat into fantasies that I am in a Hollywood movie or a sitcom starring Michael J Fox. So feel free to make something up and I'll be happy to play along. Much love, Poppy."
See Also:
Activist Had Soft Spot for Underdogs