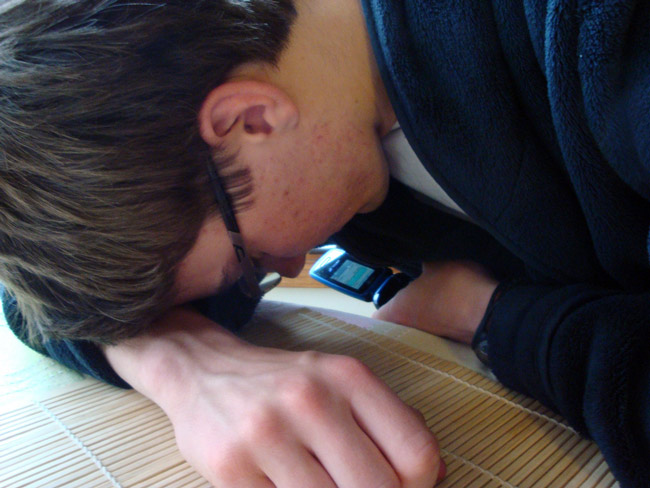 Jo Ann Nahirny, a teacher at Matanzas High School, is writing regular pieces from the trenches, reflecting on the challenges and experiences teachers and students face every day. Here's her latest installment. Note: names indicated by an asterisk (*)  and minor identifying details have been changed.

7:27 a.m.  I sit impatiently in the Guidance Office, thinking of the dozens of essays I need to grade, the photocopies I have to deliver to the copy clerk and the parents I must call whose kids are doing poorly in English. The other teachers waiting with me take turns glancing at the clock, sighing.  Tim* and his parents were supposed to have been here at 7:15. Our planning period ends soon; we're wasting time.
"They're on their way up," the secretary finally announces, poking her head through the door.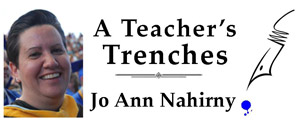 It's past 7:35 by the time Tim's parents navigate their way upstairs; their son isn't with them.
"Good morning, Mr. and Mrs. Vaughn*," Mrs.  Needham* greets them. "I'm Tim's guidance counselor. Where's Tim? He really should attend this meeting."
"He's supposed to be here," his mother says. "He caught a ride with friends before we left."
The teacher sitting across from me rolls her eyes, clearly annoyed.  Together we've been down this road before, too many times to count, with too many students.
"I'll text him," Mr. Vaughn volunteers.
Tim bursts through the door three minutes later, offering no apology for his tardiness, just as his parents hadn't offered any for theirs.
"Mr. and Mrs. Vaughn," the guidance counselor begins, "We've requested this conference because Tim's teachers are concerned about his progress. Tim's failed some classes in the past and so he lacks sufficient credits be a junior, though this is his third year here. He may be looking at two more years in high school, meaning he wouldn't graduate until he's nearly 20 — and that's if he brings his GPA up to 2.0 and if he passes the FCAT, and if he passes all his classes. Right now, he's failing two."
The conference continues as we each introduce ourselves, and provide copies of progress reports delineating Tim's grades. Each teacher explains why Tim's doing poorly.  The reasons range from his constant lethargy, to not turning in assignments, to arriving late frequently and socializing rather than working.
Next, Mrs. Needham addresses the student. "Tim, you've heard your teachers' concerns; let's try to make a plan to help you succeed.  First off, have you been attending our afterschool  tutoring to get help with your homework?"
He ignores her, rapt on the cell phone  he cradles beneath the table, his thumbs dancing across the tiny keyboard.
"Tim!"
"Huh?"
"This is a conference about you! Put that away please," the guidance counselor suggests, clearly irate, as we stare incredulously at the parents' failure to address their son's rudeness.
"This is exactly what we see at home," Tim's mom laments. "Either he's on the computer or texting."
"I guess we'll have to make some changes," his father observes blankly, changes which clearly don't include admonishing Tim or confiscating his cell phone.
The two-minute warning bell clangs, and we teachers bolt for the door.  As we exit, Tim yawns audibly, likely exhausted from his late-night forays on the online gaming sites I've overheard him blathering about with classmates rather than working.
I rush down the hall with one of Tim's other teachers; more than 50 students loiter outside our doors, waiting to gain entry. By the time everyone sits down and begins the opening grammar practice, 10 valuable minutes of class time have elapsed.
"Mrs. Nahirny," a student whispers, approaching my desk. "I came early to make up the quiz I missed Monday. I've been waiting since 7:45, but you weren't here."
"I'm sorry, Brian*," I apologize. "My meeting went overtime. Come tomorrow morning. I'll be here."
I silently take attendance as students proofread and edit the paragraph on the screen; I scan my e-mail for anything I need to be aware of for the day ahead. The 13 messages already amassed overwhelm me, so I exit Outlook. Spending my so-called "planning period"  at Tim's conference precluded me from preparing for the rest of day, and from being available for kids who want to learn, like Brian. I couldn't help but ruminate about why I must spend so much time dealing with the issues of the same few kids, at the expense of the more than 100 other learners I ought to be focusing  on.  Is doing so fair to Brian?  Is it fair to your child?  Or to other students I wasn't available for that morning?  Why are things this way?
Quite simply, because of our national and state educational priorities.   "No Child Left Behind," "Race to the Top" and other edicts mandate schools and teachers to expend considerable energy bringing up the performance of the lowest-performing students—those in the bottom quarter.  If this "subset" of students doesn't make adequate learning gains,  teachers and schools face financial and other sanctions, regardless of how much the other 75 percent learn, grow or achieve.  I sincerely do want all of my students to do well,  but quite frankly,  I  frequently exert what seems like a Sisyphean effort to help some students succeed –indeed, often considerably more effort than they  themselves put forth!
After school, I phone a few parents.  Dominic's* home phone rings off the hook. I try his mother's cell and get voice mail. "Good afternoon, Ms. Blot*, this is Mrs. Nahirny, Dominic's English teacher. Please call me at your earliest convenience at 447-1575. Dom hasn't turned in the work I gave him to do while he was suspended. It's  been two weeks now and he's made up nothing.  His grade in my class is 44 percent.  The quarter ends soon; he doesn't have much time to submit missing assignments."
Next I dial Megan's* mom. Voice mail again. "Good afternoon, Ms. Washington*, this is Mrs. Nahirny, Megan's English teacher. Please call me at 447-1575.  I'm worried about Megan. She's missed 11 straight days of school. Is everything OK? Is she sick?  Since she hasn't been here to turn in anything for so long, her grade is now 52 percent. All of her teachers are very concerned. We really want to hear from you."
Thankfully no conference awaits me the next morning, so I continue my calls before Brian arrives to make up his vocabulary quiz.  As I dial, I feel more like a telemarketer than a teacher, trying to sell parents on the value of an education, albeit mostly unsuccessfully.
Sebastian's* mother answers. It's barely 7:30;  I sense  I've awakened her.
" I had no idea he was doing so poorly. He's  got eight missing assignments? Why didn't you call sooner?" she asks accusingly.
I  explain I sent home a progress report 10 days ago which Sebastian still hasn't returned with her signature, but she dismisses that saying, "Don't send anything home with him; I'll never get it. It's probably in the trash or the bottom of his book bag."
"Do you know about our online grade book, Skyward?" I ask.
"Yeah, but it's too complicated to check his grades online."
"From what I can see in Skyward, he's failing all his classes, not just mine."
"No, he's passing his online P.E. class."
(How wonderful.)
"Can you come in for a conference with his teachers so we can set up a plan to get him on track?" I persist.
"I can't get off work. But we just bought him a new truck because we saw how hard he was working, well, how hard we thought he was working. He won't be using it for a few days. That'll get him off his ass!"
(A new truck? For someone who isn't responsible enough to deliver a progress report?)
The next morning, Tim, the texter from the conference a few days earlier, arrives 10 minutes late to my class.
"Where were you?" I ask.
"Getting coffee," he said, elevating a Styrofoam  cup. "You told my parents I'm  always sleepy in class."
"You are. Go get a tardy pass." I return my attention to the 24 others whose learning he'd heedlessly interrupted.
Ten minutes elapse before he comes back. He's missed the day's vocabulary lesson and grammar practice. He rummages in his knapsack before settling down, as his classmates and I continue the discussion we started yesterday about Steinbeck and social criticism; Tim takes no notes. Soon he puts his head down.
I drop by his desk several minutes later when students begin their assignment.
"Tim, why aren't you working?"
"I don't have a pencil."
"I've given you a pencil every single day this week. What happened to those?"
"I lost them, I guess."
At the end of the period, I collect students' work. Tim turns in a mostly blank paper; no doubt, he hadn't read the assignment the night before, and  likely hadn't attended the free tutoring suggested at the conference.
Why do I even bother?
I find my answer during lunch as I nibble at my egg salad sandwich at my desk in isolation, trying to catch up on e-mail.
"Dear Mrs. Nahirny, This is to acknowledge my deep appreciation of you as Samuel's committed and dedicated English teacher. He has blossomed and improved so much in the last eight months under your expert coaching, mentoring and encouragement. He speaks very highly of you at home and I truly believe his potential is being tapped under your tutelage. I, too, had a very special teacher who taught me English in high school. She was instrumental in helping me realize my dream to come to America. Thank you for being a teacher who makes a difference."
I smile as tears come to my eyes.
A teacher who makes a difference.
If only Tim, Megan, Sebastian and Dominic's  parents thought so, too.
Maybe then they'd call me back.

Jo Ann C. Nahirny, a 1985 graduate of Columbia University and a National Board Certified Teacher, teaches English at Matanzas High School in Palm Coast. Reach her by email here.