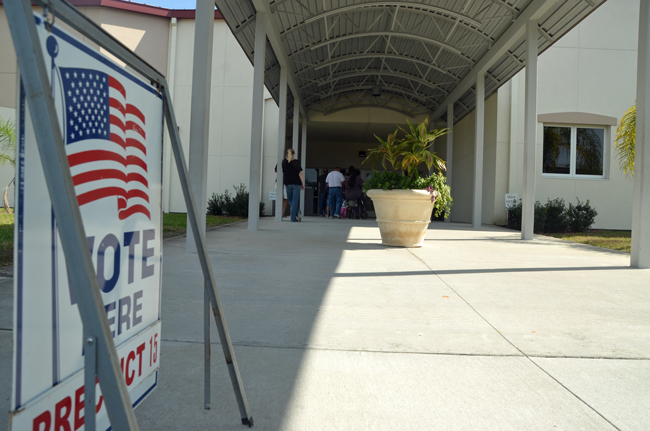 Qualifying for elections to local offices–County Commission, School Board, Palm Coast City Council–ended Friday with two distinction: unlike previous cycles, not a single seat is going uncontested. That means no incumbent is getting an easy path to re-election. But virtually every challenger is a newcomer to politics.
Fourteen candidates, including five incumbents, have qualified for county commission and school board seats. Seven have qualified for two Palm Coast City Council seats.
This being the first year that a Palm Coast municipal election will be held on an even year, two seats are up, and only one incumbent has chosen to run again: Bill Lewis, who at 78 or 79 (he is usually cagey about his exact age) is the oldest candidate or incumbent on any local government board, and who was first appointed to the council in 2008, to fill out the term vacated by Alan Peterson when Peterson was elected to the county commission. Peterson had defeated Lewis for that council seat three years earlier.
Lewis spent the past couple of years as the lone minority on any countywide or city government panel even though 12 percent of Flagler's population is black and almost 10 percent Hispanic. In March Bonita Robinson, who is black, was elected to the Bunnell City Commission, adding a still-rare touch of diversity to local government representation.
But Lewis is vulnerable, and candidates sense it: he is facing three challengers: Woody Douge (whose "About" page at his website is blank), Steven Nobile, who came out against Lewis at the Ronald Reagan Assemblies, and Norman Weiskopf, a Palm Coast resident who's become familiar to council members through his frequent campaigns for a better dog park at Holland Park.
Lewis is running in District 4, at the southwestern part of the city, but that's relevant only to him and other candidates, who must live in the district to contest it. All Palm Coast registered voters, regardless of district, get to vote for all council elections.
Dave Ferguson has been representing District 2 (the northeastern part of the city) since he was appointed to replace Frank Meeker, who won a seat on the county commission in November 2012. But Ferguson announced he was not interested in running again, as he plans to build a house on a property outside District 2, making him ineligible to represent it. Ferguson spent his time on the council asking a lot of probing and revealing questions, but was not a policy-making factor. His departure creates an open seat being contested by three candidates: Anne Marie Shafer, who's been associated with the tea party and the Ronald Reagan Assemblies, Heidi Shipley, a 14-year Palm Coast resident who headed Sanford Hospital's mammography department for the past seven, and Joel Rosen, an insurance broker who owns A.J. Enterprises in Palm Coast.
Council members make $9,600 a year. The city council elections are ostensibly non-partisan, so all registered voters–Independents, Democrats, Republicans– will get to vote in all city council elections. If a candidate garners more than 50 percent of the vote at the Aug. 26 primary, the candidate is elected outright. Absent such a result, however, the top two vote-getters go on to a run-off in the Nov. 4 election.
The tally of six candidates and incumbents for the two county commission seats does not include two write-in candidates. Write-ins are not seriously contesting the election but throwing in their name only to ensure–against the spirit of a constitutional amendment–that the coming primary is closed, so that voters from one party may not have a voice in the primary of another. They neither campaign nor take their own candidacy seriously. The stratagem, a specialty of the tactically subversive local Ronald Reagan Assemblies, was used in the last election cycle to ensure that Democrats and Independents could not vote in the Alan Peterson-Charlie Ericksen race for county commission, thus ensuring that Peterson, seemingly the more moderate of the two at the time, could not bank on more moderate votes. Ericksen won. FlaglerLive neither recognizes such write-in candidates as legitimate, nor names them.
The presence on the ballot of write-in candidates is a non-issue this year since both county commission races have drawn two Republican candidates who have chosen to run as Independents–Howard Holley in the race against incumbent Republican Frank Meeker, and Denise Calderwood in the race against incumbent Republican Nate McLaughlin. Holley and Calderwood will only appear on the Nov. 4 ballot.
For Frank Meeker in District 2, that leaves his old nemesis–and many other politicians' nemesis–Dennis McDonald, a darling of the tea party and the Ronald Reagan Assemblies and the most persistent critic of the Flagler County Commission and the Palm Coast City Council for the past several years. His criticism, however, tends to be more reflexive than either targeted or properly fact-checked. Any issue of note either Palm Coast or the county may be contending with will generally catch his ire, in the opposite direction from the one the government is taking. As such, McDonald reflects the compulsively oppositional mood of a narrow but vocal segment of voters. He's developed a considerable following. In his race against Meeker two years ago, Meeker squeezed by with 53 percent of the vote to McDonald's 47 percent. Waiting for either of them is Holley, who portrays himself as the voice of business in this race.
In District 4, McLaughlin will face fellow-Republican Mark Richter, who has the distinction of managing to out-right-wing McLaughlin, who's discovered the effectiveness of pragmatism in the last four years. Either winner will face Denise Calderwood in the general election. Calderwood is closely tied to the non-profit community in Palm Coast and Bunnell, working with numerous social organizations, including for the homeless, and is in line to preside over the Palm Coast-Flagler Kiwanis Club before long.
But no independent has every won an election to the county commission in Flagler. County commissioners are paid about $53,000 a year.
In the three school board races, which are non-partisan and will be decided in August regardless, Board Chairman Andy Dance (in District 1, but again the districts are relevant only to the home address of the candidates, not to voters) has drawn one opponent: Maria Barbosa. She has a doctorate in "Christian counseling," has worked for a couple of decades in restaurants and for 14 years as a property manager, and currently advises local clubs for teens.
Incumbent Trevor Tucker, the least verbose of the five board members, faces Michael McElroy, a retired cop who also made his debut at the Ronald Reagan Assemblies and said he was focused on preventing tax increases–though the local board has little say in more than 90 percent of the school taxes levied locally.
Incumbent John Fisher has drawn the most active race, reflecting his own vulnerability: three candidates are challenging him. They include attorney Lynnette Callender, who was short-listed for the Palm Coast City Council job that Ferguson eventually won out; Janet McDonald, who is married to Dennis McDonald but presents a more measured approach on most issues; and Toni Baker, who's proposing "kitchen table type common sense."
In the congressional district that includes all of Flagler County, first-term incumbent and tea party favorite Ron DeSantis, the Republican, has qualified and is expected to easily retain his seat against just one challenger: Democrat David Cox, a well-versed but underfunded newcomer. There will be no primary election in that race.
In State Senate District 6, which includes all of Flagler County, incumbent Republican John Thrasher has drawn one Republican opponent for the primary–Derek Hankerson, a two-term chairman of the Putnam County tea party. Thrasher has also drawn a Democrat, Kathleen Trued, a second time, and an Independent, Greg Feldman, for 25 years a cop in South Miami.