In prior Coastal View columns I introduced you to two invasive species: giant Asian tiger shrimp and giant African snails, both large in comparison to their American cousins and threatening to ecosystems in the United States. Today, we'll look at another invasive creature, and this one is really a giant – the Burmese python.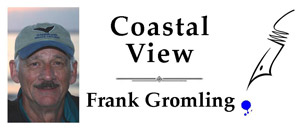 This particular invader is one of the largest in the world. Able to grow to 20 feet and up to 200 pounds, the Burmese python is a true giant that feeds on animals as large as deer and alligators. Introduced to the Florida Everglades National Park about twenty years ago, scientists and park rangers believe it has become a major threat to wildlife there, with an entire ecosystem at risk. And, of a lesser threat so far, yet no less invasive, is the presence of two other large snakes: boa constrictors and African rock pythons.
Let's back up and look at how the Burmese python came to be in the Everglades. Exotic animals are a big business in the United States, with annual estimates at $15 billion or greater. Exotic animals, often called exotic "pets" in the animal import business, are generally considered to be any animal not native to an area, such as the United States, that is introduced to that area by individuals who have imported them or bought them from a dealer in the United States. Exotic animals often are primates, cats, birds, fish and reptiles, most of which come from Asia, Africa and South America.
Federal, state, and local laws provide various levels of regulation of the exotic animal industry, but there is no organized approach to regulation. According to the U.S. Fish and Wildlife Service (FWS), the illegal trade in wildlife is second only to that of drugs in the United States. However, unlike drug trafficking, animal smuggling appears to compel little enforcement and is free from stigma. This link details the current Florida regulations affecting exotic animals.
Under this legal framework, exotic animals purchased as pets become too large or costly for their owners to maintain, and are sometimes released into South Florida's rivers, woods, brush or swamp. Most exotic pets which have become troublesome to keep are not purchased by pet dealers and are not likely to be taken in by reputable zoos. With very few animal rescue facilities having the ability to care for exotics, owners simply give up and abandon their pets. This is not good for the animal, which has been removed from its natural environment and knows little of survival in the wild, or the human population, which has to contend with the animals' unexpected presence, even in urban areas.
Add to the equation that many species carry dangerous bacteria from foreign lands, and you have a serious threat to native species and humans. For example, an estimated 90 percent of all reptiles carry and shed salmonella in their feces. The Centers for Disease Control (CDC) estimates that 93,000 salmonella cases reported each year in the United States are caused by human exposure to reptiles.
So, how did the Burmese python get into the Everglades? Maybe, as Andrew Wyatt, president of the United States Association of Reptile Keepers, believes, it was Hurricane Andrew in 1992, which destroyed a snake importer's warehouse and allowed over 1,000 snakes to escape. Some wildlife experts believe snake owners who bought small baby reptiles found they could not deal with them once they became too large or too expensive to keep, and released them.
We may never know the snakes' origin, but what is certain is that South Florida, and especially the 1.5 million acres of the Everglades, now is home to thousands of Burmese pythons. Population estimates vary widely, from a few thousand up to 150,000 pythons nesting, breeding, and feeding in the Everglades, all with no known natural predator. With the snakes' ability to have up to 100 eggs, and the absence of natural predators, the number could rise.
Burmese pythons prey on raccoons, rabbits, bobcats, wrens, ibis, herons, opossum, and deer. In a study published in January in the Proceedings of the National Academy of Sciences, a group of scientists reported that in one area of the Everglades, where the pythons had existed the longest, "populations of raccoons dropped 99.3 percent, opossums 98.9 percent and bobcats 87.5 percent. Marsh and cottontail rabbits, as well as foxes, were not seen at all."
Burmese pythons also pose a potential threat to protected species, such as the American alligator and the Key Largo wood rat. Until scientists discovered that the wood rat was declining rapidly on Key Largo through python predation, they had not considered that the python would swim across the saltwater Florida Bay from the Everglades. Subsequently, research has shown that the pythons often swim in fresh, brackish or salt water to save energy that would be expended in crawling from place to place. This opened a whole new threat to a wider area – the Florida Keys.
While there is almost total agreement that preventing an invasion is easier than stopping its spread, a look at what is being done to curb the pythons illustrates the difficulty of the task. In 2009, Florida established a python hunting program which allowed residents to obtain a special license to hunt the reptiles. To date, with fewer than 100 snakes removed, this program has been far less than successful. Other attempts have included baited traps, a "Python Patrol" of trained humans in the Keys, and one interesting test whereby detection dogs from Auburn University's Canine Detection Research Institute were trained to sniff out pythons, which they did successfully during a brief trial in the Glades.
If you are wondering if the Burmese python could become a threat to northeast Florida, that appears unlikely because the snakes do not survive cold temperatures. Scientific experiments with two different groups of pythons, one in Gainesville, and another in Aiken, S.C., resulted in the snakes dying during cold weather. Wildlife experts believe the winter cold snap of 2010 destroyed about half the Burmese python population, far exceeding any human effort at eradication. For now at least, it appears the snakes remain a South Florida problem.
Until next Saturday, be well and take at least one step to give nature a hand.

Frank Gromling is the owner of Ocean Publishing in Flagler Beach. Reach him by email here.