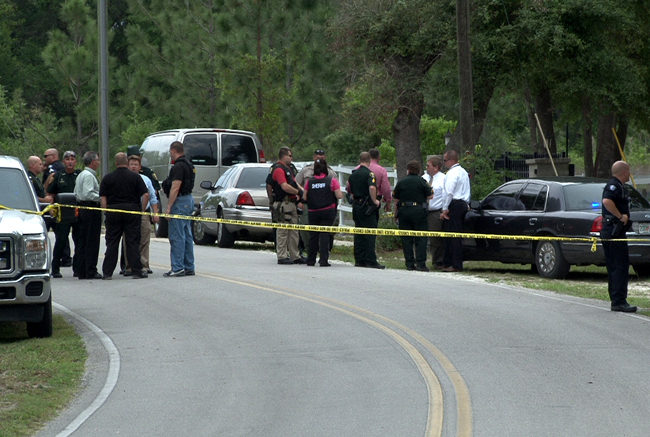 A three-county drug task force that includes deputies from the Flagler County Sheriff's Office came under fire Thursday afternoon in the Lake Como Area of Pomona Park, in Putnam County, immediately west of the Flagler County line, the Florida Department of Law Enforcement and witnesses are reporting. One police officer was shot in the leg.
Undercover members of the High Intensity Drug Trafficking Area Tri-County Narcotics Task Force were running a sting operation in the woods near Lake Como. According to investigators, three suspects approached undercover officers, produced weapons and immediately opened fire on task force members. Task force members returned fire which resulted in the death of Rodrigo Espinoza, 23, of Pomona Park.
A second suspect, Avery Corbitt, 19, of Pomona Park, was shot in the neck. He was taken to a local hospital. His injuries are not life threatening. The third suspect fled the scene. After an intensive manhunt, including dozens of police units and a helicopter, investigators arrested Emmanuel Espinoza, 17, of Pomona Park. Espinoza was charged with aggravated assault with a firearm and conspiracy to traffic in cocaine. Corbitt was charged with one count of conspiracy to traffic cocaine.
St. Augustine Beach Police Detective David Tiller, 30, was shot in the leg during the firefight. He was taken to a hospital in DeLand with non-life threatening injuries. He is a veteran of two tours of duty in Iraq and Afghanistan. Emmanuel was booked into the Putnam County Jail, with no bond. The case will be prosecuted by the Office of the State Attorney, 7th Judicial Circuit.
The Tri-County Narcotics Task Force is comprised of FDLE, the Putnam, St. Johns, and Flagler County Sheriff's Offices, the Palatka Police Department, the St. Augustine Beach Police Department, the Bureau of Alcohol, Tobacco, Firearms and Explosives and Immigration and Customs Enforcement.
Raw video, by Robert Kilroy for FlaglerLive, shows, among other images, the helicopter search, the house where one of the suspects surrendered, and other parts of the search for Emmanuel:
---
[media id=199 width=500 height=400]