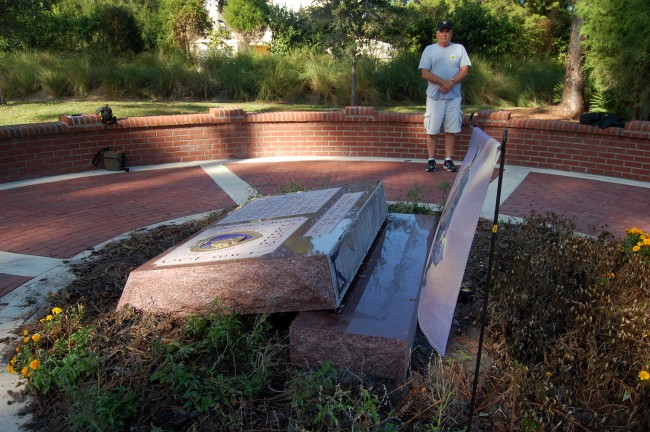 Stephen Lunsford was livid. He had trouble finding his words. He'd cross his arms. Uncross them. Pace. Shake his head. In front of him was the Purple Heart monument Lunsford's chapter of the Military Order of the Purple Heart–Chapter 808–had dedicated on Sept. 28 at Palm Coast's Heroes Park.
The monument, a huge, heavy, granite stone about five feet wide, four feet high and almost a foot thick, had been pushed over. No act of nature could have done this. There hasn't even been any acts of nature to speak of in the last many days in the city–no high winds, no freaky weather.
"This isn't an accident. A breeze didn't blow this over. A strong wind didn't blow it over," Lunsford said, "and certainly somebody leaning against it didn't knock it over. It had to be a deliberate and malicious act of vandalism."
Just last Saturday, Lunsford was at the park with two other Vietnam Marines, Jeff Puritis and L.C. Bruce, with whom he's taken to going to Heroes Park to sit and reflect on occasion. The monument was fine then. A Palm Coast utilities employee reported it pushed over to Bill Butler, Palm Coast's landscape architect, this morning (Nov. 24). A Flagler County Sheriff's Office investigation was launched.
"This isn't a very frequented park like other parks that we have, it's mostly ceremonies and things," Butler said. "So it's likely there wasn't anybody here for three days. Our park crews come, but they usually come on a weekly basis."
---
Video: Vandalism at Heroes Park
Produced by Charlotte Marten/FlaglerLive[media id=118 width=440 height=380]
"It's not that I can understand things. Things just don't surprise me," Lunsford said. "This surprise me. I don't know why anybody would desecrate a monument that's been erected for the gallant and honorable men and women of this country who sacrificed at least their blood and at most their lives. And they're just average run-of-the-mill people. They're not politicians, they're not in it for the glory. They go out thinking that they're going to do something right and they pay more often than not the ultimate sacrifice. Keep in mind that the Purple Heart–nobody wants to receive this medal."
Lunsford pauses, overcome. "Nobody wants to receive the medal. It's a…" He pauses. "This isn't about us who have formed the military of the purple heart chapter. This is about our brothers that didn't come home, whether it'd be World War II, Korea, Vietnam, and then the conflicts over the last more than a decade in the Middle East. This is about them. This is paying homage to them."
Lunsford himself has three Purple Hearts. Rick Look, the Flagler County Sheriff's Office's chief deputy and commander of Chapter 808, the recipient of two Purple Hearts, was traveling to be with family for Thanksgiving.
The monument hasn't been seriously damaged, other than some scratches and coming off its base, where cement that had been applied there seemed not to have had much of an effect. In order not to damage the monument further, the city won't move it until the company that installed it is able to come to the park, the week after Thanksgiving, to reset it. "What their plan is is to drill through the base and the sign and put some rebar in there and epoxy those and then set it so it'll be impossible to push over again, and they're going to do it at no cost to the city," Butler said.
The stone is at least a couple of tons. It would have taken a willful, strenuous effort to push it over. None of the park's other monuments or trees, many of which have been planted to commemorate the military and other institutions, were not touched. Nor did there appear to be anything else out of the ordinary at the small park, which is located on Palm Parkway just west of the Flagler County Library.
Chapter 808 was established in Flagler County a little over two years ago. The organization honors all those who've received Purple Hearts and their families, and raises money for scholarships.
"It doesn't surprise me when a kid throws a rock through a window," Lunsford said. "It doesn't surprise me when somebody commits an act of burglary or armed robbery. Unfortunately that's an unfortunate fact of life here. This bothers me. This bothers me, it bothers all my brothers in my military order of the Purple Heart Chapter 808 in Palm Coast. It bothers all of us. And it bothers us because we're still alive. Our brothers aren't. And this is our way of paying homage to them, saying we'll never forget. There's not a day goes by that any of us don't think about our comrades that didn't come home."
Anyone with information on the incident is asked to contact the Flagler County Sheriff's Office at 386/313-4911 or Crimestoppers at 1-888-277-8477.