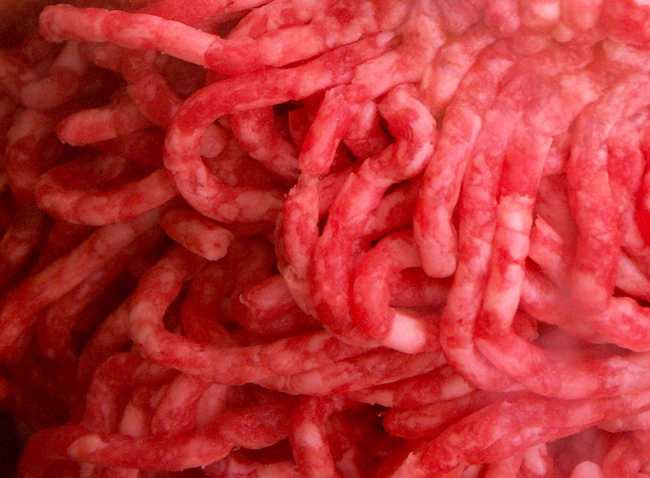 Last Updated: 8:44 p.m.
Lakeland-based Publix Supermarkets and Jacksonville-based Winn-Dixie have issued a "voluntary" recall of ground beef from stores in several states and counties, including Flagler, St. Johns and Volusia. The beef may contain E. coli (short for Escherichia coli), a form of food poisoning that causes bloody diarrhea, especially in young children and the elderly, particularly in summer. It can be deadly, but only rarely.
The contaminated beef originated in a batch of 60,424 pounds of ground beef products produced by National Beef Packing Co. in Dodge City, Kansas, the U.S. Department of Agriculture's Food Safety and Inspection Service said today. The meat, all of it ground chuck, was produced on July 23 and July 25. It was shipped to distributors for further processing and repackaging and sold under different brand names–namely, Publix, Winn-Dixie and Kroger. The latter has no stores in Flagler County.
No illnesses have been reported to date.
The E. coli bacteria can be demolished by cooking meat well (the meat must reach 160 degrees, and if it's poultry, 165 degrees). food-preparation surfaces at home must be kept away from raw meat and kept clean.
The problem was discovered as a result of routine microbial testing conducted by the Ohio Department of Agriculture at a state-inspected facility that had purchased these products for further processing, the USDA said. An investigation tracing back the meat's journey revealed that National Beef Packing's slaughter facility was the sole source for the positive product sample.
In May, the Republican-dominated U.S. House of Representatives voted to cut $106 million from the Obama Administration's request for $1.036 billion for meat inspections. The money would pay for 8,600 inspectors overseeing 6,300 slaughterhouses and plants that process meat, such as the Dodge City plant.
"Consumers who have purchased the products in question may return the product to their local store for a full refund," said Maria Brous, Publix media and community relations director.
Winn-Dixie sold the beef in Florida and other states under its store brand Winn-Dixie Ground Chuck, in packages containing ground chuck with the UPC code of 20170000000, family packs with the code 29127700000, patties with the code 20170100000, and patties family pack with the code 29128200000.
Meat that may have been contaminated were sold in Publix grocery stores in Alabama, Georgia, South Carolina and Tennessee. Florida stores affected by the voluntary recall include the following counties: Escambia, Santa Rosa, Okaloosa, Walton, Bay, Leon, Suwannee, Columbia, Alachua, Marion, Putnam, Clay, Volusia, Flagler, St. Johns, Duval and Nassau.
Publix is recalling the following random weight products produced at Publix retail meat departments with sell-by-dates between July 25 and August 12, 2011: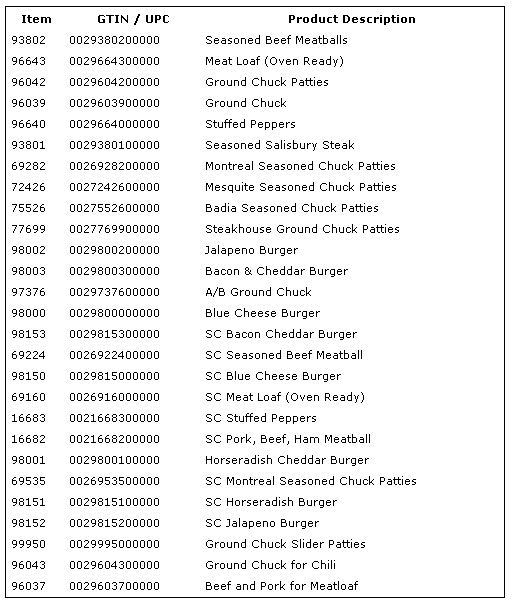 Consumers with food safety questions can "Ask Karen," the FSIS virtual representative available 24 hours a day at AskKaren.gov. The toll-free USDA Meat and Poultry Hotline 1-888-MPHotline (1-888-674-6854) is available in English and Spanish and can be reached from l0 a.m. to 4 p.m. (Eastern Time) Monday through Friday. Recorded food safety messages are available 24 hours a day, or visit www.FightBAC.org.
Publix customers may call Publix's Consumer Relations department, Monday through Friday, 8 a.m. to 5 p.m., at (800) 242-1227 or by visiting www.publix.com/contact. Customers can also contact the National Beef toll-free hotline at 1-877-800-6848.