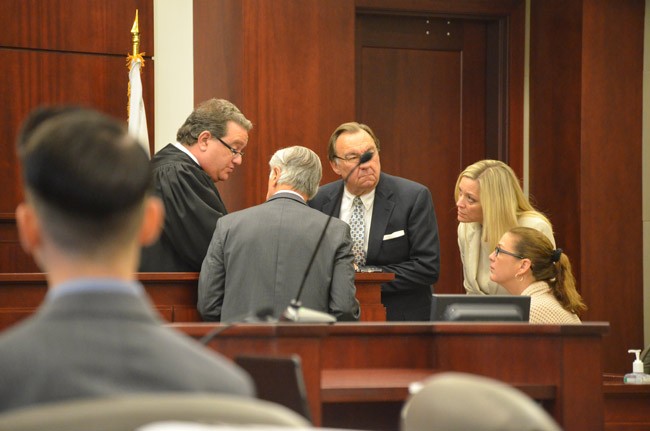 Robert Barry's case against Publix did not get stronger by the end of the second day of trail today in a Flagler County courtroom. It got weaker, in large part because of the plaintiff's two main witnesses: Barry himself and Henry Toro, the only other person who corroborates Barry's claim—that their one-time mutual supervisor, Craig Dario, sexually harassed another employee.
Barry claims he was fired in 2010 in retaliation for bringing the sexual harassment claim to Publix's attention. Toro, fired not long after Barry, also claims his firing was related to the case, though he's not brought action against the company. Publix says both their stories are bunk—that they made up the claim of sexual harassment as the strongest means of getting rid of their supervisor.
And the woman being allegedly harassed? She refutes that harassment ever took place. Michelle Ashton Brown told Publix that Barry was pressuring her to corroborate the claim. She refused to do so. Instead, following her mother's advice—a long-time Publix employee and a friend of Caryn Pryor's, the store manager at the Palm Coast Town Center Publix where much of this took place—told company officials that Barry's story was false.
Barry's claim of wrongful termination against Publix (for damages exceeding $15,000) rests substantially on his veracity and that of his ex-colleague, Henry Toro. But starting on Tuesday with Barry on the stand and getting worse on Wednesday with Barry then Toro on the stand, the two men's claims to veracity unraveled, and often during their testimony due to Barry's own lawyer, who made several tactical mistakes—whether by reading at too many lengths unflattering sections of depositions about Barry, or delving into the causes of Toro's firing, which then opened the way for the Publix attorneys to plunder Toro's credibility.
While Barry had maintained a friendly, calm but stern demeanor throughout his testimony, Toro came across as angry and resentful, only rarely looking up either at the lawyers questioning him or the jury, and acknowledging that he'd lied to the Publix investigator and lied to attorneys about never having talked to Barry before his deposition. And when William Reese, the Publix attorney, asked him about an altercation with a vendor that eventually led to his firing, Toro claimed the vendor was lying.
"Everybody lied but you," Reese asked rhetorically.
"The whole thing was a lie," Toro replied.
Toro was supposed to buttress Barry's case. His testimony did not help him, and more likely undermined him, especially as he also acknowledged that in his months at the Town Center store, he'd never once told anyone that he'd witnessed Dario sexually harassing Brown. He said he witnessed it once. "We were coming down the grocery aisle," he said, "and Craig said he wanted to throw her to the floor and do her doggy-style on the floor, and then when he walked by her, he took his hand and put it in her mouth, then he pulled his hand out and started kissing his fingers and saying he'd never wash his hands again."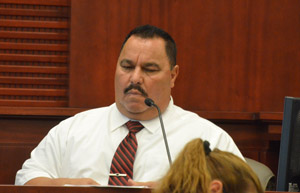 Other tactics did not help Barry's case, either. It was through his own lawyer—Frederick Morello—that a reading of the deposition of Carol Sellers, the former Publix investigator, revealed that Barry had been involved in a road-rage incident before he was hired at Publix, in which another driver was killed. "Due to Bob's road rage, correct?" Sellers was asked during that deposition, words Morello himself read out loud. The jury had the day before heard from Barry himself that he'd been written up over several temper issues, including kicking an empty 5-gallon water bottle against Public equipment, damaging the equipment.
The plaintiff's side had also claimed that Brown's boyfriend and Dario had had an alteration over the alleged sex harassment. But Shannon Kelly, the co-counsel for Publix, picked up another passage in the Sellers deposition—a door Morello had opened—to reveal that the altercation had nothing to do with harassment. Rather, Brown and her boyfriend had decided to move in together and Dario had spoken out of turn, suggesting to Brown—a Bunnell neighbor he'd known since she was a child—that she was making a mistake. Her boyfriend confronted Dario, who conceded it was "none of my business," and the two "parted amicably and continued even from that point to be friendly."
The Publix lawyers also got their chance to cross-examine Barry. It did not improve matters for him.
Reese's cross-examination focused on Publix employee rules, with the first listed rule being a mandate for honesty—and Barry's firing being the result of his dishonesty. He also documented, with Barry confirming the history, the 12 to 14 times he was written up in his years with Publix, for unexcused absences, damaging equipment, and two suspensions. "So you certainly were not a role model at Publix, as your mother is," Reese said.
"No, I was not a role model," Barry said.
Reese also got Barry to confirm that he knew, by Publix policy, that making a claim of sexual harassment against another employee could result in that employee's firing. Reese was trying to establish in the jury's thinking the reason why Barry picked that particular offense, assuming, as Publix contends, that Barry was fabricating the instances of sexual harassment.
Barry had typed a three-page list of 33 items he wanted to bring to the attention of Publix management about Dario. The list was briefly shown the jury on courtroom screens (and the jury will have access to the exhibit during deliberations). It amounts to a list of complaints about Dario's behavior and supervision—the sort of complaints someone would draw up, anyone might reasonably conclude, if he were seeking to have the individual disciplined or fired. Barry had written as the 11th item: "It is known to several associates that Craig Dario has repeatedly harassed Michelle Brown," an item he crossed out before his interview with Carol Sellers, Publix investigator.
"Are you aware of any associates that were interviewed by Ms. Sellers that agree with that statement or are you aware of any former associates or present associates at Publix that are going to come at this trial and confirm what you say here, that it's known by several associates?"
"No, sir," Barry replied.
Morello in his reading of various depositions, including that of Caryn Pryor, the store manager—even though she sat alongside the Publix lawyers—attempted to paint the image of a store manager with less than full control over the goings-on in her store. But Pryor at most appeared to be a benevolent manager who, as Sellers's deposition described her, did not "sit on every shoulder" in the store, and who had not necessarily been kept in the tightest loop from the corporate office, regarding Barry's investigation. If Morello had sought to show a calculating or malicious manager, or one attempting a cover-up, he appeared to have failed.
All this on a day when the plaintiff (that is, Barry's side) was to make its strongest case—a day that ended with plaintiff resting, and Publix preparing to present four witnesses on Wednesday, among them Brown, Pryor and Dario.