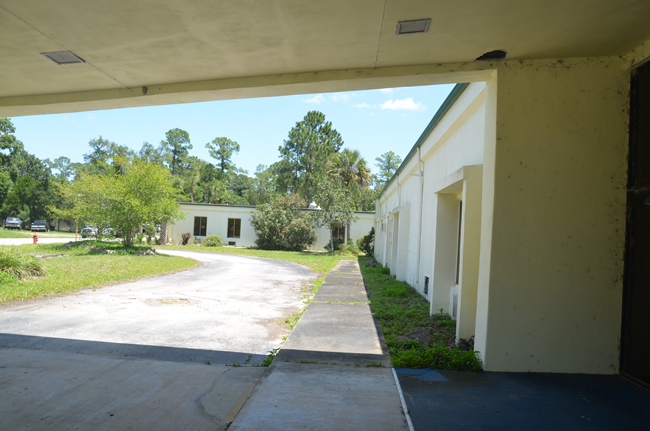 Warning: your public lands are not a free-for-all.
The Flagler County Commission Monday unanimously approved a measure that sharpens the county administrator's authority to close county lands to public use at the administrator's discretion, and for broad reasons, but not without keeping the county commission clearly appraised of those decisions, and the reason behind them.
The resolution the commission approved Monday, however, does not include the wording that makes the administrator's public disclosure—at public meetings—a requirement.
"I'm slightly uncomfortable with that ability without it coming before the county commission," said County Commissioner Barbara Revels, who flagged the item off the meeting's consent agenda—where items are approved as a group, without discussion, absent a commissioner pulling the item for discussion. "So I'd like to know that that would be used only in the case of let's say an emergency, other than that, I'd like to think that the county commission would be consulted, if you intended to close public access to lands."
County Administrator Craig Coffey says he already has the authority to do what the measure says he may. "What I'm doing here is simply approving a formal resolution that a law enforcement official will have and that you can hand the judge in the event it came to that level as far as trespassing," he said. "This is used very sparingly. This is not related to current parks we have at Bing's or at Princess Place or parks that are already open and functioning."
Four county properties are on Coffey's list of closures, or potential closure, one of them already closed for years: Bulow Woods, Pellicer Flats, the old hospital in Bunnell that the county just acquired for transformation into the sheriff's new headquarters, and, should the acquisition go through, a 477-acre "Those are areas we haven't opened yet," Coffey said. "We haven't screened them for safety, some for conservation, but I definitely would announce that to the board, and then the board would be able to weigh in if they have a problem."
Some of the closures would be "very short-term," while some, like the hospital property, would be closed until the project is completed. At Bulow Woods, "it essentially has been closed already for several years, and now we're just now starting to get the funds, and it'll probably be closed for another year or two until we can put in proper parking and proper access and make sure that we preserve our most environmentally sensitive features on the property, until we make it into a regular park."
The county has been concerned about poaching on some of the lands it's keeping off-limits, as well as trespassing by four-wheelers. The barred access takes various forms in addition to No Trespassing signs, from barrica=des to wires across trees to some fencing.
The measure, according to Nate McLaughlin, the county chairman, was the subject of long discussions Friday between him, the administrator and Al Hadeed, the county attorney. The intent is always to prepare the properties for public access. Coffey downplayed the implications of the new measure, saying it had been discussed with other commissioners while Revels was out of town last week.
"Regardless of me being out of town I would have questioned this anyway," Revels said. "The point I'm trying to make is that members of the public that know that we have acquired lands feel they may have a right to those, and I understand if they're not ready, they're not safe, there's no public facilities. I understand all those things. But I would appreciate that you would—even if it's just in your administrator's report—somewhere, where there is some announcement to us that we are going to do this at this site."
Revels's intervention ensured that that step would be taken.
The proposal drew only one public comment, from Dennis McDonald, the frequent government critic: "What the intent is and what you say in this room and what actually gets done outside of this room is most of the time two entirely different things, the way I see it," he said. "This thing needs a lot of work. This is wide open. This is not a good thing to pass." He added: "A very small segment of our population is doing these things but we're going to limit the great majority of the taxpayers in this community and give a blanket approval that doesn't have any bounds, the way I see it, to a person who isn't elected. So I would ask you not to vote for this."
But Revels specified that she had no objections to the intent of the resolution as long as it was accompanied by regular vetting. "I just wanted to make sure that this got discussed so that we could as a body regularly hear from administration, staff, as to the use of those lands," Revels said. That was her colleagues' sense as well. Meeker: "I'm not overly concerned about it, just as long as the board and the administration is moving forward expeditiously to get these things approved, opened and safe, as quickly as we can afford to do," Commissioner Frank meeker said. Commissioner Ericksen specified that he did not want to hear of the closures in bulk, but in detail, individually.
"How does this pertain to homeless people?" Commissioner George Hanns asked. (Earlier in the meeting, commissioners had heard a long presentation about the state of homelessness in the county.
"It pertains to homeless people as well as poachers or anybody else that shouldn't be in there," Coffey said. "They'd all be technically trespassing."
The wording of the measure is below.