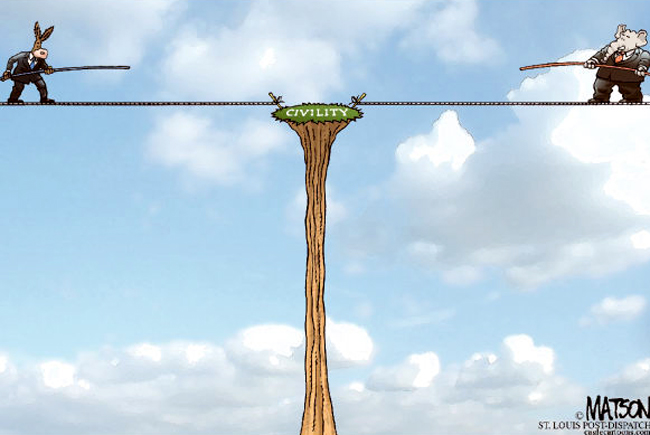 FlaglerLive Editor Pierre Tristam's weekly commentaries are broadcast on WNZF on Fridays just after 9 a.m. Here's this week's.
I'm getting a little tired of all this talk of civility and bipartisanship, as if more handshakes, fewer guns and Fox news sounding more like NPR would somehow make us a better country. But it wasn't lack of civility or Sarah Palin's crosshairs that led to the shooting of Representative Gabrielle Gifford and the killing of six others in Tucson. It was the murderous folly of a home-grown terrorist that did. The 2008 financial crisis happened not because corporate bosses and government types were at each other's throats, but because they were in bed together.
---
The Commentary As Heard on WNZF[media id=152 width=250 height=100]
And if you want to see what bipartisanship gets you, look at the results: Iraq and Afghanistan are the most bipartisan achievements of the last two presidencies and last four Congresses. They're also America's two costliest failures in blood, dollars and influence of the last ten years—not because of too much disagreement at home, but because of too little debate and too much salute-the-flag acceptance of whatever either Presidents Bush or Obama claimed, much of it bogus.
Civility has its place. But not when it's a substitute for submission. School principals love this whole chatter about civility because it's one more tool in the control box. Business types love to talk about teamwork because it's another way to marginalize dissent and maintain the status quo. But creativity is by nature disruptive. Change is upsetting. Pluralism is noisy. Otherwise it's just China with English subtitles.
So we don't need fairness doctrines or speech codes or friendlier seating arrangements in Congress. That's childish, boy-scout stuff, not the stuff of a mature, courageous democracy. We need disagreement. We need intelligent debate. We need to challenge authority and received wisdom at every level, from any pulpit. Just leave out the assassinations—assassinations of reason, of facts, of character, and of course of people.  With that alone civility would take care of itself.