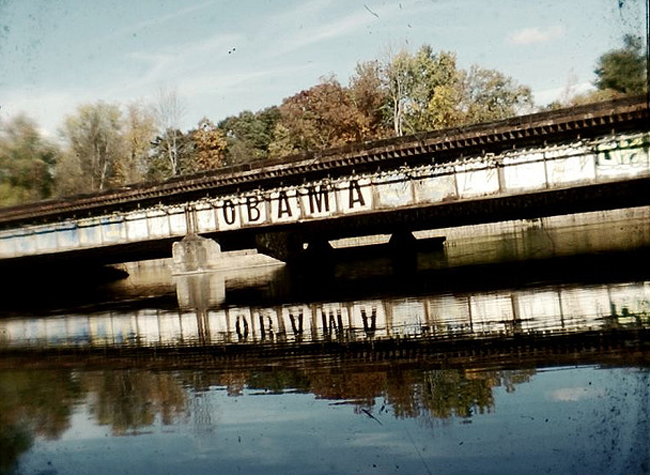 To hear it told on TV or radio shout shows, no one agrees on anything anymore, the right and left are at each other's belt buckles (or a little lower), and a lack of bipartisanship is paralyzing the country.
There is that: paralysis. Decline, too, and a general loss of power and a continuing loss of civility at home and credibility abroad. But it's not a lack of bipartisanship that's been undermining American politics and society for the past generation. It's too much bipartisanship: Democrats and Republicans acting like replicas of each other on all the essentials of American expectations. Roughly since 1981, when Ronald Reagan became president, there's been bi-partisan agreement that government is bad, taxes are always too high, debt is nothing to worry about, and inequality—a driving forces of liberal policy for half a century and a scourge singled out by the country's founding documents—are irrelevant.
Just as Reagan's prosperity by credit card was embraced at the federal level, when the national debt began its geometric explosion on his watch, individual Americans discovered prosperity on credit in their personal lives. Consumer debt was at $350 billion when Reagan was elected. It's $2.4 trillion today. The national debt was just below $1 trillion when Reagan took over. He almost tripled it during his presidency. George W. Bush doubled it during his, from $5.6 trillion to $11 trillion. It's now up to $13.5 trillion. Republicans and Democrats have been more or less equally guilty.
So when President Obama worked out that ghastly deal with the Republican leadership this week, adding $900 billion to the debt by extending the Bush tax cuts for two more years and cutting the payroll tax for a year just to get Republicans to agree to a 13-month extension of unemployment benefits, he wasn't doing something unusual. He was going along with 30 years of accepted economic folly.
---
The Live Column
---
---
The difference with Obama was that a large majority of Americans thought they were electing a man who'd at least try to reverse the folly. He pledged as much during his campaign, promising to turn back the Bush tax cuts for the wealthiest 2 percent to start paying down the debt. It was a shy stab at reality (the entirety of the tax cuts should have been repealed, because everyone should bear some of the burden of paying back what was never theirs), but a promising start. It turned out to be another one of those Obama illusions that now make up the majority of that wordy presidency, even though a majority of Americans want at least top tax rates jacked up a little. Very little, according to the Obama plan: from 35 percent to 39.5 percent. Big deal.
There's a collective delusion these days that taxes are high. They were much lower once, before World War I and the passage of the 16th Amendment, but the United States until then seesawed between booms and depressions, its economy in the South still shackled to its slave-based legacy, its economy in the north bloodied by debilitating wars on labor, and its immense potential was not yet realized because it hadn't learned that inequality and mass prosperity are incompatible. Since World War I, the country's most prosperous years have closely coincided with high tax rates because taxes don't merely redistribute wealth and enables more consumers. That redistribution creates wealth by being opportunity's richest subsidy.
In 1941, Nicholas Schneck, president of Loew's Theaters and the MGM movie studio, had a gross income of $353,000. He paid $258,200 in income taxes, or 73 percent, leaving him with $94,800, the equivalent of $1.4 million today. If that was a disincentive to his entrepreneurship (that other myth of high taxes), Schneck certainly didn't show it. That was in 1941, when the top marginal tax rate was 81 percent. The rate went up after that, to 94 percent in 1944 and 1945, then back down into the 80s for the rest of the decade, and back up again to 91 percent, where it remained for 15 years, until 1964, when it dropped to 77 percent. It stayed at or above 70 percent until the Reagan years. In other words America's most prosperous years by far—the 1940s, 50s, 60s and 70s, when poverty fell in each decade, household income rose and job creation grew from 24 percent to 38 percent each decade—were also its more equitably taxed years. Its slowest-growth years, in economic growth and job creation (the 1920s, 80s, and 2000s), have coincided with lower tax rates—and more inequality and higher poverty.
The top marginal tax rate today is 35 percent, a near-historic low for the past hundred years. It's where it's been for almost 10 years. The tax rate on stock dividends and capital gains is 15 percent, a historic low. The claim that low tax rates help the economy is demolished by the evidence. Since 2000, there's been zero net job creation in the United States. As the Washington Post reported earlier this year, "The past decade was the worst for the U.S. economy in modern times, a sharp reversal from a long period of prosperity that is leading economists and policymakers to fundamentally rethink the underpinnings of the nation's growth."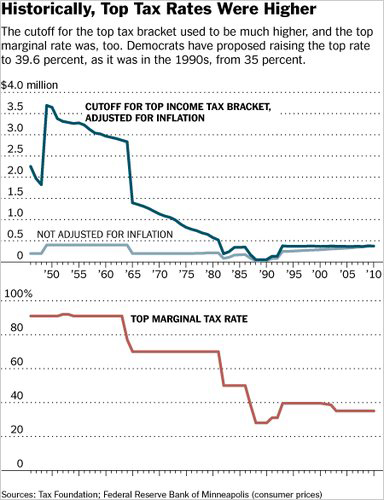 Here's one of those underpinnings: low income tax rates are bad for the economy if they result in inequality. The more unequal incomes are, the fewer people are able to fully participate in the economy, and the less prosperous the economy becomes as a whole. That the top 1 percent of Americans owns 90 percent of the nation's wealth (and tripled its income since the 1970s) means that those at the top can buy their yachts and vacation in Veil, Colo. But that much concentrated wealth barely circulates to the benefit of the rest. That's the true side of trickle-down economics: wealth merely trickles its way down. It doesn't create any, except at the top.
As Vermont Senator Bernie Sanders put it in his day-long speech on Friday, "that is not the foundation of a democratic society. That is the foundation for an oligarchic society. The rich get richer. The middle class shrinks. Poverty increases." In 2009, there were more poor Americans (43.6 million, or nearly two and half times the population of Florida) than ever recorded in American history.
To blame the Obama deal on the minority of Republicans holding the Senate hostage to their extravagance would not be entirely fair. Democrats had two years to make good on Obama's promise to right some of the economic skewering of the previous years. They had the largest legislative majority of any party since the Carter years. They squandered it on a two-year Halloween party where everyone put on their Republican masks. The resulting horror show is self-inflicted. It was left up to Sanders, the former Socialist mayor of Burlington (the kind of socialism that revitalized what had been a dead town into a vibrant little city), to interject a little folly of his own: an uninterrupted eight hour, 38-minute speech on the floor of the U.S. Senate Friday that added up to the sanest 70,000 words spoken in that chamber all year.
"Let me simply say," Sanders said at the conclusion of his triple marathon, "I believe the proposal that was developed by the President and the Republicans is nowhere near as good as we can achieve. I don't know that we are able ourselves to get the handful of Republicans we need to say no to this agreement. I do believe that if the American people stand–by the way, it may not just be Republicans. There may be some Democrats as well. If the American people stand and say: We can do better than this; we don't need to drive up the national debt by giving tax breaks to millionaires and billionaires, that if the American people are prepared to stand and we are prepared to follow them, I think we can defeat this proposal and come up with a better proposal which reflects the needs of working-class and middle-class families of our country and, to me, most importantly, the children of our country."
He wishes. The age of realism ended 30 years ago. Obama is merely the latest of many illusions to seduce the electorate.